http://viningsnaturalhealthcentre.co.uk/tag/anxiety-workshop/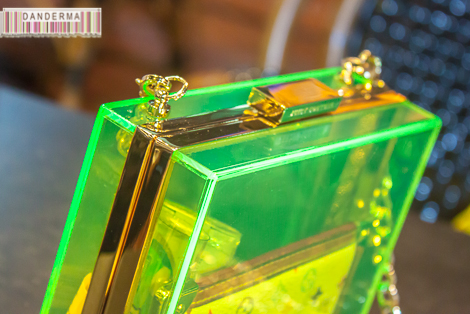 See-through clear bags are not new per say, they've come and gone on the fashion scene several times before. I remember sporting a big see-through blue on my first day of college back in 1998. These days everyone is sporting a see-through bag in some shape or another but the one that caught my eyes repeatedly, in shops and on fashionable girls shoulders and hands, is the see-through acrylic box clutch. I love clutches, I love colour, and I love acrylic and if you join all three together it will be one funky adorable bag I want to buy. The first one I've seen is CC Skye's Sunset Boulevard clutch. I've seen it online but I couldn't find it in Kuwait so when my dear Pink Girl went to Dubai I asked her to check it out for me in S*uce store and she did. Here are the pictures she sent me, thank you lovely Pink <3
I loved CC Skye's clutch but I was a bit skeptic regarding how well would it clasp open and shut so I decided to keep looking and if I don't find a better one I'd buy it. Then I went into Harvey Nichols Kuwait and saw Charlotte Olympia's Perspex acrylic clutches, they are delicious to say the least.
The perspex clutch was available in four colours and has a pouch inside to keep your stuff in for privacy reasons. I loved the powder blue and the green.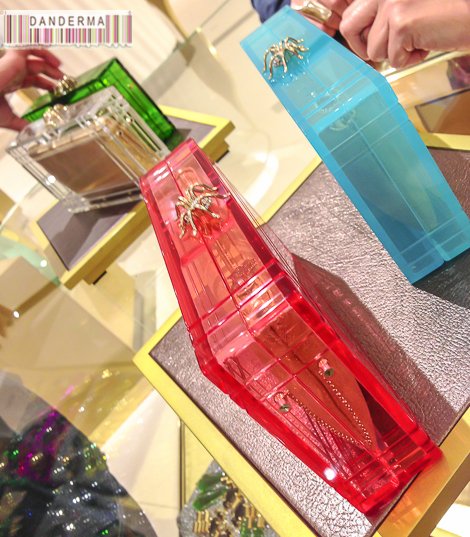 Look at the little blingy spider holding the bag together, how cute!
Charlotte Olympia's green clutch was the one. Unfortunately it retails at almost KD 400 -380 or 390 something- and I could find many better uses for those 400 dinars. I'd buy it if it was a classic bag, not a seasonal one. I did find it cheaper online but I'm still contemplating it. Then I saw not only an acrylic clutch, but a snow globe and an acrylic clutch in one go by Kotur in Goji Boutique and I almost went gaga for it! How cool? I borrowed the picture below from Goji Boutique and here is the link for the bag and the picture (link).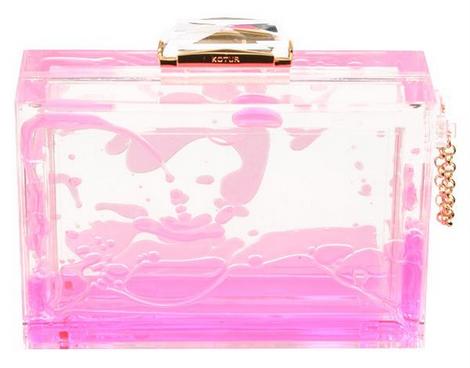 I gazed at the bag for a long time, should I or shouldn't I? But it was in pink and I had my heart set on a more yellow greenish hue so I decided it should stay on the go back list. I was told that Zara stocked it, someone whatsapped me its picture but I cannot find it and I went to Zara and couldn't find it either, I guess it was long gone by now. Then I was walking down 360 Mall when I saw a yellow-green acrylic clutch one dangling from the mannequin's shoulder in the window display of Juicy Couture and I immediately went inside to check it out.
I liked the colour, the size, the shoulder strap, how the clasp worked, and the price. I asked for a bag and they got me the last remaining one in stock and told me they had other colours that sold out very quickly. I went back a few days later and the bag was also gone from the window display with only two pieces on the shelves. Isn't she a beauty?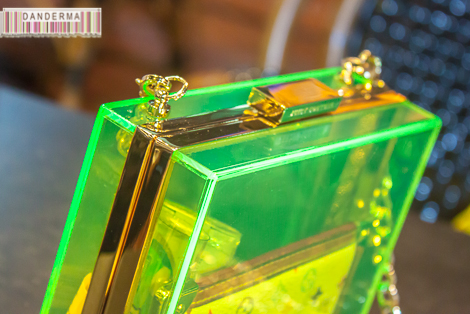 I'm loving this trend a lot. It's retro, yet it's modern. Colourful yet see through. Funky, yet still fashionable. I still have my heart set on the green Charlotte Olympia though but I'm   waiting to see how this habba turns out and the Juicy one will do for the time being. Meanwhile, do you know of any other acrylic box clutches that I should check out?
---
8 Responses to "Habba Alert: Acrylic Box Clutches"