http://platosattache.com/pgxhtogrzm-4-22874-sexy_milf_sexy_thai_massage/
http://thehistoryhacker.com/category/states-of-being/ A year ago I've been driving in Hawalli when I saw a big old house with men wearing traditional guards costumes standing outside. As I got closer, I could make out the sign over the door, "Bait Al-Outhman Museum" it said in Arabic! I wanted to go inside but back then it was still not open to the public. A year later and finally my lovely friend Pink Girl passed by and reported back to me that it was open indeed and it was breathtaking. I adore everything historical therefore I wasted no time grabbing my camera and visiting the museum to check it out. 
The museum is located in Abdullah Al-Othman street in Hawalli, named after the same owner of the house-turned museum and you cannot miss it for it occupies almost a 10,000 m2 space of land and has a big parking long across the street from it with old cars from the Historical, Vintage & Classic Cars Museum of Kuwait (post).
This is just an introductory post by the way, for Bait Al-Outhman museum is very vast and filled with beautifully renovated rooms and historical artefacts. I almost filled up an entire memory cards with photographs and there will be around four more posts to cover the rest of the museum. Now, entry to the museum is not free but its quite cheap. 1 KD only at the door and you get to spend as long as you want roaming inside. It took us hours to go through the entire museum, here are our tickets.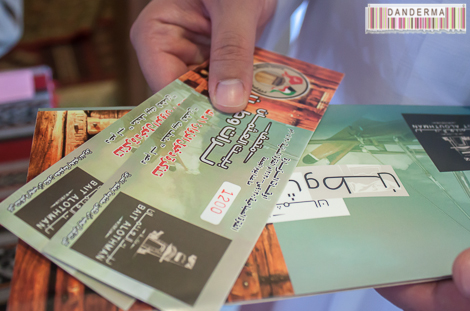 When you get the tickets you are given a brochure explaining about the museum and its history with a museum map on the back. The museum was renovated and put together by the Kuwait's Heritage Team and they did a spectacular job preserving an old run-down house into a pride-worthy historical account of the heritage of Kuwait. Something we seriously lack in Kuwait and would love to see more of.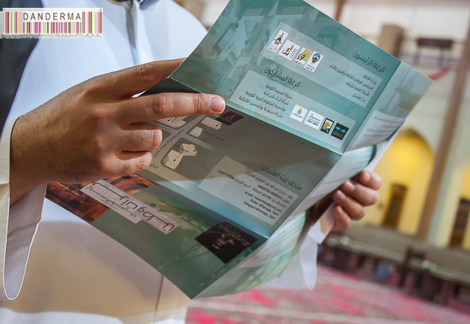 The first thing you see as you pass by the ticket gate is the big area which once must have served as the courtyard of Al-Outhman house built in the traditional Kuwaiti style architecture with big courtyards and smaller rooms surrounding the central courtyard, long round arches decorating the corridors, wooden ceilings, dotted yellow and green floor tiles, and wooden doors and windows with black metal bars and flower patterned glass panes.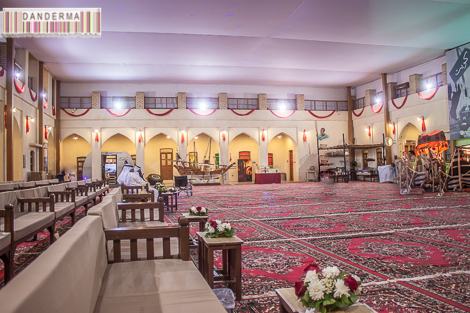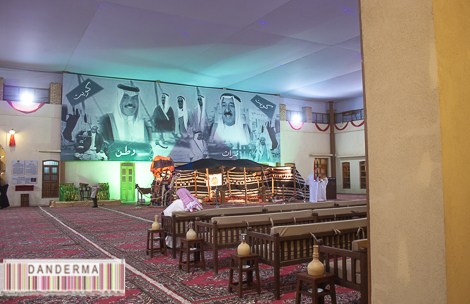 There is a small cafeteria by the entrance managed by Bazza Cafe which I personally think is the perfect choice for the museum's cafeteria. However, Bazza Cafe is not open yet but there is a Bazza cafe waiter roaming around with an Arabian Coffee Dallah -flask- handing little cups of very good aromatic Arabian coffee to tired museum guests.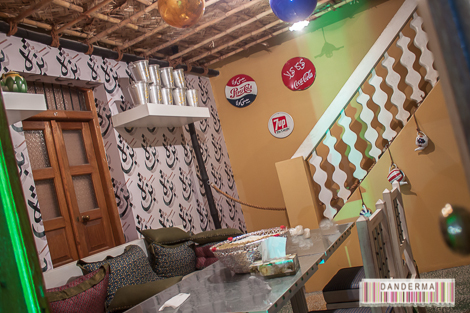 Now a few more pictures before the end of the post, all from the main courtyard. First, these two green chairs are the old-style Kuwaiti "koosha". A Koosha is where a bride and groom sit on their wedding night while watching the wedding celebration around them. I love that shade of green and the koosha is right at place in the corner of the biggest courtyard of the house where weddings must have taken place in the past.
I can almost hear wedding songs and smell the bukhoor as I took the pictures of the koosha. Once upon a time people lived here, this was their home and a wedding must have taken place with songs and food and dressed up women happily dancing and clapping. Do you get that feeling, like you can play the past lives of the previous occupants in history in your mind's eye as you visit an old place? I always do and that's particularly why I love museums and historical sites.
Now for the first display: the Kuwait Airways corner! Check the Air Stewardesses' uniforms!
I think one of these outfits were designed by the Italian designer Balenciaga, the far right one if I'm not mistaken. Check out the retro orange mini dress that looks right out of an Austin Power movie, did they actually wear that on the plane? Groovy!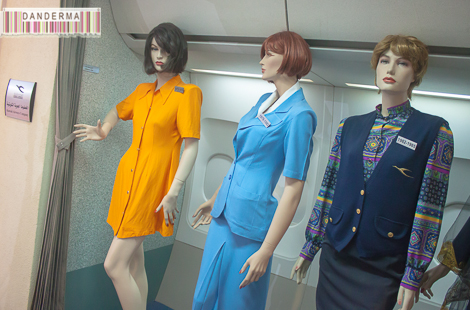 I also like the 1985 uniform with the traditional black and gold Kuwaiti thoub on top of a black thoub. Very traditional indeed though I can't imagine it worn by flight attendants.
What do you know, they did wear the thoub over the uniform after all! Very nice, I never knew that! Plenty of other relics from Kuwait Airways to see in that corner, including pictures of the old Airport which was located in Al-Nuzha area.
Going out of the Kuwait Airways display I found this old mail box in a corner. Battered and rusty yet beautiful still.
Look at the picture below and imagine how we now use the mail and the phone through a single tiny device called the smart phone! The world've come a long way since the 60's indeed.
Next stop? The Kuwaiti Drama Museum! Wait for my next post tomorrow by god's will or better yet, go visit the museum yourself and check it out personally, its worth the visit.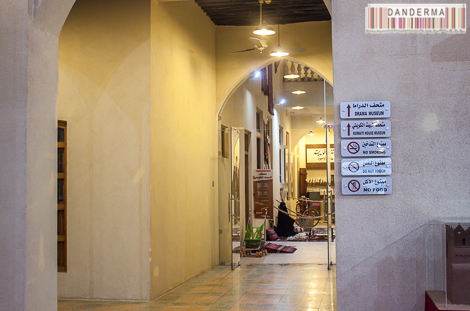 Bait Al-Outhman Museum is located in Abdullah Al-Outhman Street in Hawalli and is managed by Kuwait's Heritage Team. For more information you can contact them by calling +(965) – 69999760, emailing mawrothkw@gmail.com, following them on Twitter (@Heritage_Team), or on Instagram (@Heritage_Team). Stay tuned for post two of my visit to Bait Al-Outhman Museum.
---
2 Responses to "Visiting Bait Al-Outhman Museum – Part 1"