Continuing my Visiting Bair Al-Outhman Museum post (post), one of the museum section is labelled the "Drama Museum" and its all about the "Kuwaiti Drama". How so? One wall surrounding the covered courtyard resembles an old Kuwaiti souk with well known names of Kuwaiti merchants still operating like Al-Faris Jewellery and Al-Marshoud Arabian Perfumes. 
Check out the old blue plastic bag used by Al-Faris Jewellery! I remember shops using such bags in the 80's.
The old grocery store, growing up I've heard tales on how a 250 fils allowance was enough to buy you some KitKat and Pepsi with change to spare from the grocery store in the neighbourhood. I guess they looked that way back then. Check out the old merchandise especially the old wooden crated filled with ancient soft drink bottles!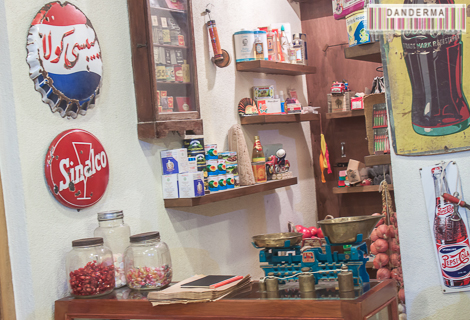 An old barber, I don't know if there was a barber with the same name or it's just a display.
Now this corner of the shops didn't really exist in the old souks of Kuwait but it's an exact replica of the one used in the popular Kuwaiti TV series "Darb Al Zalaq", right down to Nabaweya Shibshib, dog meat cans, and the stock of only left-pair white sneakers. You have to watch it to understand it, quite hilarious actually. The covered white slabs are supposed to be blocks of ice imported and sold by breaking them into customer's bowls upon request which is how they sold ice in pre-refrigirator Kuwait.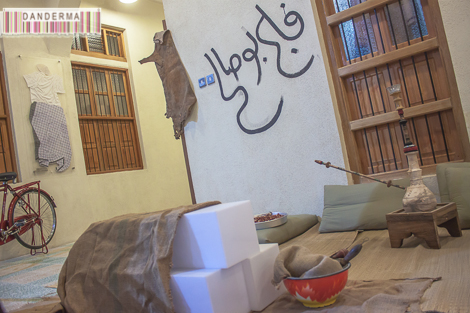 If you look up, you will notice a flying carpet with a woman and a man on top. This is a scene from the popular old operette "Bsat Al-Faqor" which happens to be my favourite operette where the actors ride a magic carpet to fly to different regions.
From the courtyard you go into a room that displays old relics and costumes used by actors in popular shows and plays of the past with pictures and shorts scenes of the costumes in action.
This is theeb thyab bnaider's dishdasha from the 80's Kuwaiti show "Rqaya and Sbeecha". The yellow dress in the back belongs to Huda Hussein character 'Shams Al-Shmoos' in an old children's play. I only remember the song, I can't remember the play.
This is Nahash's dishdasha from "Bye Bye London" play, my favourite Kuwaiti play of all time.

Next stop? The Kuwaiti Publications and Newspapers room! Wait for my next post tomorrow by god's will or better yet, go visit the museum yourself and check it out personally, its worth the visit and the pictures in these posts don't cover a quarter of what's on display! The drama section alone can take one hour to go through.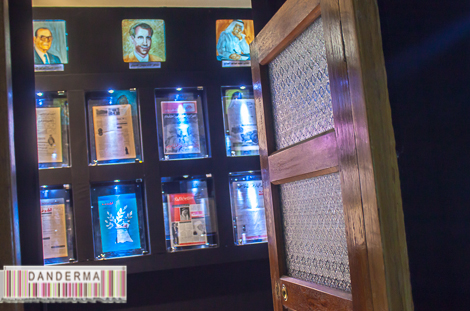 Bait Al-Outhman Museum is located in Abdullah Al-Outhman Street in Hawalli and is managed by Kuwait's Heritage Team. For more information you can contact them by calling +(965) – 69999760, emailing mawrothkw@gmail.com, following them on Twitter (@Heritage_Team), or on Instagram (@Heritage_Team). Stay tuned for post two of my visit to Bait Al-Outhman Museum.
---