Martínez de la Torre
http://thelocalteachers.co.uk/courses/aqa-gcse-biology-new/ One of my personality traits is my inability to resist any beauty product that comes with with an anti-aging or anti-wrinkle label. I'm bordering on obsession really, I have tried many products in an attempt to stop ageing signs since I refuse to acknowledge that I'm grown up and -gulp- middle aged. I also am obsessed with kits and things that come in neat little packages -air plane food, Hello Kitty toiletry bag in Kindergarten, etc.- Therefore when I saw that one of my favourite beauty brands, Philosophy, is selling a trial kit of products aimed towards fighting the first signs of ageing, I couldn't resist it and I had to, just had to have it.
The name of the anti-aging product line is 'Hope in a Jar' and I've already had it recommended by two friends. You are supposed to try the products inside twice a day, morning and night, and hopefully you will see a difference in your complexion.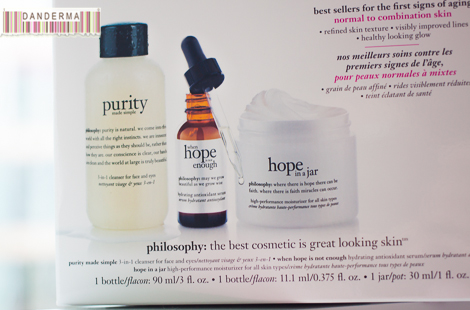 Inside is three miniature products: the used to wash the eyes and face. A hydrating antioxidant serum to be used afterwards to tighten the skin and close the pores, and a high performance moisturiser to finish up the deal.
I reckon there is enough products in the mini jar to last me a couple of weeks and perhaps see some encouraging results. What usually works for other people doesn't work for me and vise-versa but if it does work I will let you know. I don't know if the kit is available in Kuwait or not but I know the brand Philosophy is stocked in both Sephora and Harvey Nichols and if you are interested you can check them out or buy the kits from Philosophy's website (link).
---