The best thing after visiting a farmers market like Shakshooka's (post) chockfull of delicious items is the meal that follows. In my case, it was a scrumptious Friday breakfast prepared using some of the best produce Kuwait has to offer!
With the lemongrass I got from Al-Wasem farm I prepared a lemongrass tea. The loaf of rye and olive bread was sliced and grilled slightly on the sub griller. Update: the loaf of bread is from Aunt Marie's Artisan Bakery whose account on instagram is (@AuntMariesKuwait).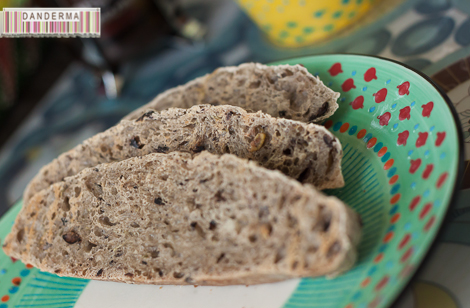 The bread was amazing! So soft I could have happily nibbled on the entire loaf all day long. I spread it with low fat labna and vegetables I got from the farmers market in Sultan Center.
Then there was the coffee infused olive oil I got from 33 Bread Lane, what better EVOO to use early in the morning?
I drizzled the EVOO on my labna open faced sandwiches. Ah, heaven!
Then for something sweet with my morning coffee, I had the golden Qors Oqaily cake I got from Dolce Delights!

Fragrant and crumbly, look at all that sesame! That's one really good Qers Oqaily!

It was one memorable breakfast, with many more equally scrumptious breakfasts to come our way in the future insha2 Allah! I should've gotten some eggs and made scrambled eggs, now I want some but there is always tomorrow by god's will

The coffee infused EVOO is from 33 Bread Lane you can find them on instagram (@33BreadLane) and the Qors Oqaili is from Dolce Delights and you can find them on instagram (@DolceDelights). The lemon grass from the Al-Wasem farm and the bread is from a bakery that is still setting up but I will update this post with their social media profiles once they are up and running. Update: you can now follow Aunt Marie's Artisan Bakery on instagram (@AuntMariesKuwait).
---