buy clomid serophene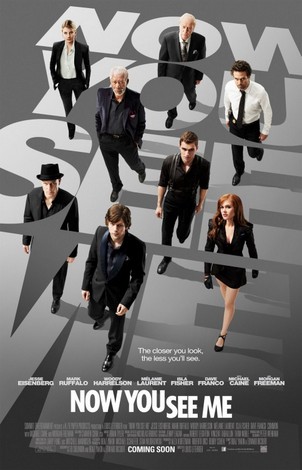 I remember seeing the trailer of Now You See Me before watching one of the movies earlier this past May. When I saw what they were up to -in the trailer- I knew I wanted to watch it ASAP! What more could you ask for? A start studded cast -Morgan Freeman, Mark Ruffalo, Isla Fisher-, a fresh new story, a mystery to solve, and a thrilling promise -a Vegan magic show robbing a bank in France!-.
The movie started as promised: intriguing and fast paced. Up until they go to New York it was really good and the suspense keeps you at the edge of your seat with a few laughs thrown in for good measure. From New York onwards however it kinda slowed down and the plot began to waver, and I definitely didn't like the ending. For one thing, it doesn't make sense to me and there are many questions left unanswered.
Perhaps the movie was censored, it talks about magic after all and it would explain the gaping holes in the logic of the ending. Nonetheless, it is a really good and quiet entertaining movie, worth watching again and again, with lots of salted popcorn and diet coke and is a must have addition to my DVD shelf, at least I'd get to know what I've missed because of censorship. Highly recommended.
---
4 Responses to "Movie Review: Now You See Me"