reverently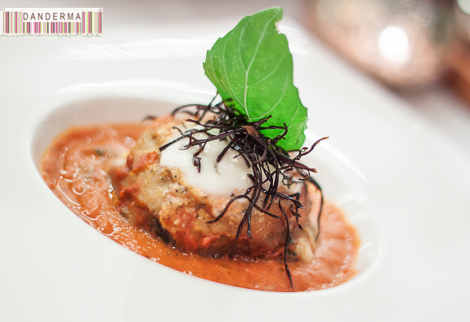 Last week we were invited by Bice Ristorante to try their newly launched summer menu. I've heard a lot of good things about them and was planning to save my visit for a special occasion so when the opportunity came to visit I went there on time and brought along my appetite.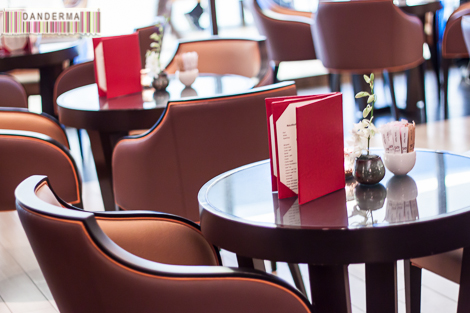 Located in the luxurious Al-Hamra mall, the restaurant is very elegant. Dark wood, dimmed lights, live music, white table cloth, flickering candles on the tables, the works. The atmosphere and the setting is perfect for a quiet night out to celebrate an occasion.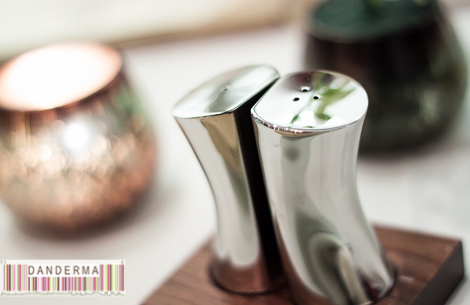 After a warm Italian welcome from the restaurant manager we were seated promptly and a basket of fresh bread and bread sticks arrived on the table along with a bottle of balsamic and olive oil and three dips: pesto, sun-dried tomatoes, and olive tapenade.
There are a lot of items to choose from in the menu but we decided to choose the newest ones from the summer menu given that they are made with seasonal ingredients that are the freshest this time of year.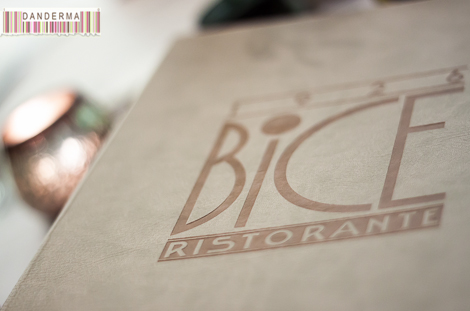 After we placed our orders the menus were whisked away and a tiny bite of something in a cup was placed on the table. I was told by the waiter that it is "shrimp and parmesan" and I don't eat shrimp so I didn't try it, just took its photo.
A complimentary summery drink was distributed for the occasion. It was fuzzy with sugar, berry juice, and orange fanta.
Then our drinks arrived. The basil martini which was basil, lemon juice, and a sprite with a floating raspberry.
Mine? A mojito of course! Not exactly an Italian drink, but I was very glad to find it in the menu and it was very good.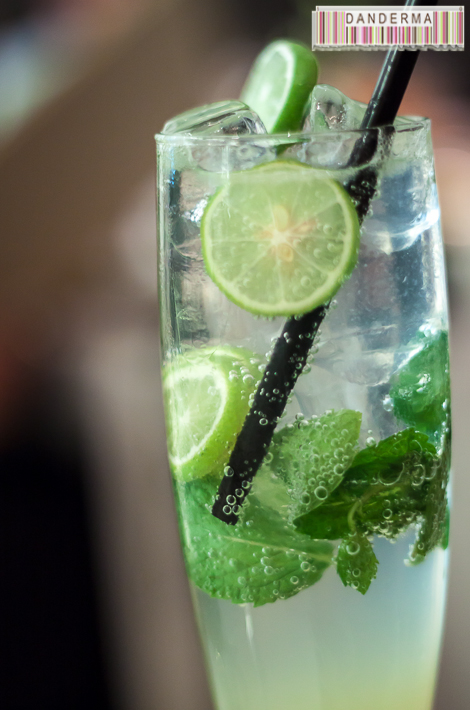 Soon our appetisers arrived. First of which was the Portobello Mushroom salad, with mozzarella "Campana" and mixed green leaves.
Warm mozzarella melting over the perfectly cooked giant mushroom with a side of lightly dressed crisp greens. You could tell with every bite that the ingredients are indeed very fresh.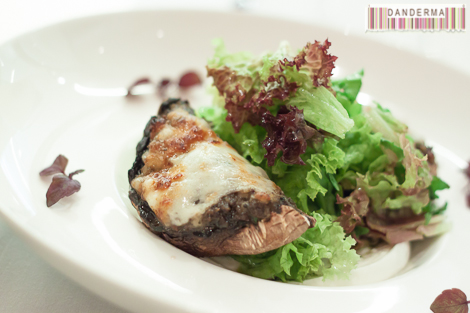 From the regular menu we ordered the "Parmigiana di melanzane Toscana buffalo", a layered oven baked eggplant and fresh bufallo mozzarella with tomato sauce, fresh basil, and parmesan cheese.
The dish is very nice and the eggplant is perfectly cooked in the tomato sauce, oozing buffalo mozzarella cheese. The portion was surprisingly tiny though and is enough for one only, not to be shared. Also, those crispy brown things on top are a mystery to me, they were too pointed and in the way. I hope they are not smoked lobster whiskers or something similar.
Not long after the appetiser did our main dishes arrive. I ordered the Penne Primavera, with mix vegetables and a touch of cream.
Frankly my main dish was my favourite dish in the menu. I'm not really a fan of cream based pasta sauces but this one was very light. Too light if I may say so myself. The amount of vegetables was too little in comparison to the amount of pasta. It wasn't bad per say, it was just lacking that oomph factor that makes me crave dishes and want to have them again but that's just my personal opinion.
My husband's dish was some grilled fish fillets over tomato sauce and olives topped with sauteed vegetables. I'm not sure what the name of the dish is though.
When I asked my husband about his fish dish, he didn't answer me, he just gave me the OK sign over the empty plate. Later on he told me that the fish was really good, extremely fresh, and the tomato sauce was a killer and that I should've ordered some tomato-sauce based pasta. I will take his word for it until the next time I try Bice again.
We also ordered one side dish, the potatoes for the table. The only thing that made that dish special is the quality olive oil drizzled on top of the boiled potatoes otherwise its simply boiled potatoes. I believe there are more exciting dishes you could order from the menu.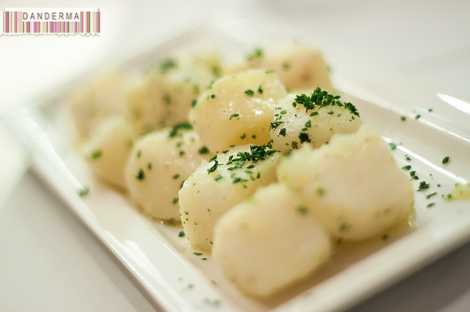 We couldn't leave without ordering Tiramisu, we had to try the tiramisu. My husband objected, he said he was too full so I ordered the Tiramisu for myself with a cappuccino. Bice brew illy coffee, a very fine Italian choice for the cappuccino was very good and came with a side of bite-sized fluffy meringue.
How was the Tiramisu? Well, lets put it this way. The spoonful below is the only one I had and I didn't even get to have a second one, because my "already full" husband took the opportunity of my photographing the spoon to polish off the Tiramisu. Nothing was left for me but the cappuccino. Oh well, we know it was good.
Each guest went home with a lovely bottle of aged balsamic vinegar. A 100-years-old balsamic vinegar to be precise! If I had a safe, I'd put that bottle of vinegar inside, a gift very befitting a fine Italian restaurant.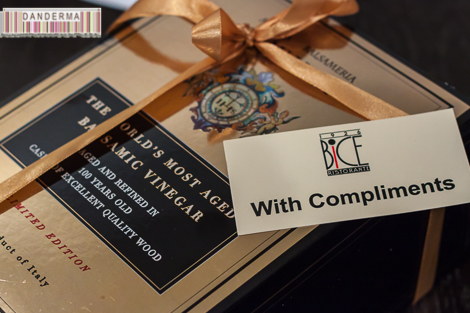 The most memorable thing from my dinner at Bice was the music. The music was really, really good and I could have stayed there all night with nothing but coffee to listen to the music. If music can be delicious, then Bice's music is! Thank you Bice Ristorante for the invitation and the gift, we had an excellent time at dinner. Wishing you the best of luck especially with the opening of your second branch this month in Marina Waves, Salmiya.
Bice Ristorante is located in Al-Hamra Mall. For more information you can give them a call on +(965) – 22270247  check their website (link), follow them on Twitter (@Bice_Kuwait), or on instagram (@Bice_Kuwait).
---
6 Responses to "Dinner at Bice Ristorante"