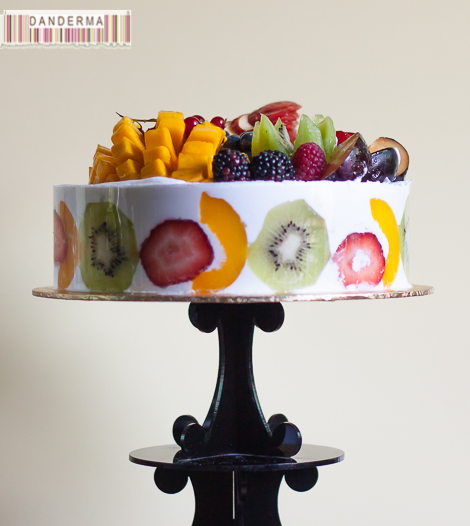 A while back I was browsing different instagram profiles when I came upon a mouth-watering picture of a white sponge fruit cake. I'm a sucker for a good food picture, it can do wonders to my cravings so I checked out the rest of the pictures in that instagram profile. Not only were the pictures good, they also were about desserts from a healthy and low-calorie bakery called Elements! I knew it was a matter of time until I placed my order.
Last Friday morning I decided that it was time, and the good thing about Elements bakery is that you can order on the very same day you want your food, before 6 P.M., and you will get it. Not a contact me a week in advance kind of home business at all, which I highly appreciated. Update: Turns out Elements Bakery is not a home business, rather an actually  licensed business operating from a factory. I asked for my order to be delivered between 2 and 3 P.M. and it did arrive on time.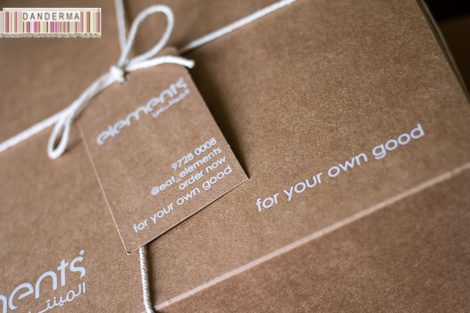 My first order was the "Sweet & Savoury". A selection of low fat saj sandwiches with four different fillings and a selection of four different mini desserts. On the box, the calories contents were displayed.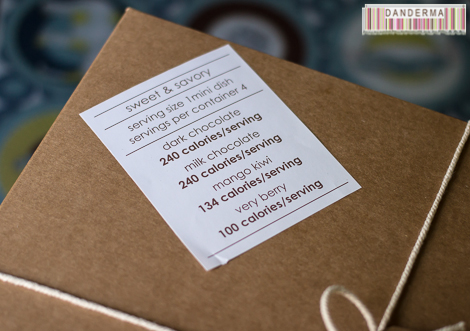 Opening the box…
Each saj piece had a label displaying the contents and calories per sandwich, you couldn't have been more aware of the calories were consuming if you tried.
There were four different fillings: Cheese & Greens, Mixed Veggies, Tuna, and Roast Beef. I tried the vegetarian ones and I liked the cheese and greens the most. My husband thinks the roast beef is the best one.
As for the sweet part of the order, there were four mini dishes: Mango Kiwi, Mixed Berries, Dark Chocolate, and Milk Chocolate. All four were notably not overly sweet and very light. The fruit ones had a white sponge and cream base. The sponge was a tad dry, not dry as in old, dry as in not laden with butter, but it was more than fine if it meant keeping the calories at bay.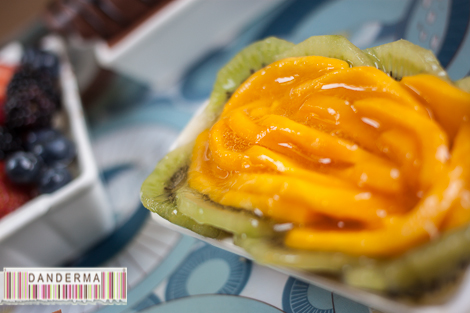 The milk and dark chocolate ones were extremely chocolate-y. If you are a chocolate lover you will be happy. The taste was also richer and the texture more smooth than the fruit based ones.
Next order? The one that started it all, the Fruit Salad Cake. Not a very large cake, enough for ten -or more- and packing 200 calories per portion/slice as per the package label.
Why hello there… it looks gorgeous, doesn't it?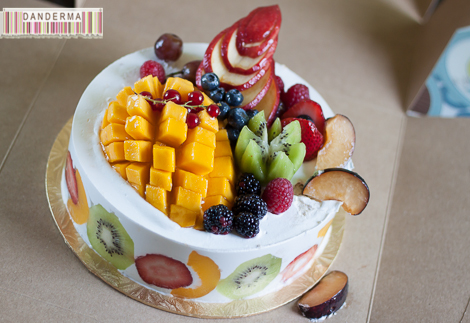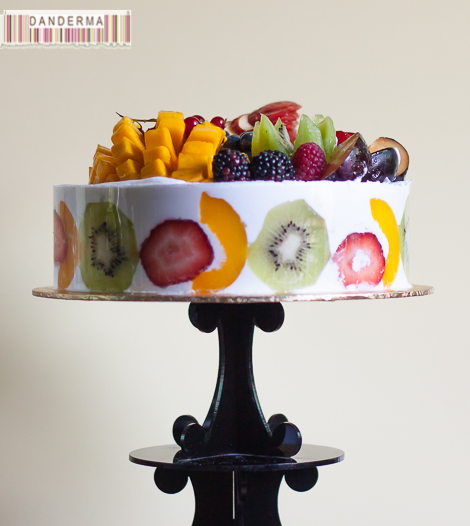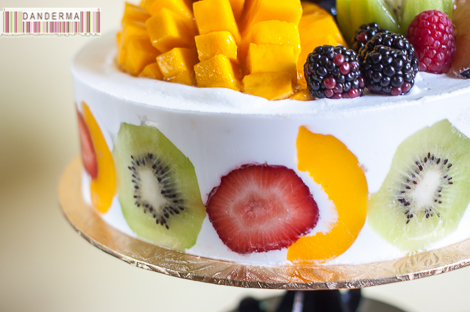 Cutting myself a slice…
Digging in through the layers of sponge, light cream, and fresh fruits. I was reminded of the birthday cakes we used to eat in our childhood, but with fresh fruit instead of canned ones between the layers.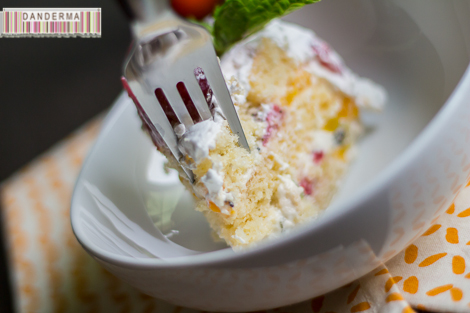 How was it? Extremely good, the cream was really light, the fruits were very fresh, and most of the sweetness is derived from the fruits themselves. Most importantly, it was light and guilt-free even though the sponge had a hint of dryness from the lack of butter, just a hint. To be frank the moment I was done I was still hungry and wanted seconds, it was very light indeed. The fruit salad cake doesn't keep well though, two days maximum or the fruits would spoil so its better to order it for a gathering where you know people will eat it entirely without leftovers.
I also wouldn't recommend the sweet and savoury order for a gathering of men or else they would be done eating in 3 minutes. Its best to order the sweet and savoury for a small gathering of girl friends, 4 or more could easily share. Good job Elements Bakery! The food is fresh, delicious, and very light indeed. We need more items on your menu especially that the holy month of Ramadan is upon us.
The items on Elements Guilt-Free Bakery's menu have been developed alongside a team of licensed professionals. For more information or to place an order you can Whatsapp them on +(965) 9728008 or follow them on instagram (@Eat_Elements).
---
6 Responses to "Elements Guilt-Free Bakery"