Today is Thursday! The weekend is upon us and I'm badly craving some Solo Pizza Napolitana for lunch. If you know me, you know how head over heels I am in love with Solo's Pizza. Ever since I've taken the first whiff of their wood-baked pizza aroma two years ago, I've never looked back twice. I've been there last week, It was a busy night for Solo, busier that I've ever seen it with a queue of people sneaking out the door and waiting outside in the unbearable hot June weather for a table inside. I sat there, a lizard crawled on the wall and scared me, but I stood my ground, inhaling the pizza aroma and remembering exactly why I consider their pizza to be my favourite pizza in Kuwait.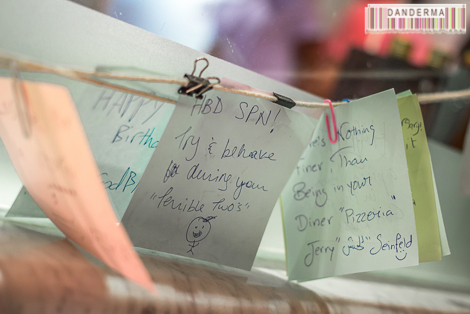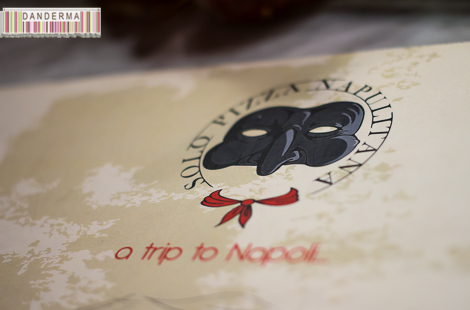 There is the usual items on the Solo Menu that I know by heart, and there are always the daily specials that change according to season and ingredients availability. I love how the guys at Solo know my order, down to my soft drink preference, by heart. They know that I always start with the Lulu salad, with the tangy berry dressing, and the ring of garlic bread with cheese.
The ring of garlic bread with cheese is a newish addition to the menu, a year or so old, but I've never featured it on my blog before nor did I mention how I deal with it. How to Solo the Danderma way? Well, first you eat half your Lulu salad. Then you tear off a piece of cheesy garlic bread. Good luck with that, it takes a while to untangle yourself from the strings of really fresh, exceptionally good Mozzarella cheese.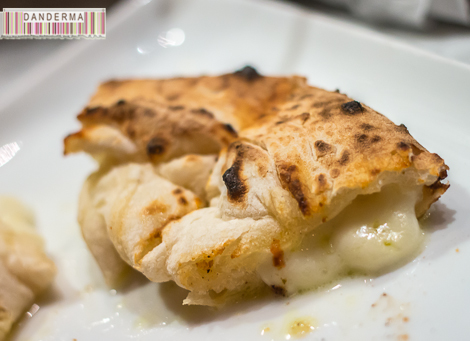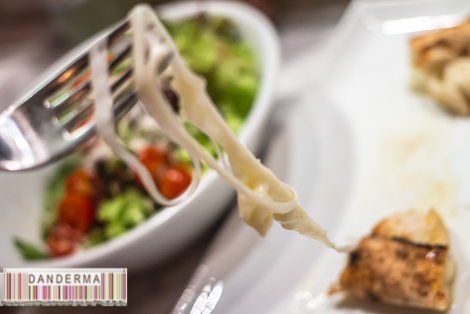 You take that piece of garlic bread, once you untangle it, and dunk it in the berry dressing of the salad. Wait a bit until it soaks up the goodness and then take one cheesy, garlicy, berry dressing infused tangy sauce. Way7a Qalbi!
Of course by the time you are done soaking garlic bread pieces in the salad's dressing your pizza would have arrived. My pizza is either a Margherita or a Funghi. Always and forever. Do you think the pictures look good? I don't, but I know the pizza is ten times better tasting than what a picture might suggest.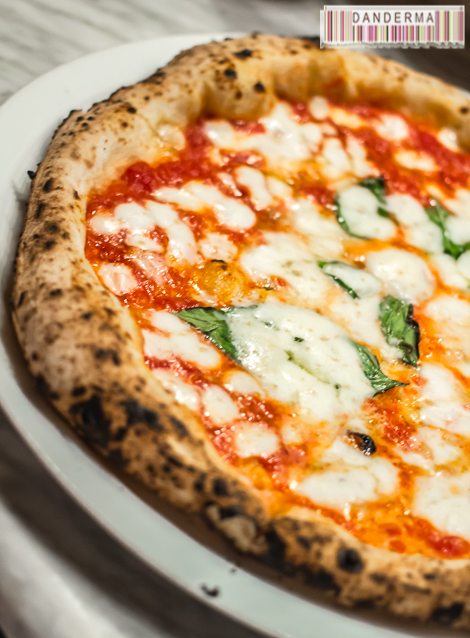 The special of the week was Mergellina! A no tomato sauce pizza with cherry tomatoes and shreds of Stracciatella cheese, a very creamy version of Mozzarella, almost like a Buratta but more stringy.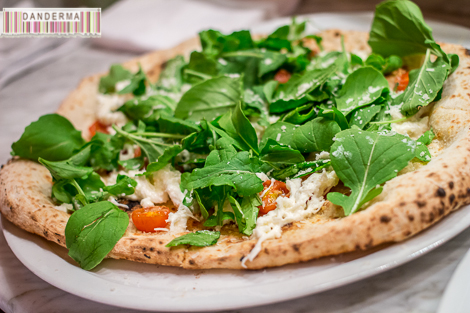 It was unbelievably good! The cheese made all the difference. Do go and try it while it lasts if you fancy a change from the same old traditional cheese on tomato sauce pizza.
Look there, on the wall! A picture of my picture of the lulu salad and garlic bread bites that won from the Solo Graph competition!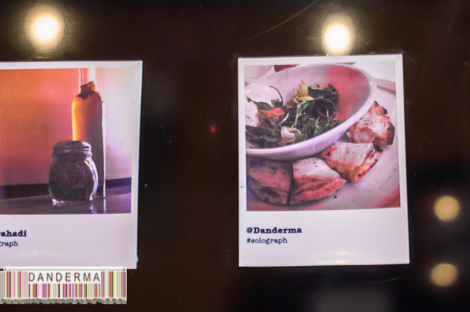 I always end my meal at Solo's with double espresso and the Nutella Pizza but I was too full that day. Till next time, I'm bringing myself a banana to stuff the Nutella Pizza with, perhaps some caramelised crunchy walnuts too. I can't wait to go back, I always can't wait to go back, and the good thing is that they've decided to open up for lunch from 1 P.M. until the start of the holy month of Ramdan!
For more information and for Solo Pizza Napolitana's location you can check their website (link), follow them on twitter (@SoloPn), or on instagram (@SoloPn).
---
2 Responses to "Dinner at Solo Pizza Napolitana"