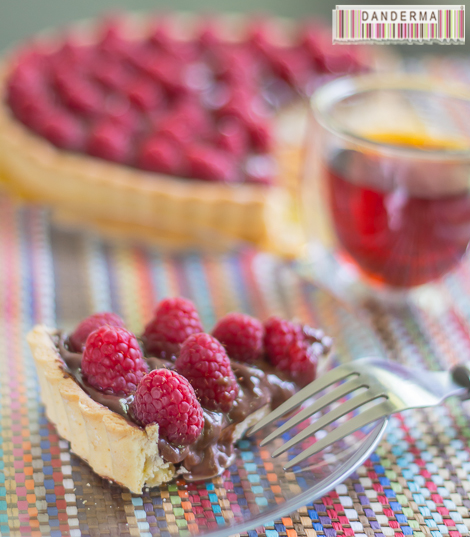 Cucinare Bakery is a new bakery that opened up quite recently in Kuwait. Cucinare is is co-owned by the beloved Chef Hanouf Al-Balhan and the sweet Ala'a Al-Jarki and is located in Sha'ab yet still in its soft opening phase. Last week I received a big purple and green bag with two Cucinare products to try: the seasonal berries cake and a cookies raspberry chocolate tart.
The boxes and the bags are gorgeous, bold colours and really modern and most importantly they kept the cakes in place. When both desserts arrived to me, there wasn't a berry out of place. Let's start with the seasonal berries cake…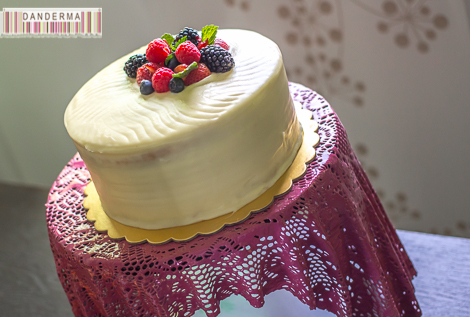 White sponge, layers of white chocolate and berry compote, the entire concoction was slathered in white chocolate and topped with some a medley of berries and mint leaves.
The berries used, as you can see, are very fresh indeed and they kept their freshness for three days! Which is an excellent life time for a cake without spoiling.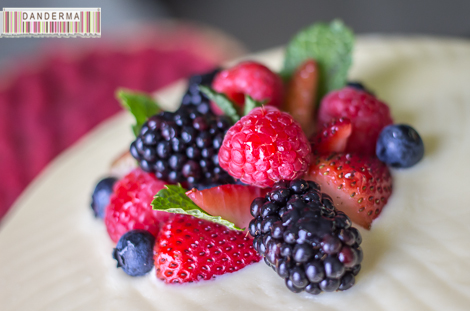 I enjoyed every bite with my post-iftar tea time. The cake itself, the sponge, is really soft and succulent. It melts away in your mouth and if you take a mouthful of berry compote, white sponge, white chocolate, a blueberry, a strawberry slice, and a mint leave you'd know how good that cake was. I had a very fine time with that cake and I could still feel the taste of the luscious sponge in my mouth even as I'm typing this post. Yum!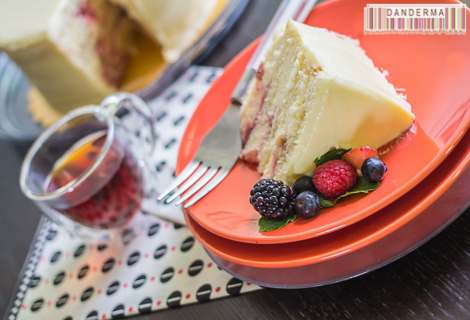 The seasonal berries cake would make an excellent breakfast, with a cup of English breakfast tea on the side by the way. I plan on having it for breakfast after the holy month of Ramadan by god's will.
Now, for the tart, which is my husband's favourite. I came home one day to see him sitting quietly in his ugly chair and concentrating very hard on the slice of cookie raspberry tart he was eating. He declared that this tart was a keeper and where did it come from? He is still asking about the tart, almost a week later, and just yesterday he was raving about the chocolate sauce of the tart. The man is smitten.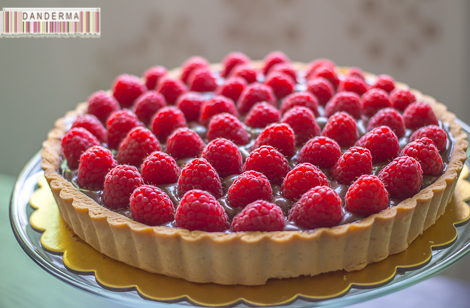 I'm not sure exactly why it's called cookie raspberry tart, perhaps the tart base is a cookie? I've seen some chocolate bits but to be frank I didn't feel the cookie taste at all. Nevertheless, the tart is scrumptious and the very fresh berries were swimming in an excellent and quite rich chocolate sauce.
You cut yourself a slice, if your husband would let you, and you see the chocolate sauce dripping all over the edges. I don't usually eat the base of tarts, I tend to eat the toppings only but in this tarts case it was eaten to the very last crumb.
Do you see what I mean?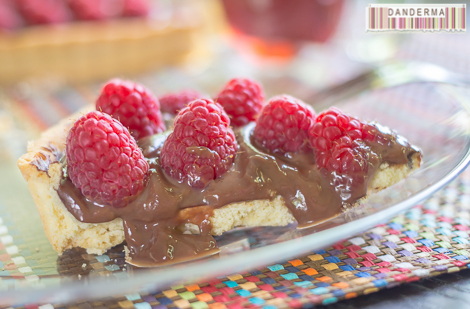 I would highly recommend both the cake and the tart. If you look at their instagram account you'd see amazing desserts and I want to go and try each and every one of them. It's going to be a very long dessert-ful year, full of calories and delicious flavours and happiness I'm sure. Thank you Cucinare Bakery, Chef Hanouf, and Ala'a Al-Jarki for your lovely Ramadan Neq9a! Mbarak 3lekom el shahar o 3asakom min 3owadah

Cucinare Bakery is located in Al-Shaab Al-Bahre. For directions or more information you can call +(965)-22610033, check their website (link), follow them on instagram (@Cucinare_Kuwait).
---
2 Responses to "Delightful Desserts from Cucinare Bakery"