Pokhvistnevo
During the holy month of Ramadan we have two major meal, the iftar at sunset where we break our fast and the suhoor we have near sunrise which should sustain us till the next sunset. Usually I have cornflakes with skimmed milk and a banana for suhoor, I treat it like breakfast which I truly miss during Ramadan, but I'm always on the look for something different to have for suhoor. Now that we are halfway through Ramadan, I need new ideas and new dishes and I thought I'd share what I've had for record keeping and future ideas.
One of my favourite suhoor meals happened one night as I was passing by the local tanoor bread guy in our co-op. The big tanoor oven was sending out warm heat waves filled with the aroma of baked bread dough. The way fresh smelled was maddening and I couldn't resist the bread. At home I topped my torn pieces of bread with low fat low sodium feta cheese, mint leaves, parsley, pecans, black seeds, and drops of rob roman or pomegranate molasses. The combination is heavenly by the way, you hate to try it!
I don't usually dine out much during Ramadan, I prefer to order in or make my meals at home, but when I did go out I went to Veranda Cafe in Harvey Nichols. They serve ramadan drinks like Jullab but that's about it, there is no difference to their usual everyday menu.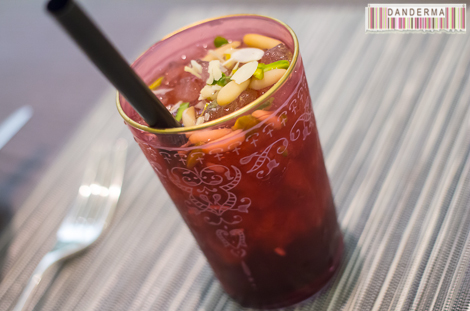 I had a fine time with the fattoush salad, I love fattouch <3
On another day I was browsing instagram when I came across Um 3zooz's iftar pasta dish. I decided I wanted to have that for suhoor, only make it vegetarian. The pasta dish is basically pasta shells stuffed with mushrooms cooked in truffle oil and topped with tomato sauce and béchamel sauce.
That pasta was gooooood! Heartwarming and delicious, and decorated with a crescent moon and a star especially for Ramadan oregano on top of the bechamel.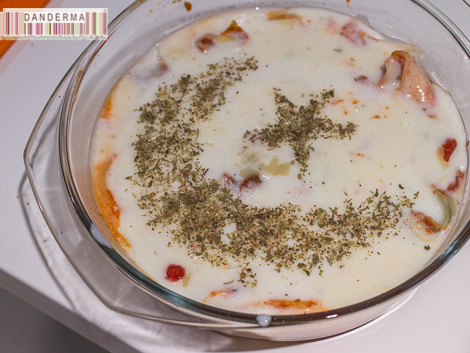 For a light option if I'm on the go and don't have enough time to eat anything, I don't mind having a frozen yoghurt parfait from Pinkberry. It's a very good suhoor option and doesn't make you thirsty nor hungry the next day.
Another very quick suhoor I make if I want something savoury and I don't have the time is to get a bowl of ready tabboula from a diet place like Diet Center or Diet Care, top it with a few spoonfuls of chickpeas, a bit of crispy pita bread squares, and a container of low fat yoghurt. It's an instant fatta-like salad and is a very cool suhoor option. The parsley gets in your teeth though.
The next time I went out for suhoor, I knew I wanted French fries, badly. I was at The Chocolate Bar and I had to, just had to, have some fries.
I also had their excellent tuna salad without tuna, or tuna salad with tuna on the side, it depends on who is dining with me and whether they are willing to eat the tuna or not. I love their tuna salad without tuna, it's so very good.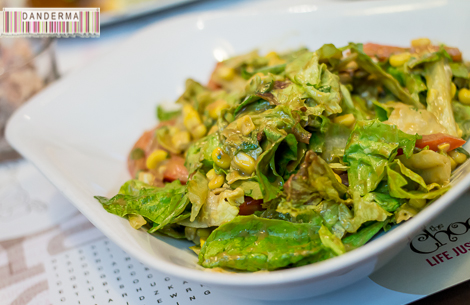 Now I have fifteen more days to think about different suhoor meals, I need some inspiration. What about you? What are you having for suhoor?
---
2 Responses to "What Are you Having for Suhoor?"