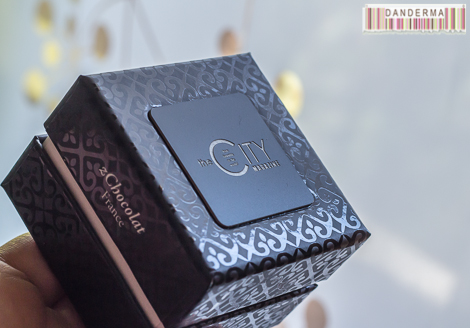 How often do you got a world champion fine chocolatier from France call up your phone asking for your address in Kuwait? Yes, calling from France. I was quite baffled, who on earth would give my number to a French chocolatier? Turns out The City Magazine had a nice surprise in store for me and decided to send me the chocolates, and I love nothing more than a box of fine chocolates as a gift.
DHL delivered the package a few days ago, a little silver box with plenty of padding and two ice box freezer bars -that's their name, mo?- to keep the chocolates cool until they reached me. They weren't in any old boring box, mind you, they had their own pouch with a little booklet and a personalised note.
Very elegant indeed, the box was embossed with The City Magazine's logo and however you looked at it, the patterns on the box glowed a bit differently with each move.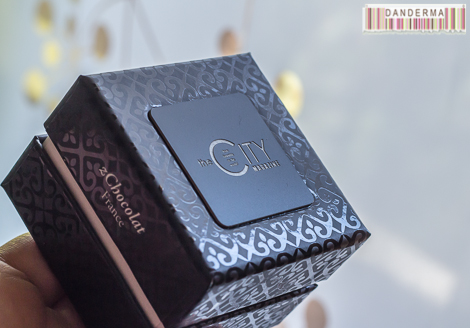 The note was personalised with my blog logo and it had a message from Khaled Alqahtani & Lana Alresheed, the minds behind The City Magazine and of course the chocolate gift. I loved the fact that I was an inspiration in any sort of way, thank you Khaled & Lana, I will cherish this note always and forever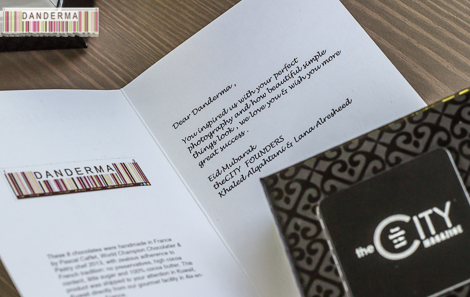 Now for the chocolates, there came from zChocolate, France and were hand made by Pascal Caffet, world champion chocolatier and pastry chef 2013! Made no doubt from the highest quality ingredients, I loved each and every piece and needless to say they were gone within seconds.
Thank you Khaled Alqahtani, Lana Alresheed, and The City magazine for the lovely gesture! I loved the chocolates and I'm happy someone appreciates my humble work and thinks it's inspiring. You really and truly made my weekend.
The City Magazine is a monthly magazine that focuses on events, fashion, and lifestyle of the people in Kuwait. You can find it in many outlets around Kuwait, costa coffee and coffee republic for example. For more information and for the distribution points you can check their website (link) or follow them on Twitter (@TheCityMags), or on Instagram (@TheCityMagazine).
---
2 Responses to "Lovely French Chocolates from The City Magazine"