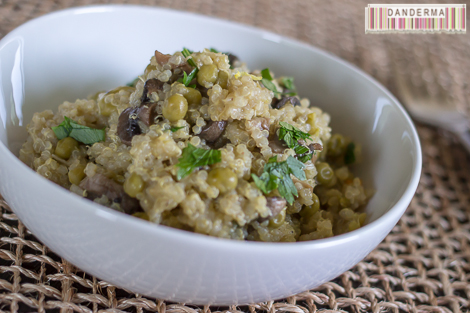 One of my birthday resolutions for this year was to become healthier, not for the sake of weight loss but for my overall well-being. I'm not twenty one anymore, not even 30, and this means my supply of youthful health is running out fast and the time has come to be smart about my choices. I remember an old man selling ice cream out of a cart in the street that we met last year. I wanted an ice cream -well it's me after all- and my husband didn't. The old man, with his beautiful toothless smile and deeply wrinkled face, told my husband to eat an ice cream while he still could.
I don't want to live that way, sick and riddled with illnesses that prevents me from doing what I want and making me a burden on others. God blessed me with good health, I'm not going to throw that away by continuing to ruin my body as if I'm going to be young and healthy forever. In any case, yesterday I tried to cook the miracle grain quinoa for the first time and it was a success! I made a mushroom & peas quinoa risotto. Technically it's not a risotto since no rice was used but it's just like a risotto, only healthier with more protein and won't wreck havoc with your blood sugar because of the white rice.
I didn't make up the recipe, I got it from dietitian Ghanimah Al-Rayes whom I've been following on instagram for a long time now and I have to say, the way she makes her dishes so healthy and simple and her using of quinoa inspired me to try and incorporate it in my diet. I saw the the recipe of the mushroom & peas quinoa risotto on her instagram page (@GCalories) and on her blog (recipe) and found a video of how to cook quinoa, and couldn't wait to cook it for lunch.
buy neurontin How to cook Quinoa? Basically for every measure of quinoa you use double the amount water with a sprinkle of salt, put them together in a pan and bring to a boil on high heat then reduce the heat to medium-low and let simmer for 15 minutes until all the water is gone and the quinoa is double in size. Here is a video I found on Gcalories blog that explains it better (link).
buy genuine cytotec in the u.s. How to make the Mushroom, Peas, and Quinoa Risotto?
I didn't use the exact same recipe of Gcalories, I've taken away the garlic and added a splash of milk to make it seem creamy. I also didn't sprinkle it with parmesan and instead sprinkled it with chopped parsley. It took all of 30 minutes from scratch to prepare only and the taste wasn't bad at all. If I had used cream and cheese and plenty of salt it would've turned amazing but I am trying to be healthy and lose some weight on the way here. Anyways here is what I used, for Gcalories exact recipe you can click here (recipe).
Ingredients – serves 2:
1/2 a small white onion – 2 cups of COOKED quinoa (about 320g cooked quinoa) – 2 cups of sliced mushrooms which is about half a blue packet – 1 cup frozen peas – 1 cup water – two tablespoons low fat milk – a splash of olive oil – Salt & Pepper – a few chopped parsley leaves.
How to:
1- Heat up the olive oil and fry the onions until they are tender.
2- Add the mushrooms with the lemon zest, salt and pepper. Cook until the mushrooms change colour and you can see their juices oozing.
3- Add the peas with the cup of water, season with salt & pepper, and cook for two-three minutes.
4- Add the quinoa and mix everything up, add the milk and stir gently until the contents in the pan resemble a risotto.
5- Serve immediately and sprinkle some chopped parsley or parmesan cheese on top.
And here is my mushroom, peas, and quinoa risotto!
My husband saw me try and cook quinoa and he wanted to try it too. As I was taking pictures of my dish he brought over his and I almost laughed. He was trying to be healthy by sticking celery sticks in his quinoa risotto dish, transforming it into a dip.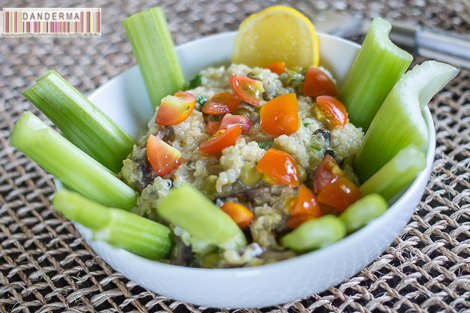 I have to say that combo didn't taste bad either.
How does quinoa taste? Quite tasteless actually and it would take any flavours that you'd infuse or dress it with. In the risotto dish I didn't miss the rice at all, had I not made it myself and known it was quinoa it wouldn't have mattered much.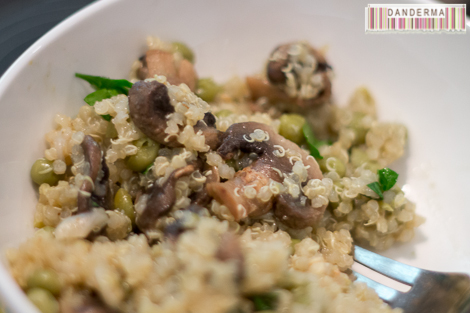 My only take with quinoa flavour is that it does need a lot of salt to bring it out or enhance it. Or maybe because I'm just getting to know it? I'm already thinking of plenty of ways to cook my quinoa next but the thing is it's always sold out so what precious little amount I have I must use wisely. I might also update this post with pictures of my cooking the quinoa and the risotto when I make it again and I'm so going to do so.
What do you think, would you prepare quinoa this way? Do you have a favourite way of preparing your quinoa? Do please share, I need inspiration

---
2 Responses to "Recipe: Mushroom & Peas Quinoa Risotto"