Madhubani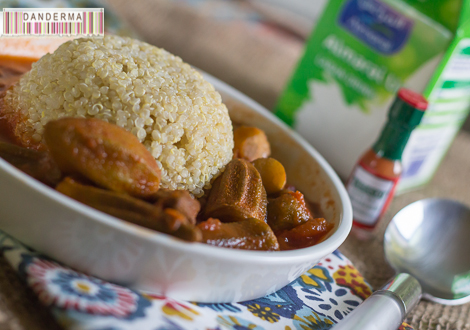 Ever since I began cooking quinoa I really wanted to use it with one particular dish, maraq bamiya (okra stew). You see, if quinoa passes the maraq bamiya test, it can reside their proudly on my pantry for the rest of time, banishing every last morsel of rice from the premises. The dieticians in Kuwait have been urging us to replace rice with quinoa and I already tried that twice with the quinoa mushroom risotto and the quinoa with dill & broad beans (bajela w shbent) and both time quinoa posed as the perfect protein-packed fiber-laden replacement to white rice therefore I thought it was about time to use it with my vegetarian okra stew (maraq bamiya).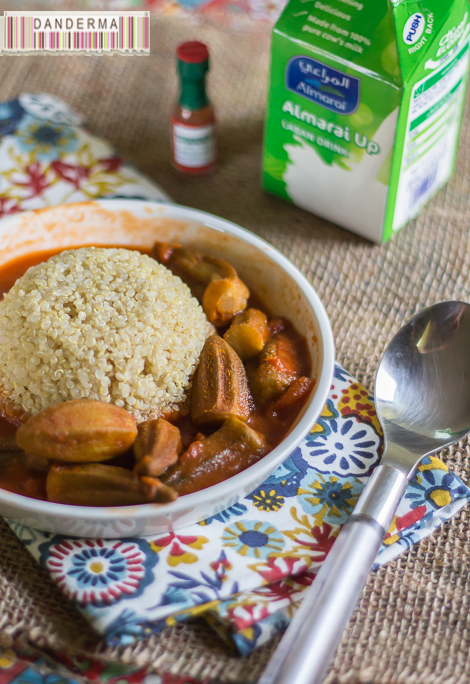 Every household in Kuwait has their own way of making okra stew, growing up ours always came with hunks of boneless meat and big chunks of potatoes swimming alongside the velvety okras. My version of the okra stew is meatless, with big chunks of potatoes, and must be accompanied with vermicelli rice and a bottle of salty laban drink -yoghurt milk or buttermilk-. However, since I'm trying to lose weight and am cutting back on the carbs I made my stew without the potato from my trusty recipe for my vegetarian maraq bamiya (okra stew) and I skipped on the vermicelli rice and hakooka all together and prepared the quinoa as I've done before in my Quinoa & Pomegranate salad recipe and Quinoa Mushroom Risotto which doesn't take much time, only fifteen minutes maximum.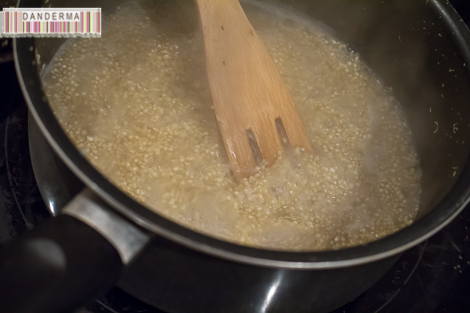 Basically for every measure of quinoa you use double the amount water with a sprinkle of salt, put them together in a pan and bring to a boil on high heat then reduce the heat to medium-low and let simmer for 15 minutes until all the water is gone and the quinoa is double in size. Here is a video I found on Gcalories blog that explains it better. You know the quinoa is done when it looks like this.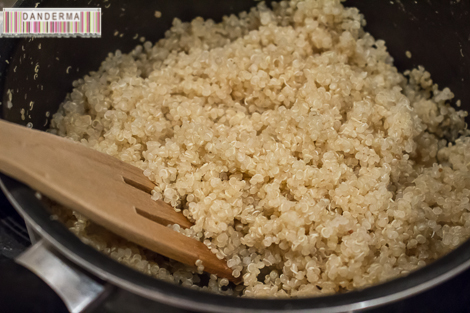 All you have to do is now serve it alongside the maraq bamiya with some salty laban drink. KDD discontinued my favourite low fat salty laban drink but Almarai do offer a new Laban up product that would accompany the dish perfectly. A bit of tabasco on top to add a fiery kick wouldn't hurt either. And lunch is served…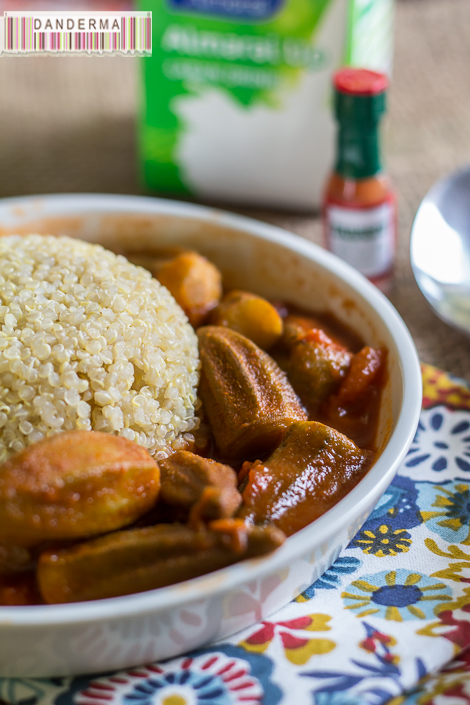 Choosing to let go of the potatoes didn't ruin the taste for me at all. In fact, once I took a bite of the first juicy okra I forgot all about the potatoes and quinoa and felt like I was eating my childhood maraq bamiya! The quinoa did need a lot of maraq or stew liquid to flavour it but once everything was all mixed up nicely you couldn't actually tell you weren't eating vermicelli rice!
The quinoa passed the maraq bamiya test with flying colours. I think it's time to banish the rice from the pantry for good. I actually contemplated making a vermicelli quinoa but thought against it, perhaps when I lost a good amount of weight but not yet.
Did you try quinoa instead of rice still? How are you eating your quinoa, the star superfood of 2013?
---
6 Responses to "Recipe: Quinoa with Okra Stew"