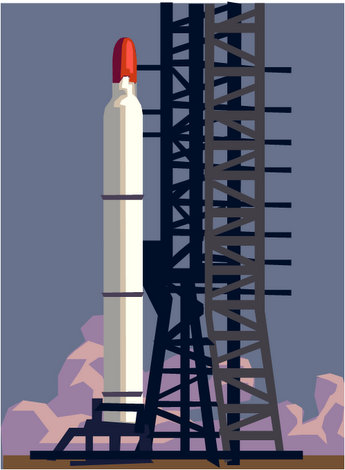 A while back I read a news report about a new NASA project which plans to send human beings to Mars and have them settle there by the year 2036. I remember shuddering when I read that, not imagining in a million years that I'd willingly board a spaceship -it has to be, a rocket just wouldn't do now would it?- and stay cooped inside for months on end until it reaches nothing but a bare red land with man-made colonies to live in, in another planet, forever!
I'm still shuddering at the thought, therefore you can imagine my surprise when I read in Alqabas newspaper this morning quoting a post on Arabian business website about a similar project where 1,259 Gulf residents already applied to go and live all the way in Mars, 142 of which are Kuwaitis!
When did this happen exactly? Where did they apply and sign up, and what did they sign up for? What kind of life would they expect to live in Mars? What would they do all day long? Would they work? Of course they would, but do what? Can they drive somewhere? Take vacations? Contact their loved ones home? Surf the internet or even have a Martian internet of their own we could surf? What about food? Would they grow it or depend on supplies from Earth once every 9 months? What if they began craving something unavailable in Mars? What would that mean to us? Having people we might know -or not know- living in another planet all together? Would we want to visit? Or gloat that my friend who now lives in planet Mars sent me this plant that can only be grown in Mars and tastes like chocolate mousse?
What if they wake up one day and find out other planet inhabitants visiting? Or not happy about them living in Mars and started a war? What if they wanted to live next to the human colonies? Could creatures from other planets be neighbours with our human ones and live in peace?
The prospect is very big and perhaps one day someone from the future would read this and laugh at my speculations, dismissing them as ignorance of the stone-internet age where people were limited to one planet and their idea of travel involved getting on an air plane and visiting another content. But I've grown up watching Star Trek every Friday and I for one promised myself, a very long time ago, to never set foot inside a space ship or a rocket or whatever they call them. There is no guarantee I'm coming back and there is nothing out there but darkness and millions of stars. If anything should go wrong, Apollo 13 or Challenger style, then that's it. I'm not that adventurous, thank you very much, and I don't expect a ticket to Mars is within my financial capabilities, and the no-return clause would just seal my no-way deal. I love Earth too much.
So, what do you think? Would you sign up to go on a no-return trip to planet Mars, if you could afford it that is? Maybe you are one of the 142 Kuwaitis who did already, and why?
---
12 Responses to "Would you Board a No-Return Trip to Mars?"