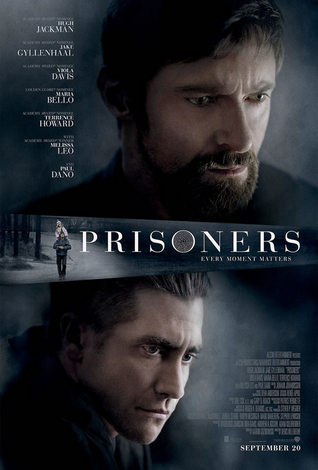 Last week I went to see the movie Prisoners which I've been looking forward to watching for a while since its starring Hugh Jackman and Jake Gyllenhaal. I did cave and watch a bit of the trailer to know the general feel of the movie I was anticipating and then when I noticed the trailer was going to go on forever I stopped it but I had an idea on what I was going to be watching. 
Two little girls go missing on thanksgiving day and when the one suspect is let go because turns out to have an IQ of a ten-years-old boy and couldn't have possibly done the crime, the unconvinced father of one of the girls (Hugh Jackman) decides it was up to him to get the truth out of the suspect while detective Loki (Jake Gyllenhaal) follows other leads and tries to find the girls before its too late.
The movie is a very good one but it's quite long. Too long actually, for there are many unnecessary scenes and the events seem to go in slow motion after detaining the suspect but I wasn't disappointed with how it turned out.  Somehow I couldn't shake off the idea that I was watching Wolverine looking for his daughter and when he uses his fists I felt sorry for the poor recipient, there are many bloody scenes by the way and the movie is not suitable for the faint hearted but the ending is excellent and has a major cliffhanger though after pondering the matter it sounds more like a logical conclusion rather than a cliffhanger per-say.
I would recommend this movie for anyone who is in the mood and has the time to watch a long, slow mystery. It is a bit depressing in some bits and it breaks your heart in others but in the end it is indeed a movie worth watching and will sure make it to my DVD collection shelf for sure.
---