A while back I was lost in Sha'ab Al Bahri area trying to locate a bakery when I came across Sauce restaurant. It looked like a nice cosy little place, perfect for hanging out quietly, but it wasn't open still therefore I made a mental note to keep an eye out for its opening. Now its finally open, my friend Pink Girl and I decided to go to Sauce for lazy Friday dinner. 
After a few twists and turns in the roads of Sha'ab we made it to Sauce. Parking was no problem at all, there is a big empty lot to the right of Sauce which doubled up as a parking, something to be thankful for in such a traffic busy area like Sha'ab. When we arrived there was only one occupied table outdoors which gave us plenty of time to admire the interior: modern with an industrial feel.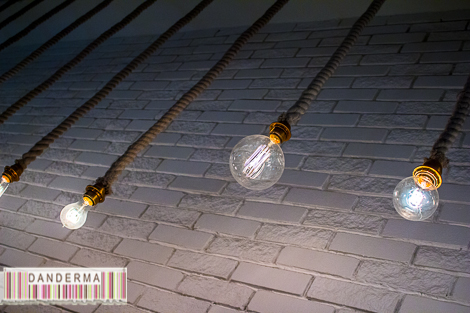 Sauce has three different seating areas: one outdoorsy in front of the restaurant where you can watch the traffic and passers by, the second indoors with plenty of tables yet a bit of a tight squeeze, and a third outdoorsy one in the very back of the restaurant sheltered from the outside world with wood panelled walls. The ceiling is nothing but strings of light bulbs crisscrossing overhead and as you look up you can see the moon dancing between the lightbulbs. Spectacular!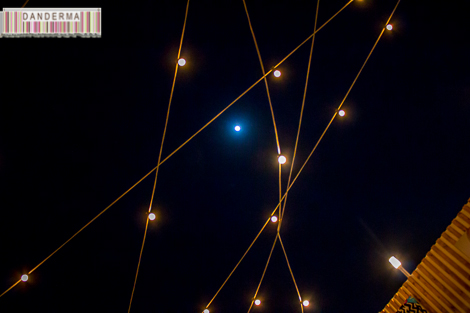 Lovely paintings were hanging all around the wood panelled walls and giving the beige & white decorated space a splash of colour. We were actually too engrossed in watching the painting we forgot about the menu placed on the table. The gorgeous art work on display is for sale and is done by the talented Saudi artist Fida Al Hussa.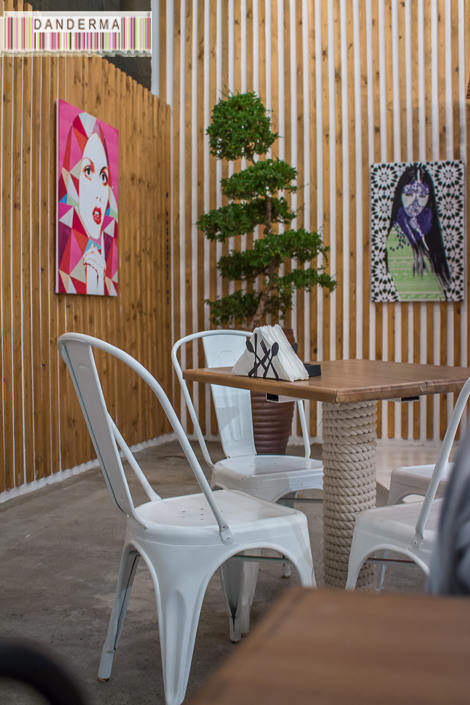 After admiring the art, and the little backyard seating area, we finally concentrated on the menu. There are plenty to choose from and most of the current Kuwaiti culinary favourites were included like Pink Pasta, burgers, and pizzas.
It didn't take long to place our orders and out waiter, and the staff, were very friendly and efficient. We were left once again to enjoy the gorgeous weather in the fabulous little art and lights decorated backyard which felt like home. I love Sauce's attention to details: the little napkin holders, the cups were lovely and modern, the plates were and the presentation of the food dishes. You could tell a lot of thought was put in the design of the place. Quiet frankly, I wanted to move and live in the little backyard!
The first food item to arrive were the Mozzarella Carrazzo or the breaded and fried Mozzarella cheese cubes with a side of creamy tomato sauce. The dish was OK.
Next to arrive was the Spicy Maple Glazed Shrimp. I didn't touch those of course, they were Pink's order and she said the spicy sauce was really good but wished the shrimps were smaller and weren't overcooked.
For our mains we decided to share a Margharita pizza and the Porcini mushroom rissotto. Porcini mushrooms have a sharp earthy edge to their flavour which is why I love them and seeing they were on the menu I wanted to try them.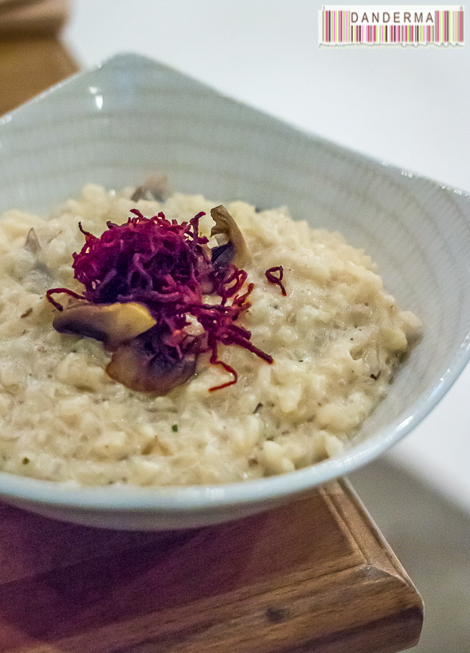 The porcini mushroom risotto was prepared with button mushrooms, not porcini ones. It was also more of a creamy rice pudding than a risotto, with too much cream and barely any mushroom flavour -or any flavour for that matter-. The only thing I liked about it was the presentation and the beetroot curls on tops therefore I wouldn't recommend it.
Next came the pizza! The portion size is perfect for one person, not too big nor too small. The pizza was OK though, I believe it would taste much better if you order it with extra sauce.
Sitting in the little hidden backyard felt like it was sitting at home, it was very relaxing and serene but we decided to have our coffee and dessert on a table outdoors in front of the restaurant. The front outdoors seating area was busier, with more noise and lots of traffic to  look at, perfect for people -and car- watching.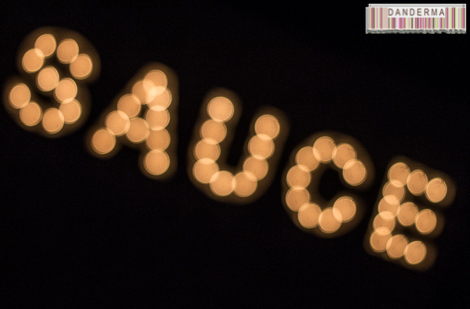 We ordered the Red Velvet pudding with a cappuccino and a Sauce's special Hazelnut latte.
Pink recommend the Hazelnut Latte, she said it was quite good. The Red velvet pudding with a side of vanilla ice cream was also quite good, rich, and red velvety! Of all the things we've tried that evening, the red velvet pudding was voted our favourite, unanimously.
Our bill came to 18.850 KD, not bad at all for a meal for two with dessert and beverages.
I enjoyed my dinner experience in Sauce restaurant. The interior, the design, the art, the weather, the hip yet relaxed ambiance, the food presentation. Will I go there again? Of course I will! I never wanted to leave and was ready to order a gallon of coffee, that's how relaxed and happy I was. I'd prefer I pass by for after dinner dessert and coffee and not for my diet free-day meal though. It would also make the perfect spot to hang out with a friend for coffee and a long catching up chat.
Sauce Restaurant is still in their soft opening phase therefore they are open from 7 P.M. till 11 P.M. daily and there is no need for reservation. Sauce is located in Sha'ab Al Bahri or the Sea Front Sha'ab, block 8, Ibn Salam street right behind the Costa Del Sol Hotel. For more information and directions you can check their instagram account (@SauceKuwait).
---
5 Responses to "Dinner at Sauce Restaurant"