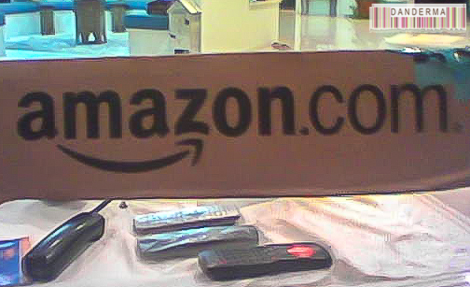 Before the end of year 2013 I'd like to share on my blog something I've done for the very first time an entire decade ago, the memory is crystal clear and I can still feel my enthusiasm while taking pictures to document the "event", ten years ago I had plucked up the courage and sought to purchase something from Amazon online and have it delivered to Kuwait for the first time ever! 
On September 27, 2003, I received my first ever brown box from Amazon.com. It was my first ever online purchase and back then I had neither a Visa card I could use online nor an Aramex mailbox. I remember driving to the DHL to pick up my box, excitement bubbling inside me for being able to order something all the way from the USA using only a computer screen. I didn't have a camera on me so I used my Nokia mobile camera which also was another WOW factor back then. I felt very, well, technology-lised, driving back home and taking a picture on my mobile of something I've ordered using the computer on the internet that's sitting right next to me on the passenger seat! All things we take for granted these days.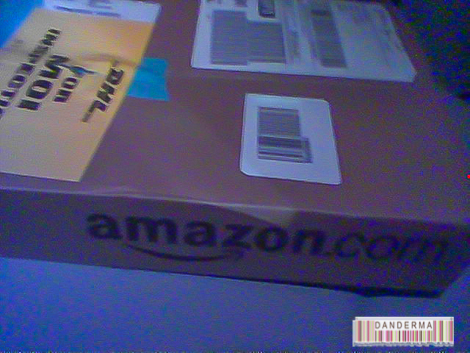 Back home the obsession with documenting the moment started, yes taking pictures of everything is an old habit of mine, using my horrible Nokia camera I took picture of every angle of my first ever Amazon box. The pictures, as you can see, is of the most terrible quality and I didn't get myself a proper digital camera until a year later.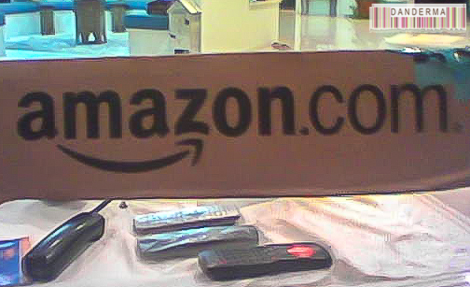 I could see that the box was already opened for inspection by MOI. I had paid for the box to be shipped using DHL International which cost me $36.48 ! What was I thinking? But then again I was so eager to be able to order things online and have them shipped home that I couldn't care less that the delivery alone almost cost me 15 KD!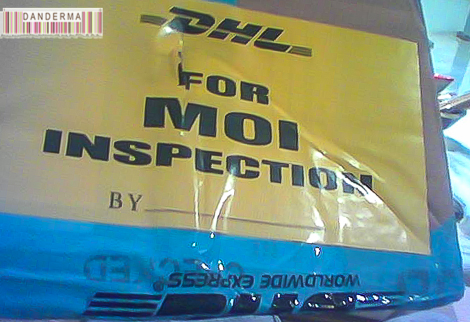 I had also decided that my first ever Amazon order be a gift for myself therefore I had it gift wrapped. I have the tendency to gift wrap thins I buy for myself whenever I could help it because it makes me giddy with joy, and my first order via the internet had to look good and be spectacular. Its a good thing the MOI inspection didn't open up my gift wrapping or I'd been devastated.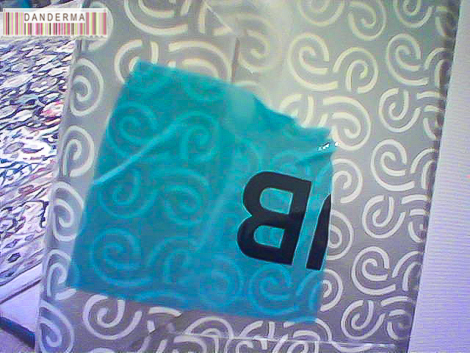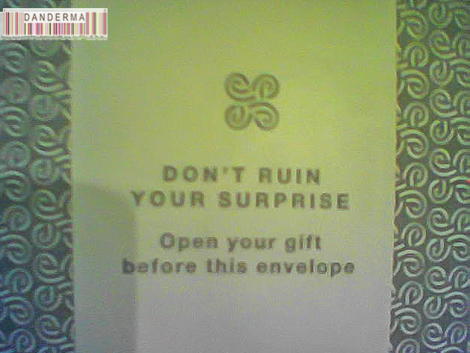 Yes, it came with a gift card and everything! I cannot find the gift card though nor can I remember or find on Amazon what was written on the card. If I find it I'll update this post.
Do you know what was inside the gift wrapped and brown boxed first Amazon order of mine? Something I've longed for back then and something I still cherish till this day. If you know me, take a wild guess before you look at the picture below?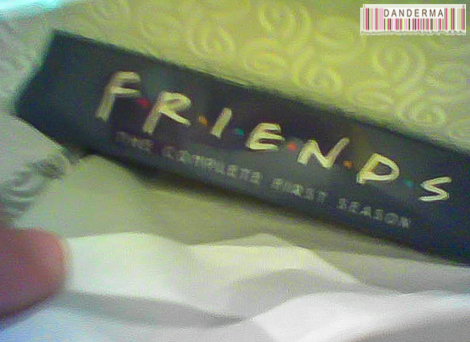 It was the first complete season of FRIENDS on DVD! My absolute favourite show, ever, and it was still running at that time. I had seen most of the episodes from Season 2 onwards, over and over, but I've never seen Season one or knew how it all started. The moment I finished taking these picture, and I had the hardest time putting time that Nokia camera, the moment I was done I had the most lovely time watching FRIENDS first episodes for the very first time <3
I remember, since I didn't have a VISA card then and if I had I wouldn't have dared use it online, that I paid for my order using a Bank payment order or whatever its called from the bank. It took me forever, me and the teller, trying to figure out what to type on the payment paper and where everything went. Then I had to ship that bank payment paper thing, then I had to wait for it to arrive to Amazon and be processed and accepted by Amazon. I placed my first online order on Amazon.com on September 14, 2003 and received my first online order ever on September 27, 2003. It cost me $67.91 plus taxes and shipping.
I then got myself an safe and secure VISA card for Internet usage, I believe it was from NBK and Aramex had just opened up in Kuwait City so I went and subscribed for a mailbox. My second online order ever was placed on 6 December 2013 and since it was so easy and fast to get your orders via Aramex back then with almost no MOI or customs holdup, I've gone and ordered again and again and again, everything from Medicine to gourmet chocolate, books and movies and music to clothing and even once Ben's cookies.
I miss the old and early days of online shopping. The thrill you got from knowing that brown box chock-full of lovely things for you to enjoy has arrived from as far away as you can imagine. I barely order anything online anymore and if I do, the delay from the customs and MOI and the unbelieveably expensive shipping prices would dampen my spirit and take away from my happiness.
Can you remember a time where ordering online wasn't so common? Do you remember your very first online order? What did you buy?
---
4 Responses to "My First Ever Amazon Order"