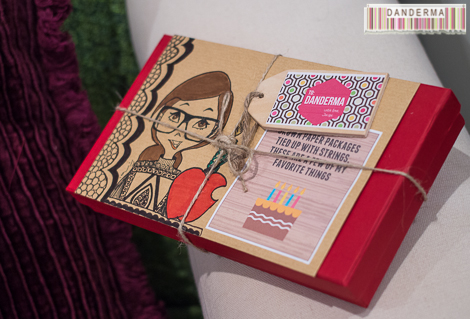 When one of your friends turns 30 the norm would be that you'd pat them on the back, assuring them that 30 is the new 20 then hand them a loving birthday gift that would a smile on their face. To Jacqui, the owner of Kuwait's oldest surviving blog "The couch Avenue", turning 30 meant paying a special visit to each and everyone of her friends with her very own idea of a gift. Why? Because she wants to show her gratitude for our friendship. The gift was a small elegant fuchsia pink box, a personal letter, and a wooden tag with my blog's name printed on top.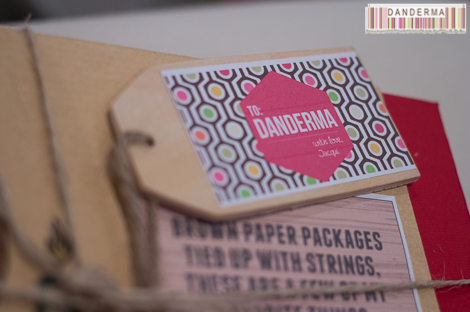 That tag bears a sneak peek of my template's new look by the way! The letter came in a sealed envelope with a drawing of Jacqui's character next to an Apple cake with a candle. The drawing was hand drawn by Jacqui's sister Dana and its simply gorgeous! Well done!
As Jacqui sipped her extra sweet tea while sitting on my couch, I tucked the sealed letter away to be read later on and opened the box. What's inside?
A lovely collection of little thingies! Lego erasers you can put together, green little pen and little dolly charms, also in green because its my favourite colour. My very own iPhone :p Not really but the gesture is lovely, and the pièce de résistance was the little customised tin box of m&ms!
I don't understand why this girl isn't in the branding and customisation business! She could very well be making branded gifts and giveaways for people and to her it would be as easy as batting an eyelash! She's a natural.
And sweet it was indeed! Not only do the m&ms come in her blog's colours, they had a special message printed on them along with her blog's character!
They are so lovely, I feel guilty about eating them. I didn't finish them all, well I'm trying not to anyway. There is always more where those came from, back in the USA of course :p Is it my imagination or does American m&ms taste better than any other m&ms from other parts of the world? m&m's rule!
The letter I read later, before going to sleep, and its very private. In a gist, its about how valuable our friendship is and do trust me dear Jacqui when I tell you that I cherish your friendship. I only befriend people I truly love and I treasure my friendships and you, dear thoughtful wiser quirky 30-something Apple-freak om el tefa7 Jacqui, are an absolute keeper <3
Happy birthday Jacqui, wishing you many happy returns. May we celebrate your 60th and 90th together as friends.
---
6 Responses to "Jacqui's 30th Birthday Gift To Me!"