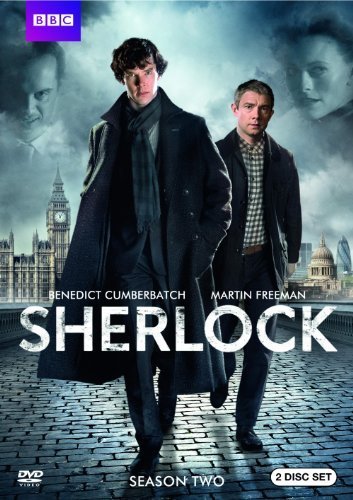 In the very last days of 2013 I'm enjoying a vacation where I spend most of my time wrapped up on my couch day dreaming, and you tubing, about the Hobbit. I've seen the second movie Desolation of Smaug three times already and I would go a fourth had they provided a remote control with a rewind or pause feature, they should really do that for future cinemas btw.
Anyhoo, one obsession led to another and something kept popping up in between the hobbit interviews and behind the scene tidbits, and that something was Sherlock which is apparently a BBC TV series about Sherlock Holmes starring Martin Freeman who plays the hobbit Bilbo in the Hobbit and Benedict Cumberbatch who plays Smaug and the Necromancer in the Hobbit and has been appearing everywhere I look in 2013!
Benedicit starred in Star Trek, the Fifth State, and kept coming up on the Hobbit's interviews and so did Sherlock so I googled the show, then saw a few scenes, then saw the final season's sean where Sherlock jumps off a rooftop, and next thing I know the Hobbit mania was pushed aside by Sherlock mania which had me up watching the six 90-minute episodes until dawn!
The show, Sherlock, is simply AWESOME! Its witty, funny, crazy, mysterious, and hits all the right spots for Sherlock Holmes fans. Why this Sherlock? Well, this new Sherlock is set in our day and time and Doctor Watson is also a blogger writing about his friend's cases in his very own blog! How about that for a twist? Both Martin Freeman and Benedict Cumberbatch performances were excellent and I can totally see what the hype is all about, finally something to look forward to on TV!
Now the big reveal of season three is coming up on new year's day which shows how Sherlock survived the fall and I cannot wait for 2014 to arrive so I could watch it. You still have time to catch up on the show and wait for 1 January to see what happens and how Sherlock lived, I believe I'm lucky I didn't have to wait for an entire year to know that!
Have you seen Sherlock? How do you think he survived that fall?
---
2 Responses to "Bitten by the Sherlock Bug!"