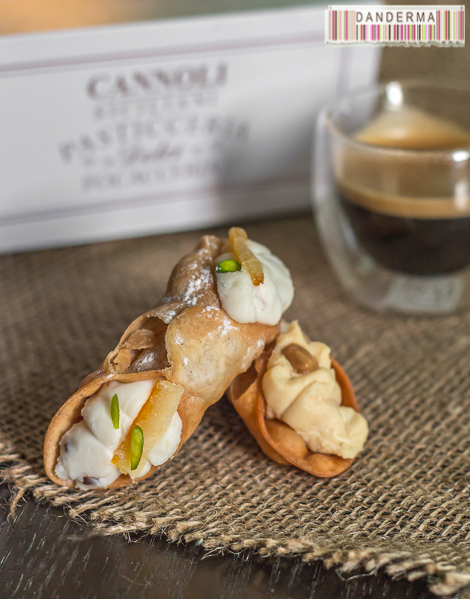 For a while now I've been hearing local foodies raving about the arrival of the "Cannoli" to the dessert scene in Kuwait. Just when you thought there couldn't possibly be anymore Oreo-stuffed Nutella-laden dessert combinations left to invent and sell from home, a new home business springs up with a totally different authentic dessert all the way from Sicily, Italy and the name is Cannoli. 
Have you tried a cannolo -singular for cannoli, which is plural- before? I recall seeing them in Italian stalls in food markets in the UK and having sampled one in Italy about a decade ago. Cannoli are a thin round pastry, folded up and deep fried then filled with a creamy delicious filling. The ones introduced in Kuwait are sold by Pasticceria Di Pietro, a family Sicilian pastry shop owned by an Italian couple, Mays and Luciano Di Pietro.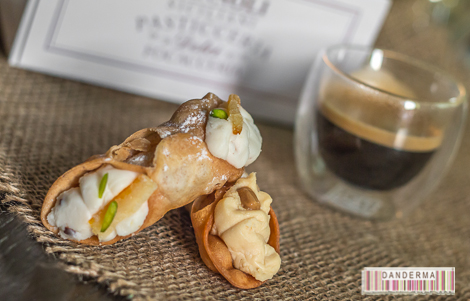 I love that the cannoli come from a family business, you know what sets Italian cuisine apart is that its all about family. When I came upon the stall selling the cannoli in a charity bazaar yesterday I found the empty fried shells being filled on the spot with a mound of creamy filling by the owner himself. I had gotten the original ones which come with a stray chocolate chip or two folded in with the cream filling and topped by candied orange peel and pistachios. I also got me the salted caramel cannoli, yes salted caramel. I swear you could put salted caramel on my favourite book and I would eat it to the last paper!
It took a lot of self-restraint but I managed to hold on until I was reunited with my espresso machine before biting into the golden beauties. The cannoli, even though they are cream filled fried dough dessert, were crumbly and flakey and cream and surprisingly quite light! Most importantly, they weren't overly sweet or too sugary which I did appreciate. I did however like the original cannolo better than the salted caramel ones, perhaps because it didn't taste much like salted caramel to me.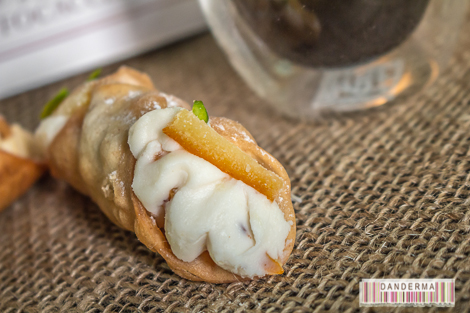 Some people pointed out that the cannoli are on the expensive side, they start at one KD per piece but to me when it comes to food I tend not to care much about price tags. If you like your desserts to have a bit of crunch or if you are a cream lover, the cannoli are for you! Again, they are not too sugary so if you are looking for a sugar blast you might not like them. There are many different fillings and topping to the cannoli offered by Pasticceria Di Pietro plus candied orange peel and different types of Italian cookies.
Now people, ditch the cupcakes and try the cannoli! You can order your cannoli from Pasticceria Di Pietro by giving them a call at +(965)-65119921 or checking their instagram account (@Pasticceria_dipietro).
---
4 Responses to "Trying The Sicilian Cannoli from Pasticceria Di Pietro"