Hello March! Can you believe its been three months since the start of 2014 already? Where does the time fly to? I hope you all had a lovely national and liberation days vacation. Now lets start blogging again, shall we?
In the week before the vacation I, along with almost all the bloggers of Kuwait, had been offered the chance to try Diet Care's lunches for one week or, to be more precise, five working days. The offer included a main dish, soup or salad, and a dessert thats to be delivered daily from Sunday until Thursday. I personally love Diet Care's food and usually pass by their stand in our local Co-op to get lunch every now and then so when the opportunity came to try their new menu and get rid of washing the dishes for a week, I wasn't the one to say no.
When I was contacted by Diet Care I made a request for the food to be delivered after 1 P.M. for no one will be home to accept the package before 1. However, when the first day of Diet Care's trial came I got a call from the delivery guy at 11 informing me he is waiting at the door. I asked him to come back at 1 and he did but he also informed us that he will be coming everyday at 11 because it is his designated time slot. He was true to his word, everyday at 11 he would come and I would ask him to leave the food outside the door until we were home. Therefore, if you are thinking of joining them I'd say you should work out the timing issues first, that is if you don't have someone at home at all times.
I never did receive packages from Diet Care before but when I did I think I loved theirs more than any other diet company's package. It was just the right size and quite compact, not too heavy and even came with heating instructions printed on the box! Now for the first day, a Sunday, I received vegetables lasagna for my main dish. The lasagna was really good and the portion was quite generous packing 400 calories and worth every bite! I love lasagna <3
The salad was a 100 calorie worth of Cesar's salad and personally I don't like Cesar's salad and never understood the hype surrounding it since it arrived in Kuwait in the mid-90's. Loads of lettuce and quite boring but if you love Cesars you might enjoy it differently. It was quite fresh though.
For dessert I received two Eclairs, one caramel and one chocolate, both come with 200 calories -or a 100 each-. I tried the chocolate one, it was quite fluffy and not overly sweet but its nothing like a cream heavy and chocolate glazed eclairs you'd get at a bakery but for someone on a diet who is craving eclairs I believe it will do.
The second day, a Monday, I received a cheese stuffed chicken breast in mushroom and cream sauce with a side of mashed potatoes and sautéed vegetables. This dish was eaten by my husband and he loved it, for such a big portion with lots of ingredients its hard to believe it has only 400 calories!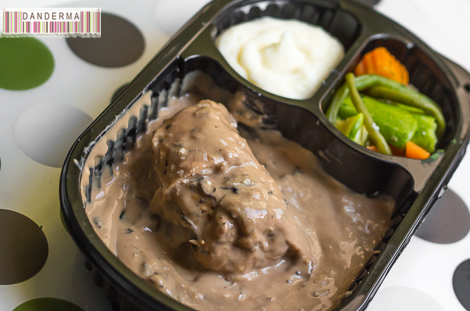 For the salad I received the "Corn and Capsicum" salad which when I chose it sounded like a fiery Mexican salsa-salad with grilled capsicum and lots of corn. Sadly, it was basically a cabbage salad with a hint of corn and capsicum slices and some bread crumbs. How did corn and capsicum translate into cabbage exactly? The bread crumbs did nothing for the taste and if you do not like cabbages you might want to stay away from this one. A 100 calories for this salad.
Monday's dessert was a small slice of carrot cake complete with cream cheese frosting. The lot packed 200 calories and it was really moist and delicious.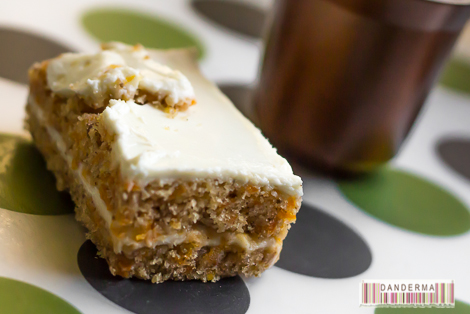 Tuesday was awesome! Egyptian style day with falafel sliders in sesame pita bread with a side of fattouche salad. The 3 falafel sliders had 600 calories which means each is 200 calories and you could get quite full with two only. The pita was soft and delicious, the falafel patty was good and light, and the sandwiches came filled with rocket and radishes but I took them out and stuffed them with lettuce, tomatoes, and cucumbers from the fattouche salad. It also comes with the tiniest amount of quite light tahina but it was indeed enough for the three sliders. I love this dish and I've been to Diet Care stand in the Co-op yesterday asking about it but its still not out yet. I cannot wait for it to be out.
By the way the fat touch salad is perfect and I'm actually craving it as I'm typing this post, the sauce is tangy and sweet and for a 100 calories only its quite a treat. I'd have it for all my three meals if I could. For dessert I received Um Ali, which is the Egyptian version of a warm oven baked bread pudding that I adore and though it doesn't look the part it was quite delicious and heartwarming especially since it came with 200 calories only per portion.
Wednesday for lunch I received grilled chicken with mushroom cream sauce and spaghetti for a main dish. The portion was quite generous considering it packed 600 calories but since it had chicken in it I handed it over to my husband.
According to my husband, the dish was quite bland. The chicken was also pink and a bit undercooked with no hint of that "grilled" feel to it. I suppose it wasn't recommended then.
The salad, a 100 calories worth of "feta cheese and vegetables" should have been called the corn and capsicum salad instead of Monday's cabbage salad! Especially considering that the feta cheese presence was limited to two tiny barely seen cube. It was good though.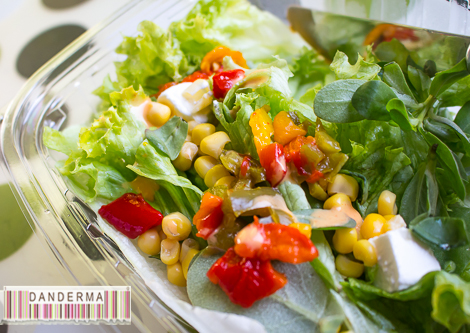 For dessert I received two lemon macarons, a 100 calorie each. They were big for macaron, quite fluffy and lemony. I liked those a lot and one was more than enough. If you are a macaron fan on a diet you might want to give those a try.
For the last day, a Thursday, I received Dawood Basha for the main course. Dawood Basha is the Middle Eastern answer to meat balls and usually come with a side of vermicelli rice. The dish is a favourite of my husband and has 400 calories. If you are a fan of Dawood Basha you might want to give this a try.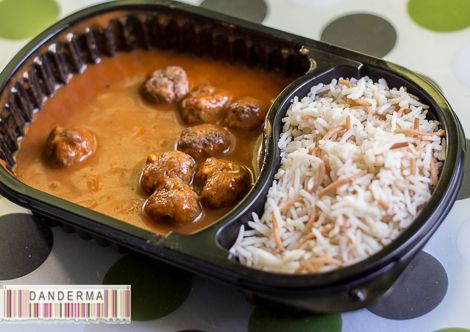 The 100 calories salad of the day was the grilled eggplant salad and for the third time the name barely reflect what the salad is all about. The box had plenty of crisp lettuce, a few sprinkles of pomegranate seeds, and a scattering of eggplant cubes here and there. The salad was OK but the dressing was quite tangy, bordering on too tangy especially since it was almost only lettuce and sauce.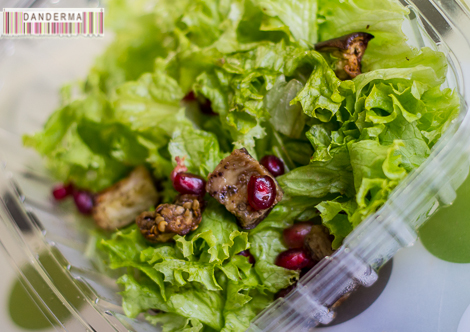 The last dessert was an individual portion of Apple pie with a tiny pot of cream cheese sauce. For 200 calories this apple pie was quite good and satisfying.
Thank you Diet Care for this opportunity. I cannot wait for your new items to appear on your points of sale in nearby co-ops! For more information regarding Diet Care you can give them a call at +(965)-1806050, check their website (link), or follow them on Twitter (@TheDietCare) or instagram (@TheDietCare).
---