http://wargereavy.com/project/school-leaders-enhanced-knowledge-and-skill-for-leading-diverse-learning-communities
prescription drug neurontin 600 mg Now that I think back, I think the first time I really longed to go strawberry picking was after reading a Baby Sitter's Club story of going strawberry picking and then having too much strawberries on their hands they had a festival or something. I read that story eons ago and ever since I've been looking for the chance to go strawberry picking when I'm abroad, mainly in the UK, but not once was my visit timing right. Until of course I posted about strawberry picking in Kuwait and two of my readers, Lateefa and Beejay, told me about the Blue Lake farm in Abdaly where you are allowed to pick fresh strawberry and buy them by the weight!
http://insurance2day.co.uk/mid-term-adjustments-consumers/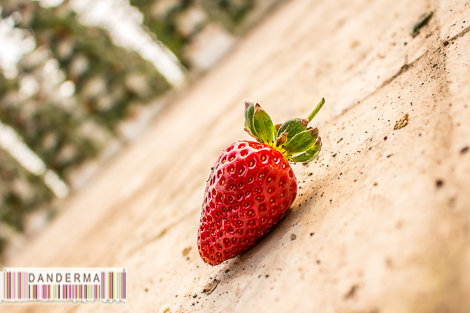 http://ifcus.org/templates/beez3/alfacgiapi I adore strawberries and ever since the season of strawberries started in Kuwait I've been having strawberry walnut feta cheese salad for lunch every day! Through the blue lake's -or Albohayra Alzarqaa- instagram account on Friday they announced the strawberry picking is available that day until sunset and needless to say I downed my cup of coffee at once, put on my pair of converse, and drove all the way up north to Abdali. Driving to the farm was no trouble at all once you follow the map they provide but here are the directions just in case: drive up north to Abdaly on road 80. Keep on that road for a while, about an hour or an house twenty at least.
Once you reach kilo 67 and you see the signs below, take a right on Abdul Rahman Al-Falah road, once you do keep on straight ahead. 
Keep on that road for another ten minutes or so, you'll pass a co-op, a fire department, and a mosque area. Just keep on straight ahead until you see this sign for the blue lake farm, the farm's entrance is just at your left.
By the way the farm is only about 13 kilometres away from the Iraqi border, the furtherest up north of Kuwait I've ever been in my life! All you have to do is park your car and go inside. The entire trip to the farm took about 1 hour and 30 minutes from South Surra and the weather was lovely: sunny with a light cool breeze and just perfect for a road trip.
In the farm there are a few chalet you could rent for the night overlooking a lake but it was sealed off from visitors, and then there are a bunch of green houses arranged around a long walkway which is where we were headed. The farm was, to my surprise, crowded! Children running around, men and women buying produce and flowers, and a big pot of boiling endless cobs of corm was smack in the middle of the action with lines forming to buy corn.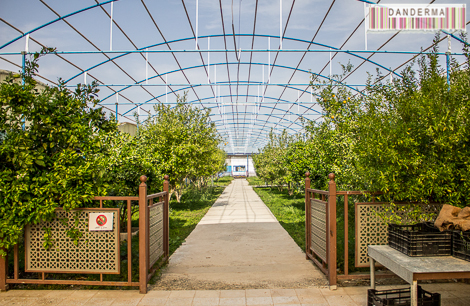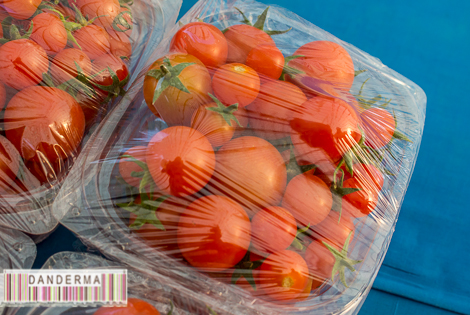 I wanted to head inside the strawberry green house right away but I restrained myself enough to go exploring what else is available. Apparently the farm also provides fresh tea by the name "Nabla" that I was told is actually pretty good. The packaging and branding is quite lovely as well, I proud to acknowledge the fact that this is a Kuwaiti brand from a Kuwaiti farm!
There was a "herbs" green house, with mint, rosemary, basil, another weird basil "7abaq" that I dislike myself but my husband adores, sugar canes, and other types of fruit like tangerines and grapefruits -or so they seemed!-.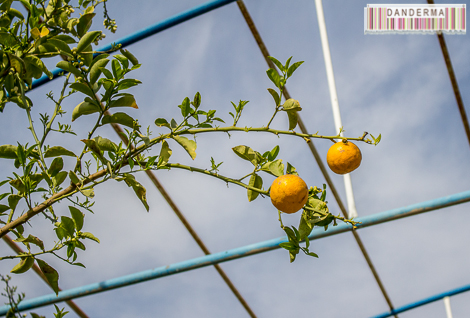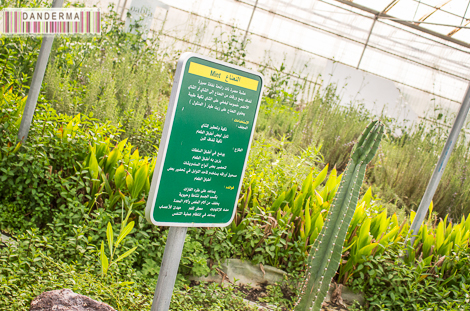 And there were flowers! Endless rows of lilies,  water lilies, and these beautiful little things!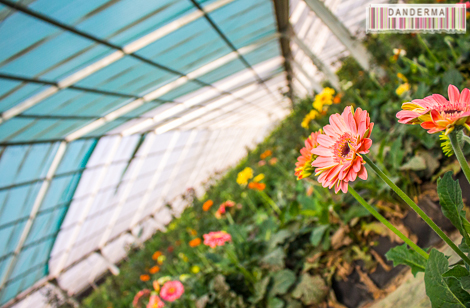 You could buy bouquets of fresh flowers, everyone was walking around with a big bunch, or you could take home the plants themselves: roses and strawberries for growing at home! What are the little plants called in English? We call them "Shatla" in Arabic! They are not shrubs, are they?
Because winter and spring are over and summer is upon us, we thought it was fruitless to buy and try to grow little strawberry at home -yes, pun intended!-. We decided that if god grants us to live until next winter, we must come back and get ourselves a few of those good looking little plants and try and grow them at home. After the little farm tour -which didn't take long- I all but ran to the strawberry green house!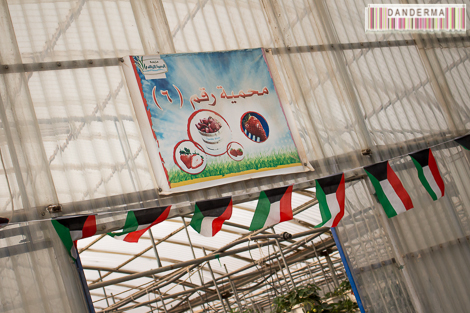 This is the first thing you see when you step into the strawberry greenhouse! Endless columns of strawberry plants with ruby-red strawberries waiting for me to take them home.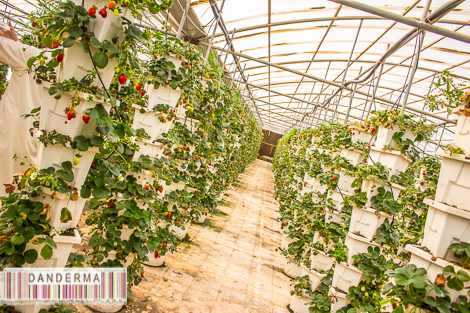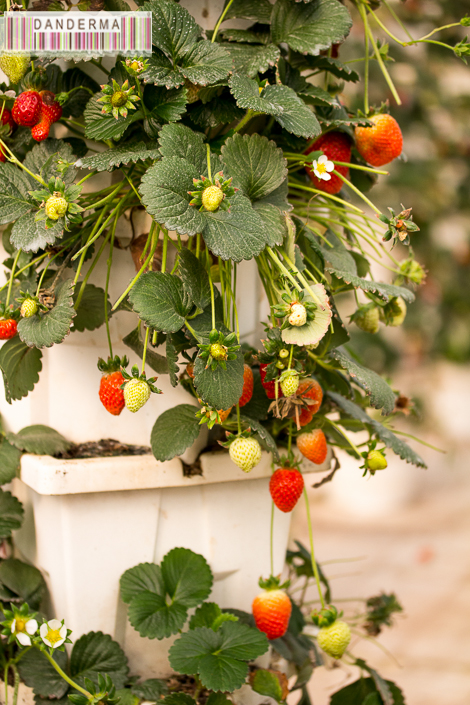 I was rooted to my place, dazed by the beauty surrounding me! I believe the feeling I had washing over me must be similar to the feeling Ali Baba had when he discovered the treasure cave in Ali Baba and the forty thieves legend, only instead of gold and rubies I was looking at strawberries. Beautiful, luscious, fragrant, sweet strawberries!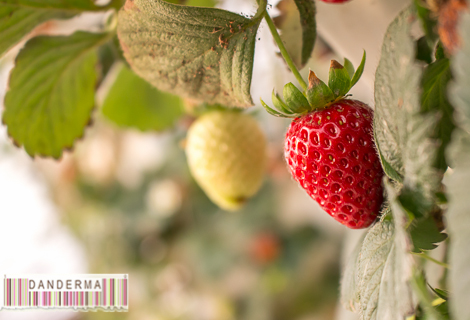 After savouring the gorgeousness of the scene, I was ready to start picking the strawberries and that's what I'm going to talk about in my next post, part two of my strawberry picking in Kuwait trip. 
---