Last Saturday we had the pleasure of attending a very special carnival, the Taste of Boubyan, with amazing food cooked by Kuwaiti chefs for a great cause. The carnival is organised by Boubyan Bank and Kuwait Concierge and was held in the garden of the Regency hotel in bida'a with the aim of raising funds for the autistic children of the Applied Behaviour Center of Kuwait (ABC). ABC offers educational treatment programs based on the principles of Applied Behavior Analysis (ABA) to help the children with autism. However, ABC isn't funded by the government and that's why money was being raised to help out with Taste of Boubyan carnival.
Once you arrive at Regency's garden you can purchase a number of 1 KD vouchers and use them to pay for the food from the different booths. You can buy as many vouchers as you want. Half of carnival's proceeds will go out for the ABC fund.
When we arrived at the carnival it was around 1 P.M. and a bit hot with the afternoon sun high up in the sky. However, there was a nice breeze and the clouds were gorgeous, with many happy children running around and plenty of buzz of people chatting and eating away.
The beach view was gorgeous! I so wanted to go and take a close up photograph of those sea gulls but I was wearing heels and they were already hurting my back by digging into the garden soil.
We took a look around the booths to decide which ones to buy from and there were plenty! Al-Fouz Kitchen's traditional Kuwaiti booth was as colourful and attractive as always!
Dear Maria Rustica's, the Friday breakfast bagels lady from #ShakshookaMarket, had this funky little thing on the chopping board of her booth and I had to know what it was!
What was it? A teensy freshly baked brioche bun stuffed with a mix of smoked red bell peppers, shiitake mushrooms, onions, sundered tomatoes, sumac powder, and parmesan cheese. Topped with fried rice noodles and truffle aioli on a bed of baby rockets! Quite a mouthful for a teensy bite, try repeating that description three times in a row. That was my brioche being prepared by the way!
Roots and blade booth by Chef Dana Al-Tourah of Tatami had a big familiar big yellow pot simmering away on the tiny stove. Inside there was her signature Chili con Carne!
Chef Dana also was serving buckwheat crepes with cashew date sauce and they looked so good and healthy I wanted to hit myself over the head with the yellow pot of chilli for having a grand brunch one hour before. I don't know why I did that when I was going to a food carnival, I'll take that pot on the head now! Sadly my picture of the pancakes was all wobbly but my picture of the chill does look good even for a vegetarian like myself, don't you agree? Chili con carne was dripping in one big bubbling hot delicious mess everywhere!
There was also a booth with such fresh produce it stopped me in my tracks! How juicy do these berries look? I wanted to just reach out and grab the bowl for myself, I believe I must have some sort of berry addiction!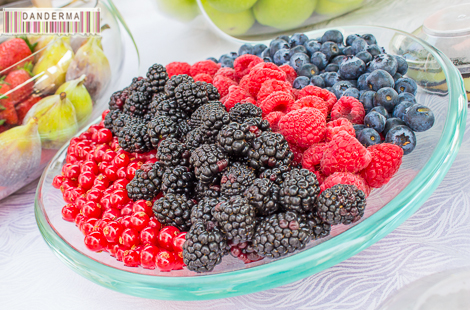 The booth was Chef Hanouf Al-Balhan's and she was making tiny finger food and awesome  looking desserts.
I couldn't resist this bowl  of filo pastry filled with a crunchy chocolatey Nuttela and nuts and topped with those luscious berries and your choice of sauce. I chose mango sauce of course!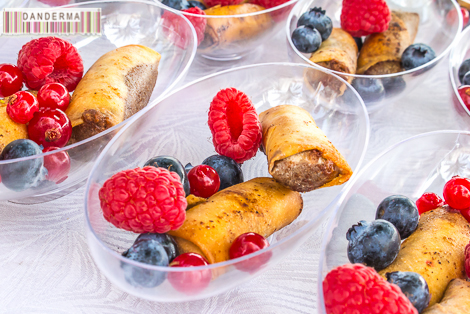 Of course there must be burgers, or rather sliders. Of course you'd find my husband standing at Black Paprika's grill where they were being cooked. He got himself two and he kept raving about how good they were. I guess you'd have to take his word for it.
There was also a booth, @Lezzet_Kw, selling Turkish Shawarma, one of the latest trends to make it big in Kuwait in the past couple of years!
My husband was extremely happy with that shawarma as well!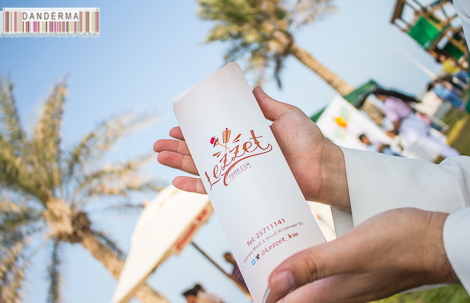 After choosing our lunch and paying for it with the vouchers, we grabbed a table in the garden and sat down to enjoy the view, the weather which kept getting cooler and better, and great conversation. How relaxing was that view? Something that's almost out of a Bounty chocolate commercial, with a little bit of imagination and a sprinkle of optimism brought on by being surrounded with good food of course.

The food we had was excellent! Very fresh and quite delicious! Mind you, I only managed to have a bite of brioche and another of the Nuttela filo pastry after my huge breakfast.
There were plenty of drink around but when I get thirsty I can only quench my thirst with water. That bottle of cold isbre water was quite heavenly.
As we were eating and chatting away Chef Hanouf arrived with a bucketful of the most vibrant fuchsia roses I've ever seen. Each female in the carnival received a rose for it was the 8th of March and was the international women's day.
Thank you chef hanouf for the lovely rose! Dear Ansam who needs to start blogging again soon wore hers with her cross bag!
It was a great carnival and a lovely way to spend your Saturday! I was having such a good time I really didn't want to leave. Thank you Boubyan Bank , Ansam Al-Radwan, and Ala'a Al-Jariki from Kuwait Concierge for putting together this great event and for inviting me to it.  I hope you raised enough funds for ABC's children that day! Best of luck and keep up the good work!
---
2 Responses to "Taste of Boubyan for Autism Carnival"