Its been a while since I've posted something on the blog and if you follow me on Instagram you'd probably know the reason why. I've spent the past two weeks wandering the streets of my beloved London, enjoying the Spring weather and all good things London has to offer. Easter time is the best time to visit for chocolate lovers as gigantic chocolate egg-shaped concoctions appear everywhere and they get more and more creative each year. I don't really celebrate Easter per say but my grandmother used to celebrate the arrival of spring, or shame el naseem as she called it, every year by decorating clay pots with some kind of plant that would grow on it and preparing a spread of eggs and water colours for us to use and paint the eggs.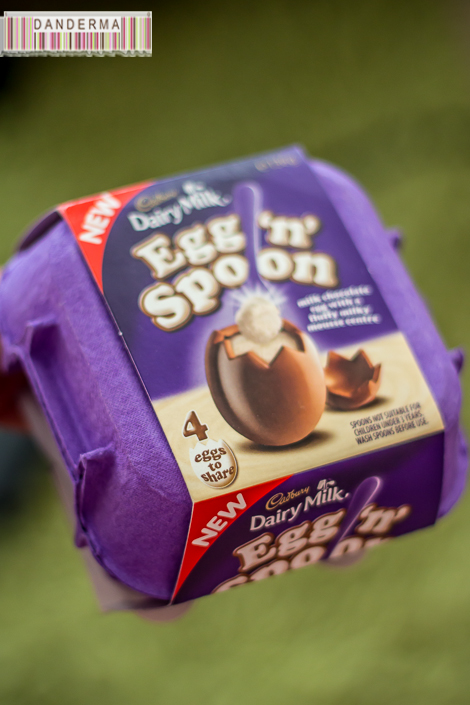 My egg painting days are long behind me, I don't believe I've done that past 1989, but I do indulge in chocolate eggs whenever I can especially the Cadbury creme egg that appears during easter -my favourite!-. This year as I was walking down the aisles of Sainsbury's I came upon a small egg box in Cadbury's signature purple with four chocolate eggs inside but not the good old creme eggs, this time they are filled by either chocolate or white milk mousse inside! I grabbed me a box immediately to try of course, no hesitation there.
Inside the egg box lay four wrapped chocolate eggs with tiny plastic spoons. The eggs were almost the size of a real hen egg.
My only problem with the was that the chocolate shell was too thick, you couldn't crack it open with the spoon. You had to be aggressive and bite the head off to reveal the centre and then be all civilised and scoop the milky mousse from the centre with the little purple plastic spoon provided.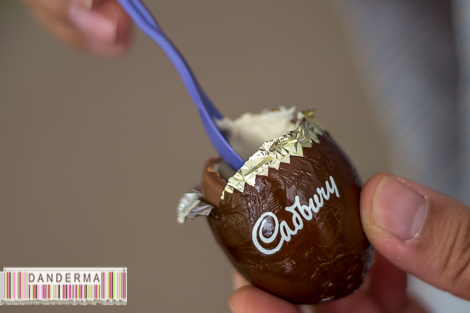 The chocolate egg, however, is quite addictive! I'm taking about the one with the milky mousse centre and not the chocolate one which I'm yet to try, I expect it would be a tad too chocolatey though.
Eating the chocolate egg is quite fun and not messy at all if you resist the urge to stuff the whole thing in your mouth in one go. You get to eventually do that after you almost finish the milky mousse centre off anyway.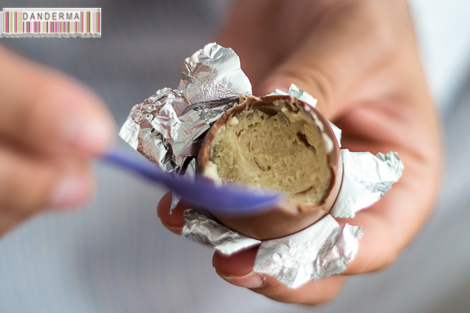 One egg is more than enough per day though. The perfect sugar and chocolate fix if you are craving either one.
Because most of the Kuwaiti population is currently roaming the streets of London you can ask anyone who is there to grab you a box on their way home or get a few home yourself, that is if it isn't available already in Sultan Center. The egg 'n' spoon are even better than both the kinder egg and the Cadbury creme egg! I wish it would make an appearance in the future and become a permanent fixture in the Cadbury chocolate range.
Now, stay tuned for a few more posts, London or otherwise. My fingers are itching and I like it when I have a lot to say but not know where to begin from

---