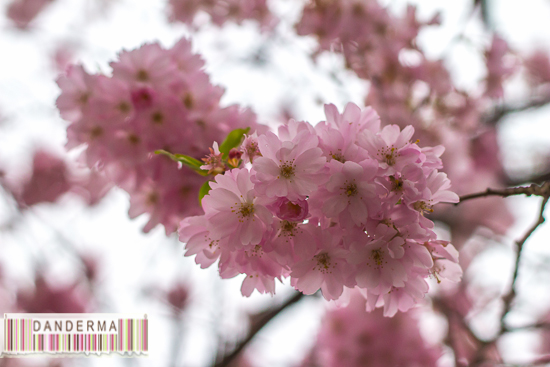 Growing up, Japanese anime was a very big part of my childhood and of many of my peers as well. My love for the anime we watched made me adore everything Japanese to the point of dreaming of moving to Japan to live and to join my favourite characters in their daily lives. The rain, the quaint little neat houses, the walk to school, strolling by the sea after school, the train rides sitting by big windows with a view of Mount. Fuji, eating chow mein with chopsticks, if you share my same vision and I won't be surprised if you do then you'll know exactly what I'm talking about. 
Now that I am all grown up I still dream about visiting Japan. My dream trip, the trip of a life time, would be travelling to Japan and specifically during the Sakura season where the cherry blossom trees are in full bloom. I've been plotting this trip since forever but every year something comes up and my plans are thwarted. Last year in late March I happened to be in the UK, specifically in Milton Keynes, walking towards the mall, when I was stopped in my tracks by the sight of the most beautiful pink hued trees ever!
There were several trees, six or eight, standing with each two facing each other and a walkway in the middle so when you walk through them the intertwining branches of laden with pink flowers would give off the most beautiful pink shade for pedestrians walking underneath.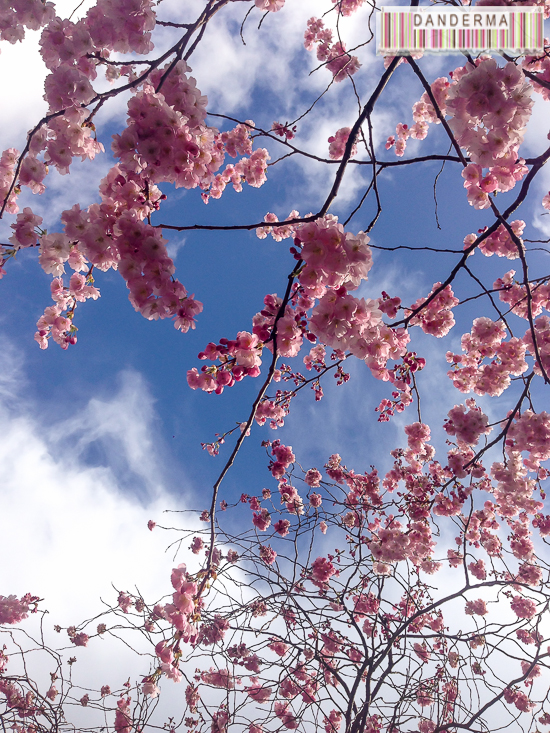 Needless to say I was so smitten by the sight that I've never seen before I stood in the middle of the walkway, gazing up in wonder, blocking other people's path while trying to make sure this is indeed the one and only cherry tree and these are her blossoms!
How come I've never seen those trees in London before? Or any part of the UK, including Milton Keynes before? How come we do not have them in Kuwait? OK so the dessert climate in Kuwait wouldn't help exactly but why not? Where did they come from? Can you get a shrub from Japan and plant it wherever you want? Is it specific to Japan or does it appear in other parts of Asia? I'm not sure, I didn't get the answer to my question but I knew, for a fact, that this tree is perhaps the most beautiful tree my eyes have ever fell upon.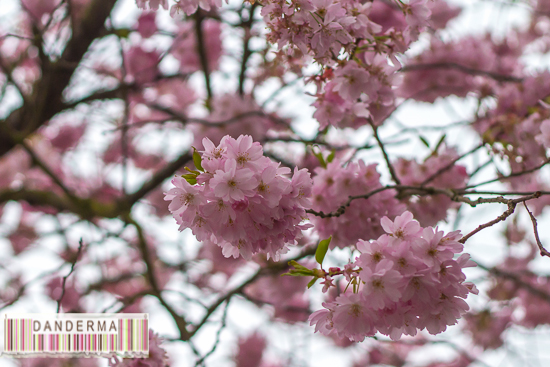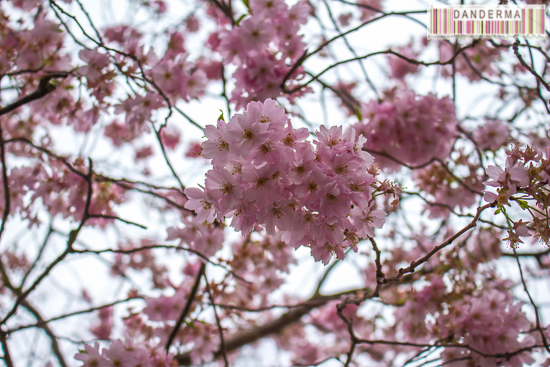 The word gorgeous wouldn't do it justice. The flowers are soft pink, delicate, and joined together in clusters that look like ready bouquets. No wonder there are songs, poems, and entire celebrations surrounding them.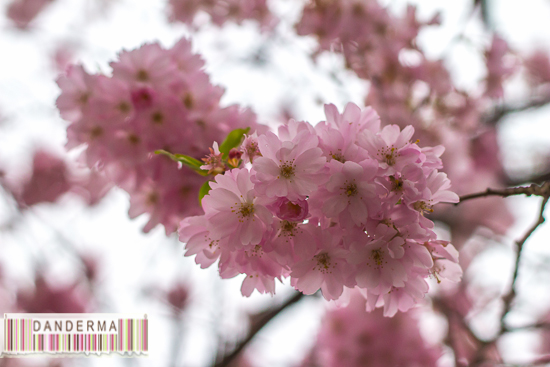 And as I stood and gazed up, I could see the delicate droplets of dew snuggled between the delicate pink folds of the cherry blossoms. Nada, my name, means Dew in Arabic by the way, therefore I could see something of myself reflected in those teeny beauties if that makes any sense at all.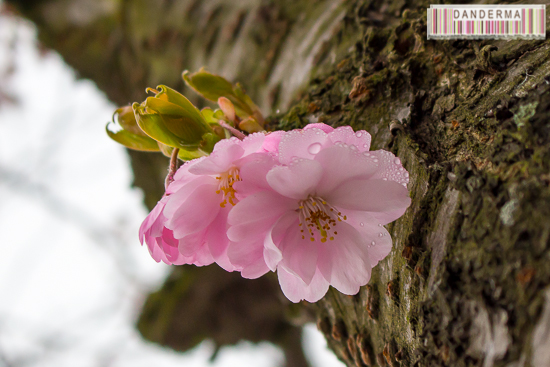 Sadly the first time I came upon them I had only my iPhone camera with me. I decided to go back again in a week's time with my own camera to take proper pictures of the cherry blossoms. To my horror, a week later meant that most of the flower petals have fallen away and the trees looked a bit bare. I was too late, I didn't know.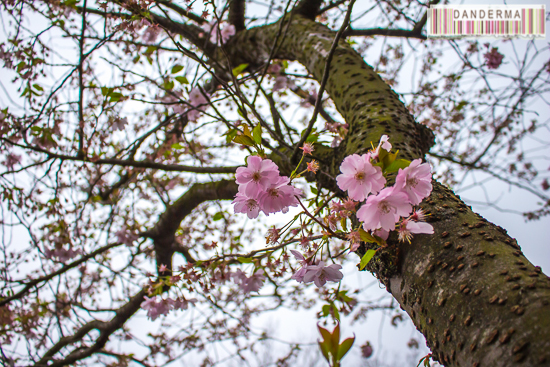 However, as I pointed my camera upwards at whatever was left of the cherry blossoms, the falling cherry blossom petals dropped around me like pink confetti, slowly, magically, not directly falling to the ground but defying gravity one last time and flying around me through the air. It was like standing inside a globe with pink snow, it was like a dream.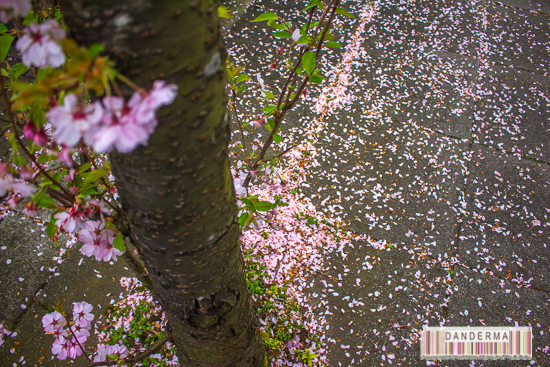 Can you see the bare and the still standing petals in the picture above? Yes, I stood in the middle of the walkway again and yes, passers by seemed oblivious to my excitement and my -muted- squeals but I couldn't help it! How could anyone help it in the face of such beauty? I posed for a picture and laughed and twirled and even met the largest, furriest bee I've ever seen in my life. I swear there were visible yellow stripes on her fur!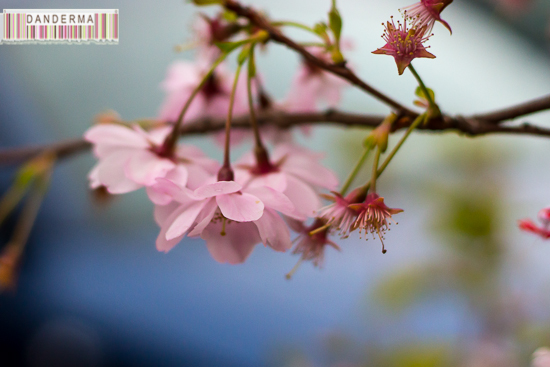 I had planned but given that it was a busy walkway I've decided to wait. Unfortunately I've waited too long, for when I finally got out my camera all the blooms had fallen off,
If these few lone trees were, in their short bloom period,  that beautiful then I cannot imagine how mystical they must look when in Japan with hundreds and hundreds of them! I came to know after a bit of research that these trees were gifts from Japan to London and different countries. Now I cannot stop fantasizing also fantasised about growing the tree here in Kuwait. Can't I at least have a little tree indoors? I'd name it Koji and love it like a family member. I must go to Japan and get my Koji one day, I must!
I think the cherry blossom tree is now officially my favourite tree, ever! Have you ever been to Japan during the Sakura season? And if its your dream trip as well, do share please

---