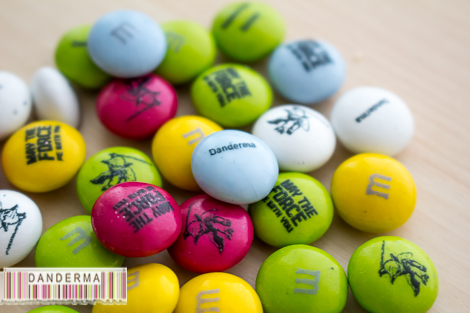 I've been to the m&ms store in London several times ever since its opening in 2011. However, after the third visit it somehow loses the novelty and you begin to avoid the doorway packed with screaming children and hassled tourists like the plaque. This year however a friend asked me if the London store did m&ms personalisation and I was skeptic for I've asked them when they first opened and they didn't but then I promised to check when I did pass by.
And there I was, on the last day of March 2014 walking past m&ms world store in Leicester Square when I saw on the glass display that they did indeed personalise the m&ms. Even if I hadn't seen the sign, the unmistakable scent of melted sugar and chocolate wafting out of the door left no doubt that something was indeed cooking inside the store and that something was chocolate. Therefore I decided to go ahead, follow the signs to the personalisation area, and get me and my friend some personalised m&ms or our own.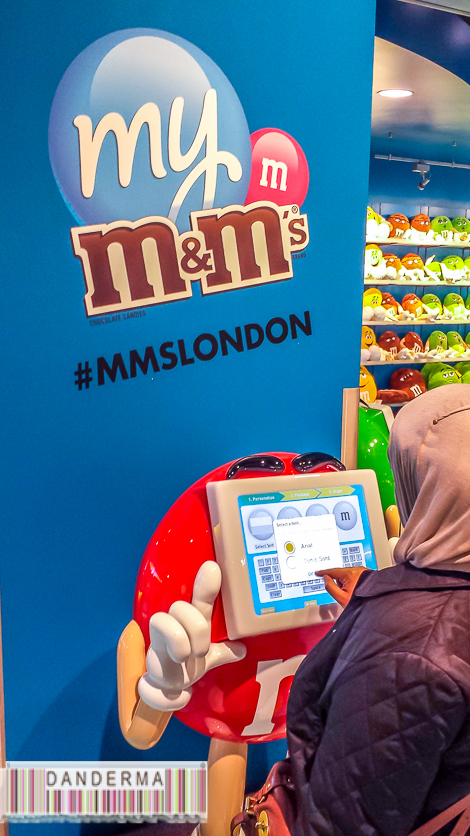 The personalisation process was as easy as one-two-three and started by deciding what did you want printed on your m&ms. You get to choose fonts, whatever you want it to spell, and any little graphics to your fancy available on their computer. They had some about London, things like birthday or Halloween, and for some reason a Star Wars graphic theme. Its everything Star Wars wherever I went in London this year!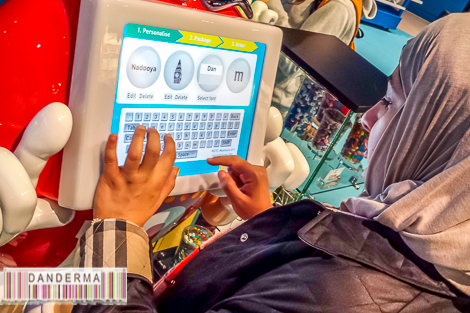 You'd think something like The Avengers or The Hobbit or even Spiderman would be plastered wherever you go but it was Star Wars that I found and Star Wars it was for me -my friend got the London theme-. In my humble opinion a Sherlock theme should be added to the London ones available. Just saying y3ni.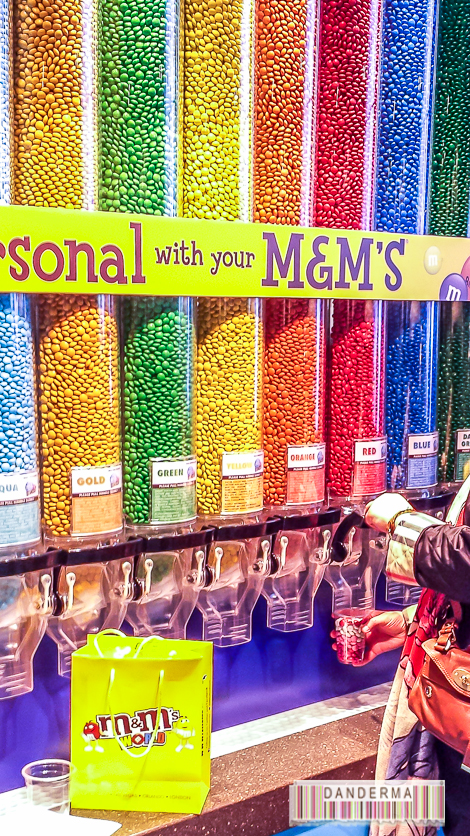 Now the pictures are not that clear because my husband was in charge of taking pictures and there was a long line of people customising their own m&ms. Plus he was using his wretched Samsung phone for taking the photographs. After you select what you'd like written on your m&ms you select the size, a small cup for me and my friend, and then go pay and get a little slip of paper with a barcode and a plastic cup. Next, you get to fill your cup with whatever colour combinations of m&ms you like and I didn't take long choosing mine at all. Lime green -my favourite colour- with spring hues of baby blue, fuchsia pink, white, and yellow m&ms.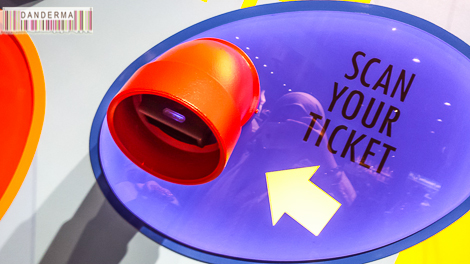 Next, you take your chosen m&ms and stand next to a wall where you scan the ticket with the barcode on it. Once you do, you wait for the "Deposit your m&ms here" sign to light up before proceeding to the next step.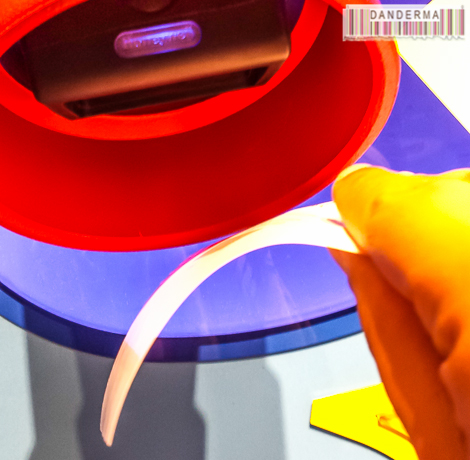 When the sign is lit up, you place the m&ms in a hole in on the wall and wait for a green light to go on. Its so easy yet so much fun!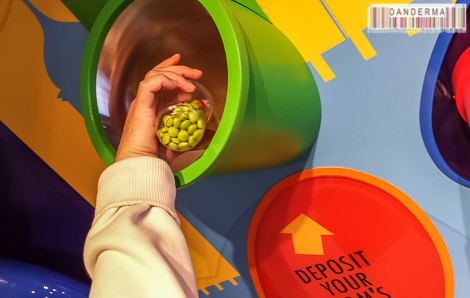 Then a green light goes own, merely seconds later, and your cup should be placed back in a little pillar before pressing on the green light. Et Voila, your personalised m&ms are churned our, dancing their way back to the cup with the smell of melted sugar and chocolate wafting out! So… much… fun! Hunger inducing as well.
And you are done! The entire process takes about 5 minutes and once you are done personalising your m&ms they are taken away to a plastic bag and wrapped up for your to go. You can choose to place the m&ms in special plastic cases, which cost extra, and I've purchased a heart-shaped one for my friend to place hers in but I kept my cute spring-hued m&ms in their good old plastic bag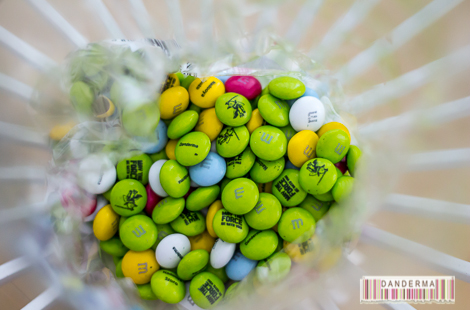 Ta-da! How do you like my personalised m&ms? One said my name "Nadooya" another my blog Name "Danderma". A picture of Yoda there plus Yoda's famous quote "May the force be with you". I should have made myself some Sherlock ones, saying this like "Sherlocked", "The Game is On", and perhaps "The Solar System!".
Personalising my very own m&ms is one of the most fun things I've done in a while and is something I've been wanting to do since forever, especially after my friend Jacqui had distributed customised m&ms for her birthday! The process is fun, its fast and straight to the point, but at $15.99 for a tiny cup of m&ms it wasn't cheap but if you are planning on having m&ms for a party or an occasion giveaway I expect you'd be paying more that that for boring chocolate anyways.
My only problem now? I don't want to eat my personalised m&ms! If I eat them, they will be all gone! I know I'm supposed to eat them but then they will be gone! I'm eating a few each day and am not planning on finishing them up anytime soon. Do m&ms spoil with time? I sure hope not! m&m's world is located in Leicester Square, London. Opposite Mcdonalds.
P.S. British m&ms taste as good as American ones! The ones we got in Kuwait suck though!
---
7 Responses to "Personalizing my Very Own m&ms"