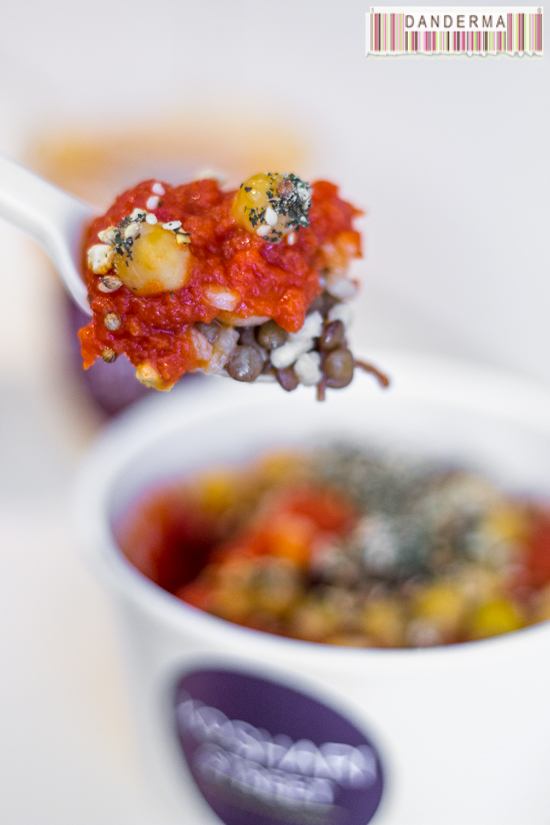 Sometimes I feel writing in my blog is like meeting a long lost friend for coffee, with so much to say I wouldn't know where to start. I have so much to say, so much to share, yet somehow when my fingers hit the keyboard up I'm tongue tied -rather finger-tied- and wouldn't know where to start. Since its Thursday, and you guys must be thinking about lunch by now, I am remembering a day when I was done with something I had to do on my trip to London and by the time I caught up with my old college friends I realised I was famished. It happened that I was a stone's throw away from Leicester square and on that chilly afternoon in London, I knew what I really, really, really wanted to try: Egyptian Koshari from Koshari Street in St. Martin's Lane, just off Leicester Square!
Koshari is a very simple yet quite heartwarming Egyptian street food. Though its made of simple everyday ingredients of rice, macaroni, pasta, and brown lentils topped with tomato sauce and fried onions, not everyone can put those ingredients together to make a perfect dish of Koshari. For a vegetarian who is also a carb junkie like myself, having koshari for lunch is the quite a treat and you can understand why on that day I wanted comforting that reminded me of home, hence why I was stood on Koshari Street's door, taking pictures and capturing my reflection in the mirror in the process.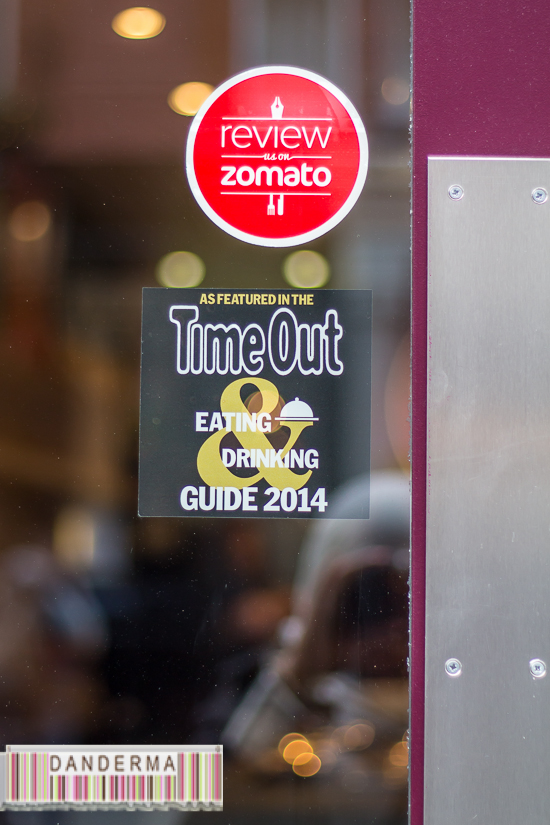 The restaurant is tiny and if you weren't looking out for it you'd easily miss it. Its also beautifully modern, quite sleek, and very to the point in design. Not cluttered, messy, or noisy at all.
Once you are inside, assuming that you've never tried Koshari before and the dish is quite foreign to you in concept, you'd see the plate of already prepared Koshari sitting on the counter showing you what its all about and is quite self-explanatory. Perhaps you've popped in, taken a look, and didn't think that looked any good but I can assure you, Koshari is one of those dishes that is suprisingly familiar and comforting and is for sure worth a trial.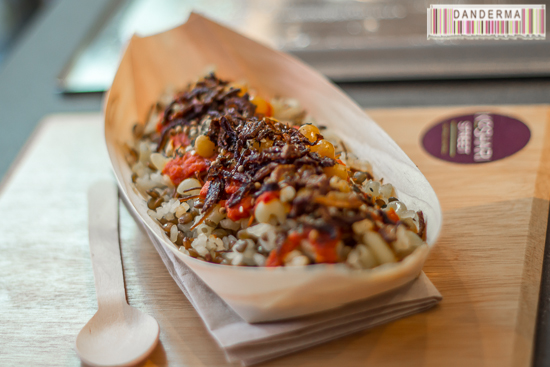 At the door of Koshari Street there is a fridge with already packaged takeaway items with hummus and vegetable crudités for dips, salads, drinks, and desserts.
We took some hummus, carrots and cucumbers and proceeded to the Koshari making station to choose our Koshari.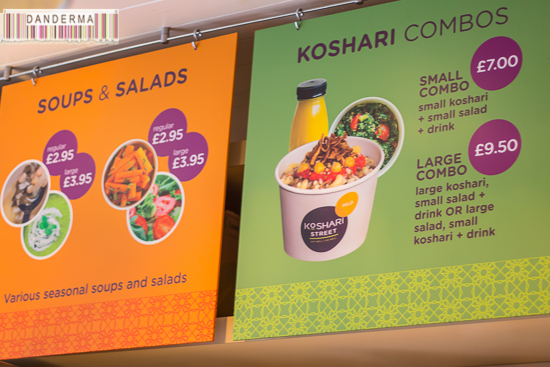 I customised my Koshari the way I like it, with the basic rice pasta lentils mix topped with tomato sauce -not spicy- and topped with chickpeas and doqqa (a mix of herbs & spices). There were no onions on top of my Koshari, and I usually prefer to have as little tomato sauce as possible as well.  Putting together the Koshari together took seconds only and with my already packaged items that I chose from the fridge, lunch was ready before I could reset my camera options to take better pictures of lunch!
I took my food and headed over to the long benches lining the other wall of the store. My tiny view was to the street and I could see the London walking by as I was preparing to have a taste of Egypt for lunch.
On the tables there was flasks, or rather jars, of cold water infused with mint and lemon slices with plastic cups and little salt shakers. Quite a nice gesture in my opinion especially if you prefer flavoured water to plain one.
I started with the vegetables dipped in Hummus, it was good and quite a light start to the meal.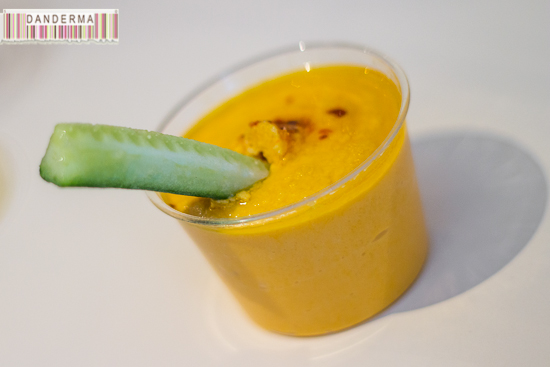 Now the moment of truth, how did the Koshari taste like?
The rice, lentils, and pasta were absolutely perfect! Quite delicious and less starchy than the Koshari we usually get around here in Kuwait. The tomato sauce was lovely as well although it was a tad more like tomato pasta sauce than Koshari tomato sauce, I guess it is missing a herb or a spice, perhaps a few more pinches of cumin. Pasta sauce like or not, it was quite good and the doqqa on top of my Koshari compensated for the lack of spice in the sauce and contributed to the level of spices in the over all dish.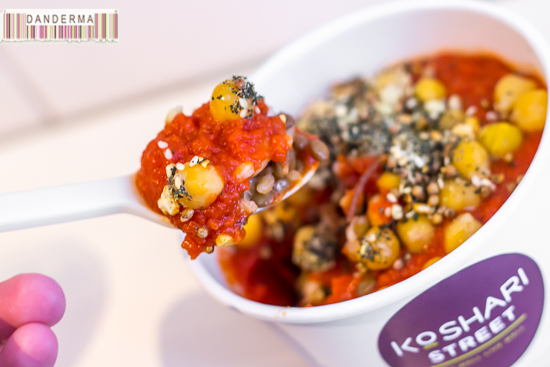 However, I do think the canned chickpeas were too hard and not a very welcome addition to the dish. I'm saying that because I cannot stand canned chickpeas for I'm used to soft and fluffy freshly boiled chickpeas that are sold in every corner in Kuwait. If you ever try the way chickpeas are cooked at home, you'd never eat those pellet like canned ones or use them for cooking ever again. Skip the chickpeas at Koshari street, the Koshari dish will taste much, much better without them.
And now I feel like having Koshari for lunch again! Mmmm…
Don't want to eat Koshari? not a fan in the first place or didn't like it when you tried it? Never mind, forget the Koshari, but if you are in London you must pass by Koshari street for another surprising find: the Qamardeen Muhhalabiya or as they call it the "Mixed pudding of mishmishiya & muhallabiyeh". A spoonful of that amazing concoction will have you hypnotized and you'll find your feet heading in Koshari Street's direction whenever you are nearby.
I picked the pudding because my friends who tried it were raving about it, I expected it to be good but I never expected myself to agree so strongly: it is, hands down, the best tasting most delicious heart wrenching melt in your mouth muhhalabiya EVER! And by ever I mean EVER! and you have to try it with both the milk and qamardeen (mishmishiya). And because if my good fortune, I'm CRAVING IT right now while I am in Kuwait! I'd imagine it would be quite a treat for people during the holy month of Ramadan after fasting all these long hours in London.
Koshari Street is located in 56 St Martin's Ln, London WC2N 4EA and if you happen to be in London right now you can take a walk for a light lunch there and a much needed sweet dessert treat. Don't have the time? They also deliver and here is their website (link). Do not forget to order the muhhalabiya! 
---
6 Responses to "Lunch from Koshari Street in London"