buy generic Neurontin online
Elsit, an Arabic word literally translated as "The Lady", almost always refers to one great and well beloved Arab Woman: The Egyptian legendary singer Umm Kulthum. I've yet to meet someone who isn't a big fan and though personally I'm not the song Enta 3mry which is my husband's personal favourite did grow on me. Enta 3mry was playing in that fine Saturday morning as I walked into the quiet and still sleepy cozy corner of the souk section in the Avenues Mall where Elsit Lounge Cafe is located.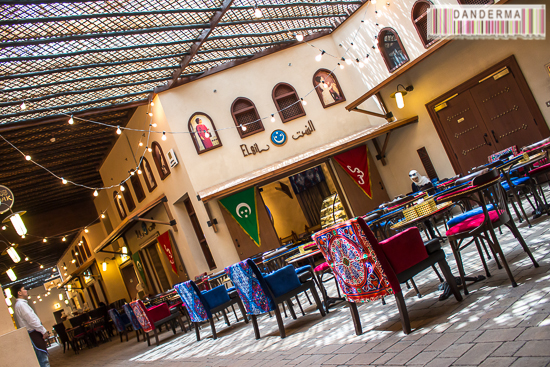 Elsit lounge cafe has been open for a few months now but I heard it was only serving drinks and beverages for passers by. I also always thought it was a bit dark and gloomy, located in the deepest corner of the souk section with a few passers by occasionally. When I received the invitation from the cafe's management to come and try it I did think the time has come to give them a visit and try the different sandwiches they posted about in their instagram account for breakfast on Saturday morning.
When I finally did make it to elsit lounge cafe I was surprised by the amount of sun light streaming in through the ceiling! Contrary to what I imagined, it was quite airy and very well lit indeed and the beautiful ceiling, areesh style -don't know the name in English- did give off a lovely criss-cross shadow pattern that added to the charm of the place and suited the Egyptian cafe style chairs and decor perfectly!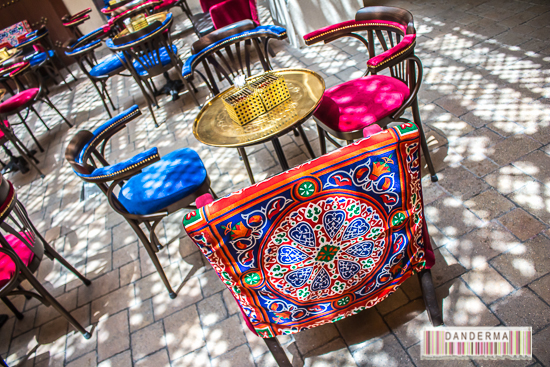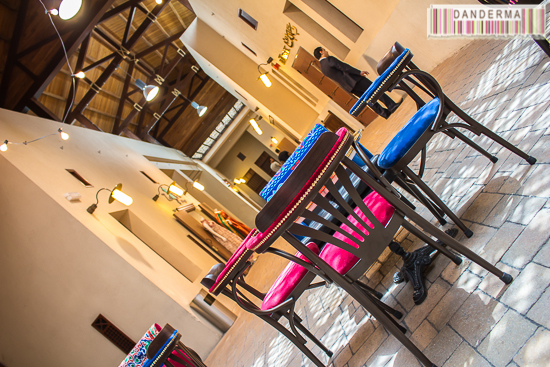 The sweet owner who was waiting for me welcomed me warmly and explained about the cafe, the concept, and the different dishes available on the menu with her own recommendations on what to try. She also told me that in the evening the strings of light bulbs strung all over the ceiling give off a romantic, whimsical feel to the cafe's setting and the overall souk area. I love those big lightbulbs, they remind me of happy occasions in my childhood.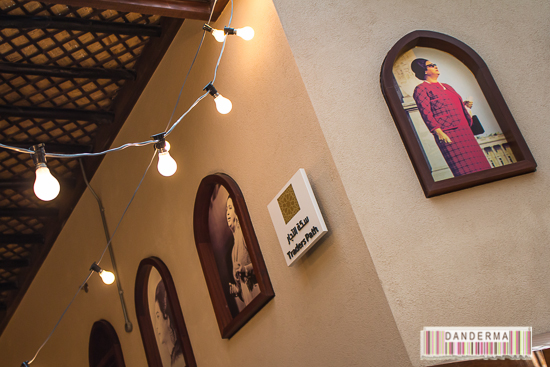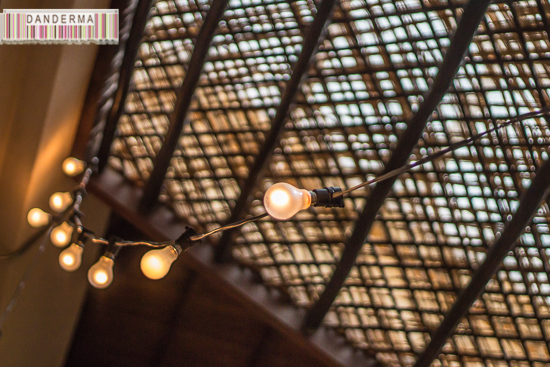 The facade of the cafe is decorated with pictures of elsit Um Kulthum herself and the inside is no difference, with framed black and white pictures of elsit and big decorative art blingy art pieces of her distinguished profile. All illuminated by royal blue upholstery and carpets plus colourful hanging lanterns, very cosey indeed!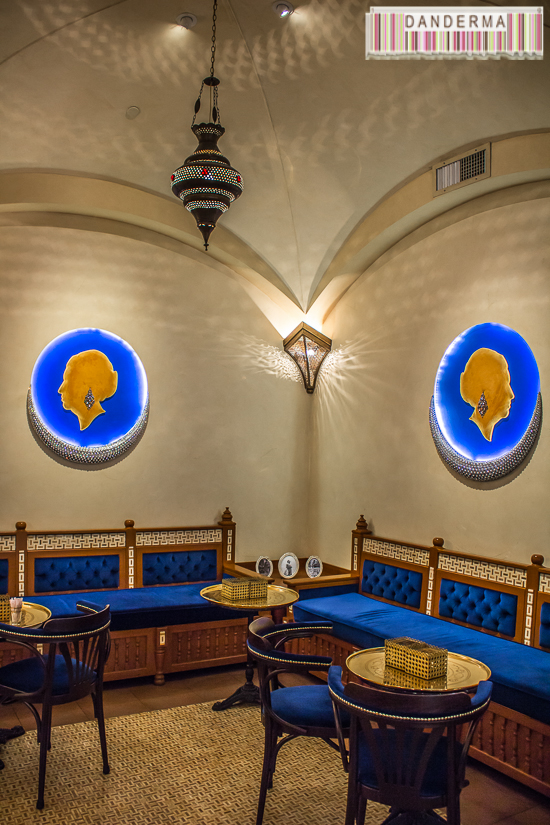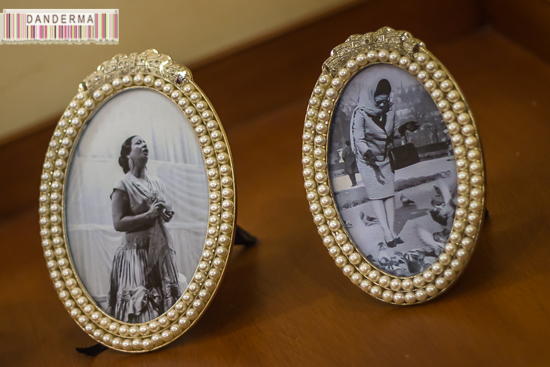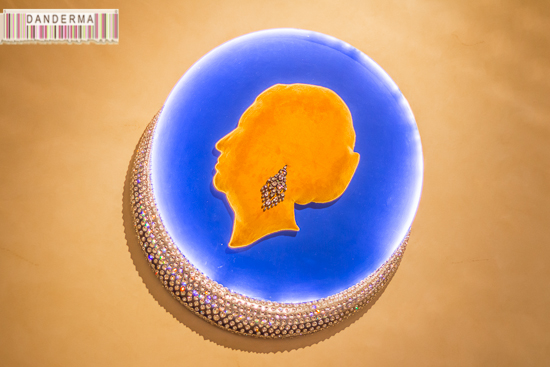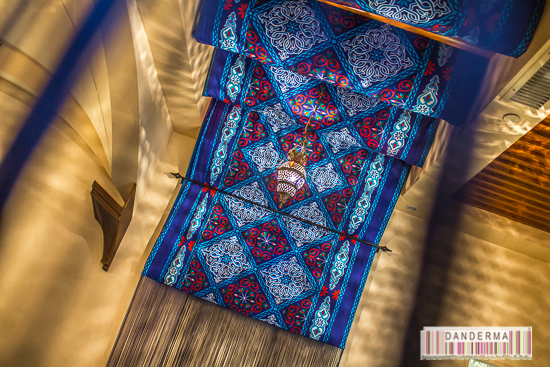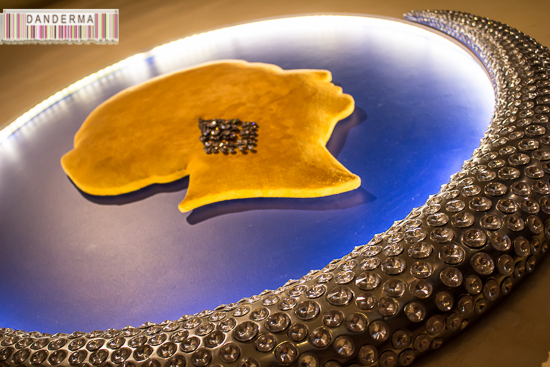 Gorgeous lounge indeed! The beauty of the place didn't register on me as I passed by endless time while shopping in the avenues but now that I sat down, underneath the lovely areesh on the plush chairs, my eyes could see the beautiful details in every corner. Can you see how the blingy wall art piece inside the cafe is peeking at me from over the menu?
How many types of tea can you count on the menu? Yes, plenty! I had a hard time choosing what to drink but I settled for Koshari tea, which is a strong Egytpian style tea, and Saffron with cardamom milk for breakfast.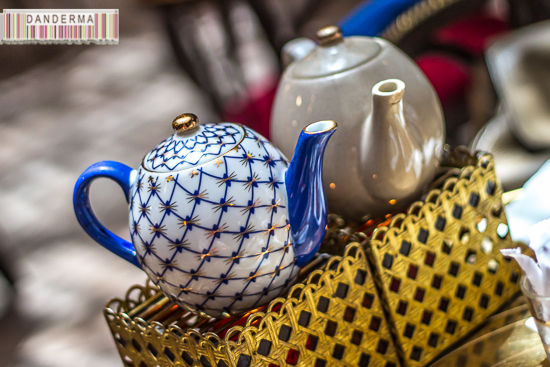 Now pouring the milk, it was perfectly balanced and quite delicious.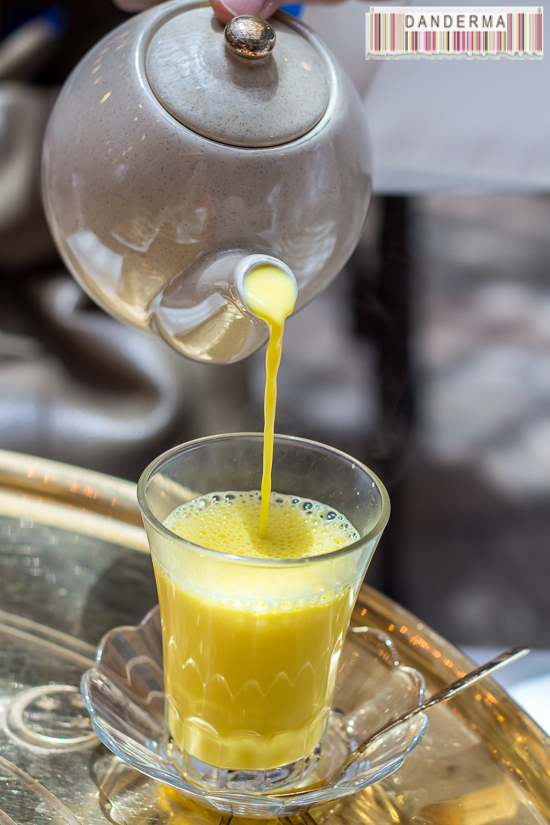 Also my kushari tea was gorgeous, rich and golden and just the way tea is supposed to be.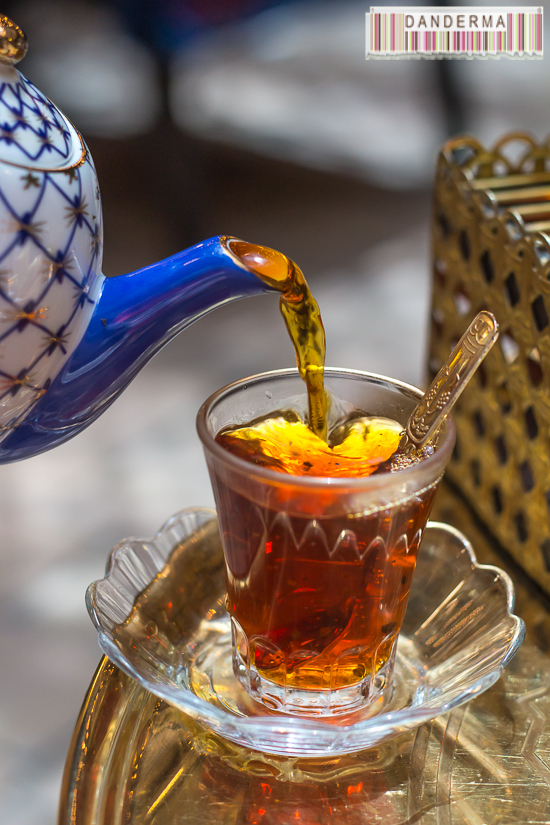 It didn't take long for our breakfast order to arrive, and there were plenty of sandwiches to choose from. Given that we were in an Egyptian themed cafe we wanted more of an Egyptian style breakfast so we ordered the fool wrap, falafel wrap, and a white cheese with olives ciabatta sandwich.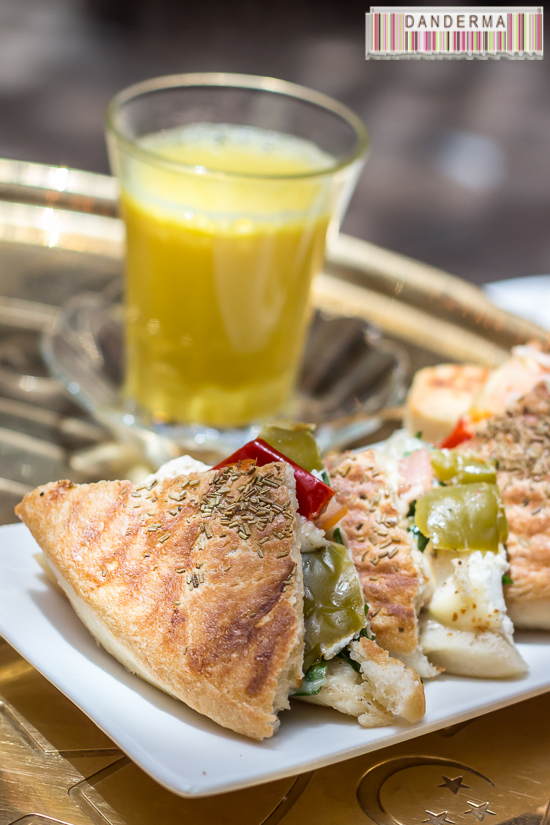 The falafel wrap isn't your usual falafel wrap with tahini and chopped tomatoes and cucumbers. It came with distinctive spices, melted cheese, and red peppers! Yes, you are thinking what I'm thinking, it reminded me of Pret a manger's spicy falafel wrap! The taste isn't exactly the same but its a welcome diversion from the boring old falafel sandwich mix you find all over Kuwait.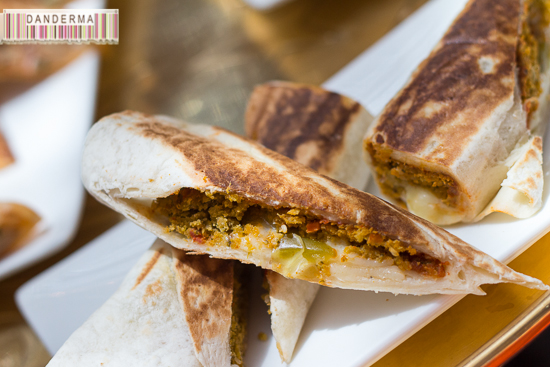 The fool wrap, or the Fava beans wrap sandwich, was awesome! The wrap bread had a red tinge to it which I assume means its originally a tomato wrap bread and the fool mix was wholesome and delicious. Personally I enjoyed it more than the falafel wrap.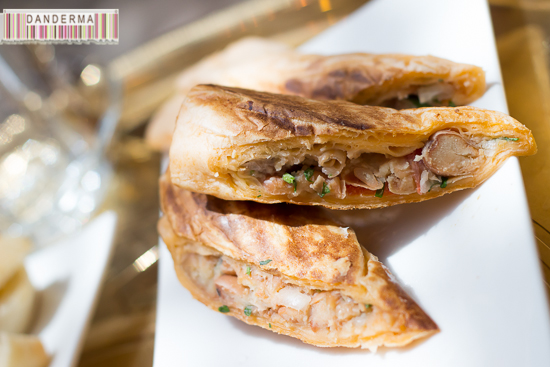 Believe it or not, the feta with olive ciabatta was the winner sandwich that day. I'm craving it right now as we speak, it was just the right level of saltiness meets tanginess and the bread was browned to the point of being perfect, not too soggy and not too crispy. Highly recommended but I'd ask for the pickles to be left out if you are not a fan.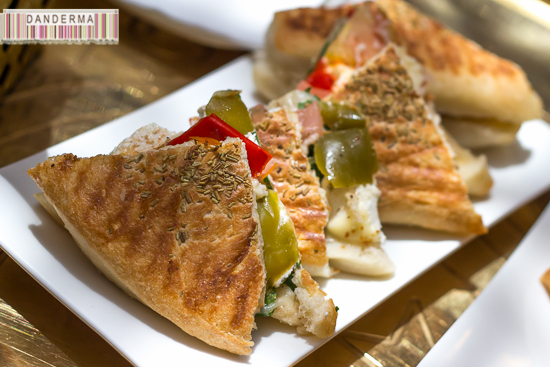 Look at my tea <3 How perfect is that little estekana of tea?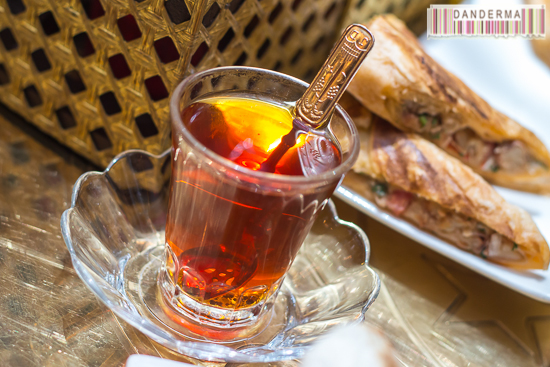 Once we were done with breakfast we wanted to leave but the owner insisted we stay for dessert. On instagram one of my followers recommended their kanafa dessert for me and I did indeed order it. The order came with medium turkish coffee, a plate of baklava, a flask of Arabian coffee, and a surprise kind of tart filled with Omani halwa with a side of vanilla ice cream.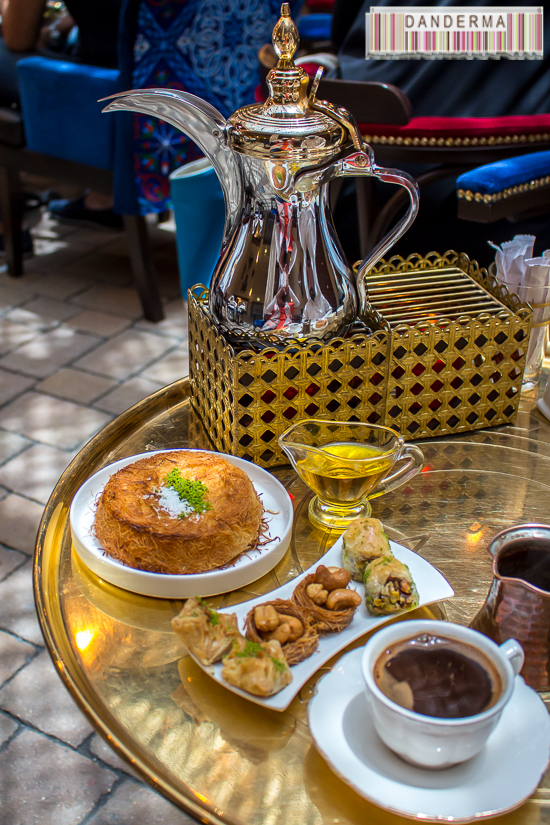 It was a full dessert table and we thought there was no way we'd be able to eat all that! We started by pouring the Turkish coffee which was quite delicious and the portion was big and satisfying to coffee junkies like myself.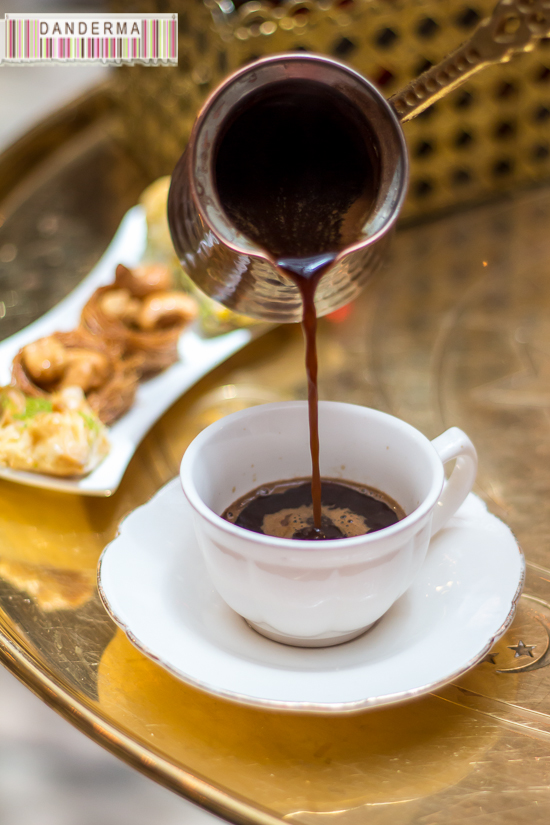 Yes, more coffee was needed and it was time to try the Arabian coffee.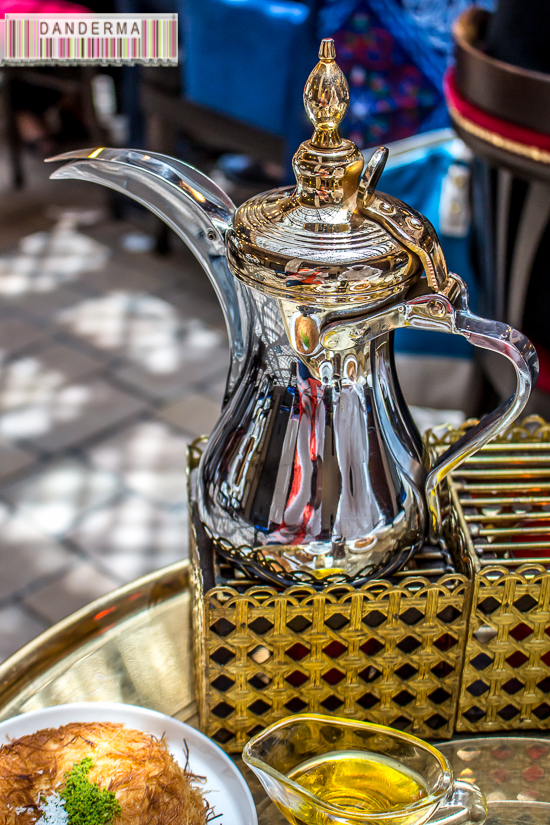 The Arabian coffee was light and flavourful and went well with the rest of the dessert party on the table though personally I like mine a bit stronger with more hints of ginger and cardamom.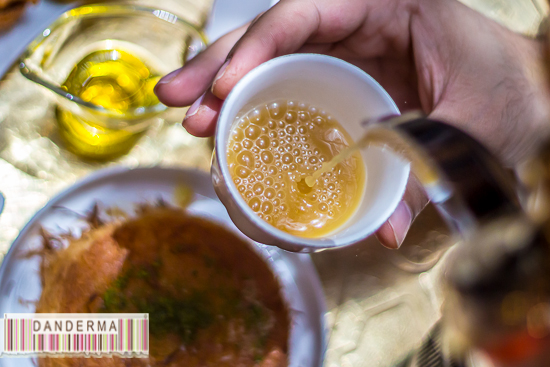 You see, I was excited to try this pie/tart/Omani Halwa hybrid dessert. I love halwa, Omani and Bahraini, and the thought of it enclosed in a dough and heated up and dowsed with vanilla ice cream was quite tantalising.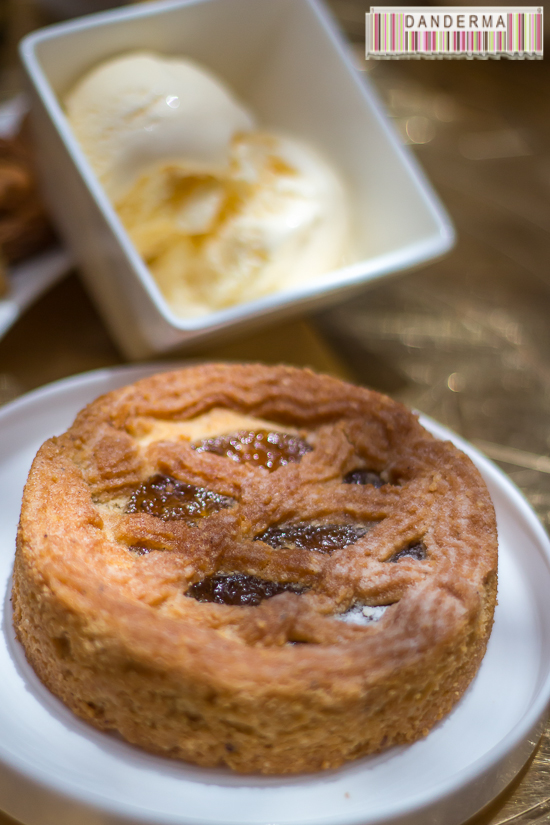 It was good, the halwa did stretch lazily as I pulled on it with the fork. I'd liked it to have more halwa though, I didn't get enough :p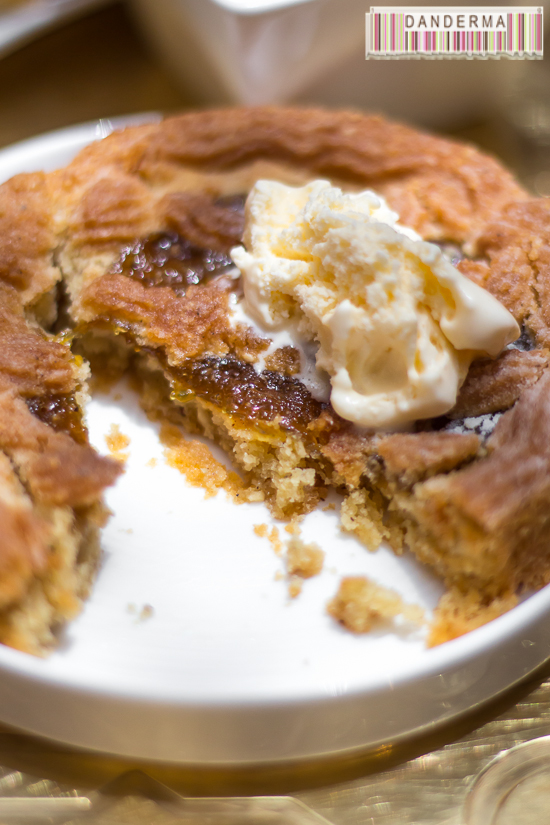 Ooh now comes the Kanafa, or Kunafa, however you spell it! Individual sized and filled with eshta (cream), Elsit's Kanafa was a killer!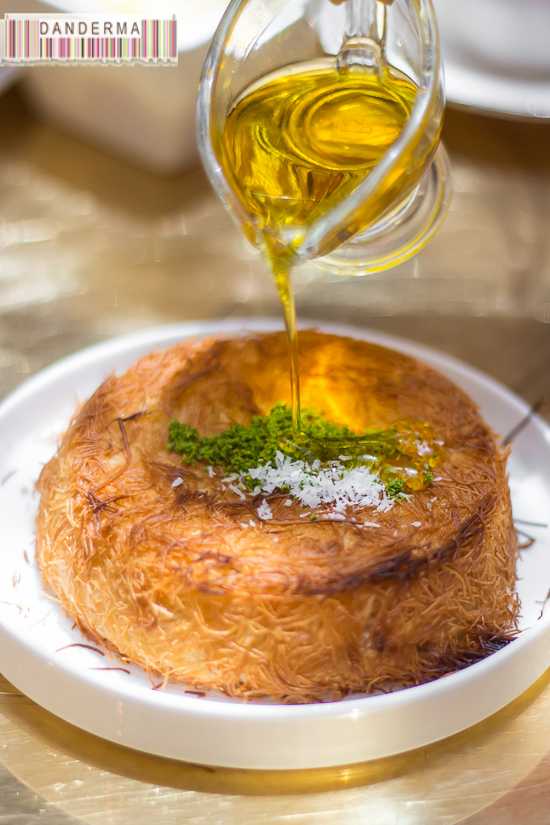 No wonder people were recommending the Kanafa! It was absolutely delicious and worth every calorie consumed.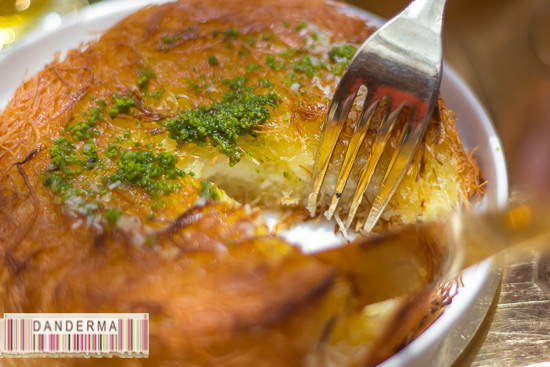 The Kanafa was surprisingly light for a kanafa and quite fluffy, the cream so delicious, and we simply polished it off. Highly recommended if you've never tried it before.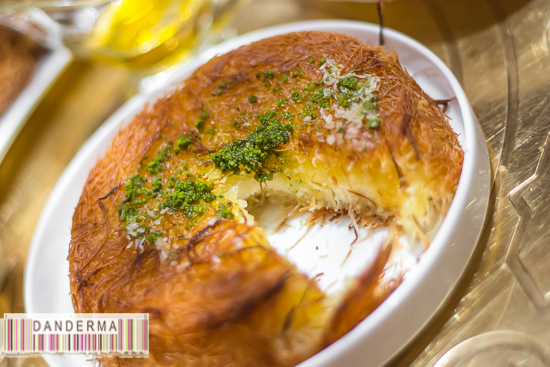 One of my followers on instagram commented on a picture I posted of an empty elsit cafe that I must have taken it at the crack of dawn because the cafe was empty. I was lucky to arrive there at 10 A.M. for at 10:30 A.M. almost all the tables were full and restaurant waiters were busy delivering orders for relaxed customers.
I loved the ambiance of elsit cafe, the light streaming in from the ceiling, the right level of quietness, the relaxed and laid back feel of the lounge, the music, the food, it was all so good I didn't want to finish my drinks and get up. I could have spent an entire Saturday just sitting there looking at people and drinking tea while listening to enta 3mry. I would certainly recommend it and I will be back again for a quiet and relaxed weekend breakfast for sure.
Thanks to elsit lounge cafe and their lovely owners for the invitation and warm hospitality, thank you for making my Saturday! Elsit Lounge Cafe is located in the old Souk section of the Avenues mall and they are open from 10 A.M. everyday. For more information you can follow them on instagram (@Elsit_lounge).
---
2 Responses to "Breakfast at Elsit Loung Cafe"