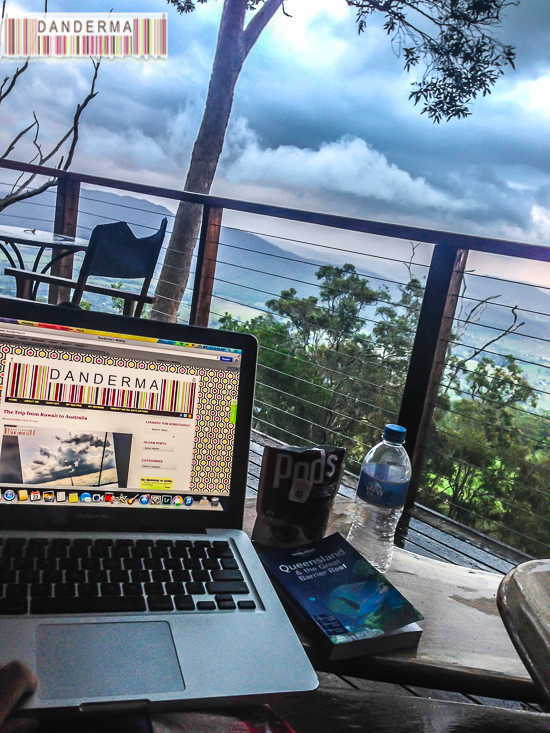 I'm writing this post now while wrapped in one of my warm shawls, wearing my comfy pyjamas and reclining on a chalet balcony with sweeping views of Tamborine in Mountain in Queensland, Australia. The birds have been chirping all day long and several of them were, err, getting cosy and enjoying each others company when they thought no one was looking. It is their mountain after all and we humans are imposing on their trees and habitat. Cool rain is falling around me and I'm shielded from the wet drops by the balcony but I can hear the droplets soft tuck tuck sounds as they fall around me.
I've just spent an amazing week that flew by in a blink in Brisbane! My hotel which I'm going to write about in a detailed post soon. Its just that I didn't really have any moment to myself in the past week for I was too busy enjoying my packed and quite enjoyable #Room753 bloggers trip itnerary that's been put together for me by Tourism and Events Queensland and by the time I'm back in my hotel room I have to struggle to keep my eyes open long enough to brush my teeth and locate the bed. This afternoon however was spent lounging in the balcony doing absolutely nothing but pouring over my mountain weekend itinerary and taking endless pictures of the mountain, the birds, the rain, and everything else really!
One week down, and sadly one week left to go but I'm beginning to miss home as well. Hopefully by tonight I hope I will be publishing this post and answering all your comments and preparing the rest of my posts of my stay in Brisbane, that is if the fresh cold mountain air doesn't take control of my eye lids and shut them early again. Will be posting some more soon, I promise!
---
2 Responses to "Hello from Mnt. Tamborine, Australia!"