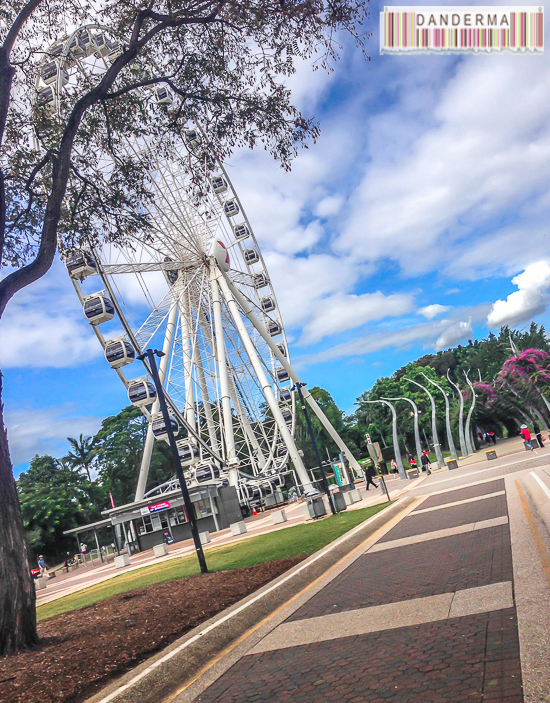 My list of activities for the #Room753 bloggers trip to Queensland started on the second day of my arrival to Brisbane, Australia with a breakfast meeting with Ms. Katie Goodall from the Digital Marketing team of Tourism & Events Queensland. To be frank I was a bit worried of being too tired from the flight and therefore sleeping in and missing my breakfast meeting but thankfully, and quite weirdly, I wasn't jet lagged at all which meant that by 8:30 A.M. sharp I was standing on in Softiel lobby shaking hands with the lovely Katie.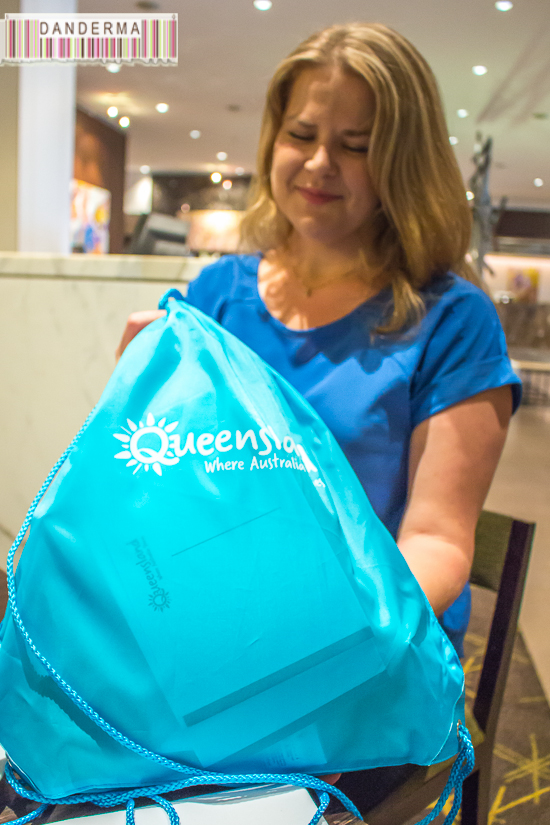 After a nice breakfast and a few too many breakfast pictures for anyones liking, we finally went over the trip's itinerary, point by point, and everything was explained to me in great detail. Katie was sweet and patient and before we knew it it was 10:00 AM which was the time set for the next activity of the day! Katie presented me with a blue Queensland bag chockfull of goodies which I've used when I finally made it to the Gold Coast so I will show you the bag's content when the time comes. Thank you dear Katie, it was a pleasure meeting you the other day!
The next activity on my itinerary was a two tour of Brisbane with Ms. Sue Norman from the Brisbane Greeters. The Brisbane Greeters are locals who not only love Brisbane; they're familiar with the hidden corners and interesting locations of Brisbane. The tour is run by volunteers who are local to Brisbane and usually starts at Brisbane's Visitor information in Queen Street Mall with up to 6 people but because I was being spoiled my tour guide was waiting for me in the hotel and it was only Sue, myself, and my husband.
Sue was very friendly and we hit it off immediately, walking an talking and it felt nothing like a tour at all, it was like meeting someone you know and walking down the streets of Brisbane with. We descended the Sofitel's escalators down to central station and across the street to the ANZAC square, after explaining about the ANZAC square we crossed the street, went through a few churches, and straight into a church, the Cathedral of St. Stephen.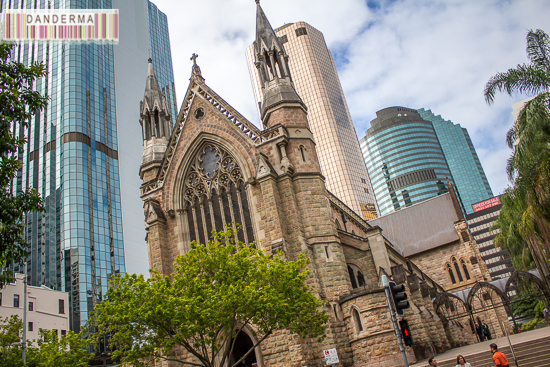 Though the cathedral didn't look that big from the outside it was huge from the inside. Built in 1863 with huge pillars, stained glass windows, and some worshippers praying in silence. It was very hush hush in the main building, then in a smaller building there was a smaller area dedicated as a shrine to Mary MacKillop which as I understood from Sue was Australia's first and only nun to become a patron saint and used to worship in this very place. The statue of Mary MacKillop was made from hundred-years-old tree that was carved to finally resemble her and is very different and interesting to look at.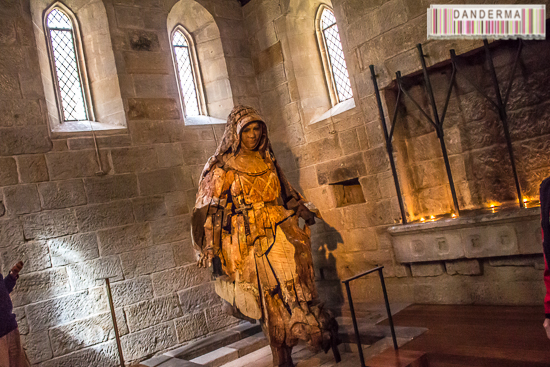 Once out of the church we went towards the banks of Brisbane's river, we walked alongside it, a perfect quite morning with people jogging and going about their business. It was very peaceful and lovely.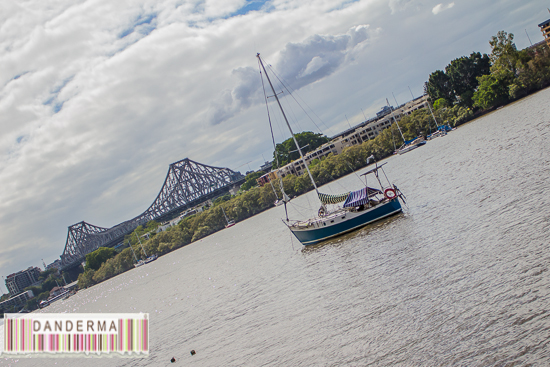 Then we reached Brisbane's city botanic gardens overlooking the shores of the Brisbane river. The botanic garden was set up as early as 1828 as a farm to grow and provide produce to the settlers of the colony in Brisbane. I'm not sure if there are still produce being grown around but the garden is spectacle indeed.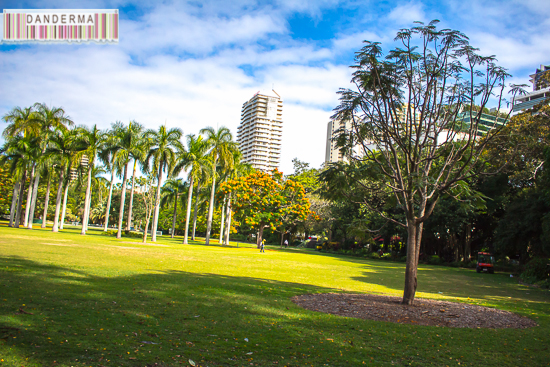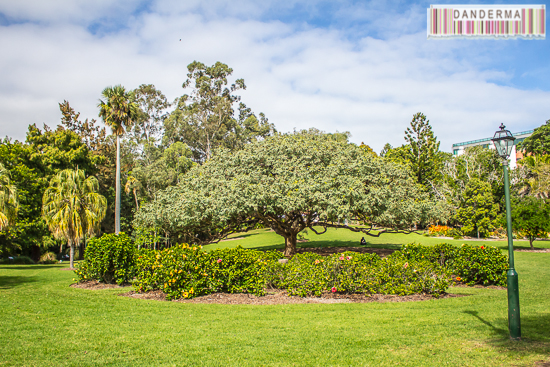 Endless plants and trees, some I've never seen before and I believe are native to Australia only. It was very quiet and there were young mothers walking their babies in strollers or people simply reading or sitting there, lounging under the shade of the trees. I could have sat on the chair in the picture below and stayed, staring at the Brisbane river, forever.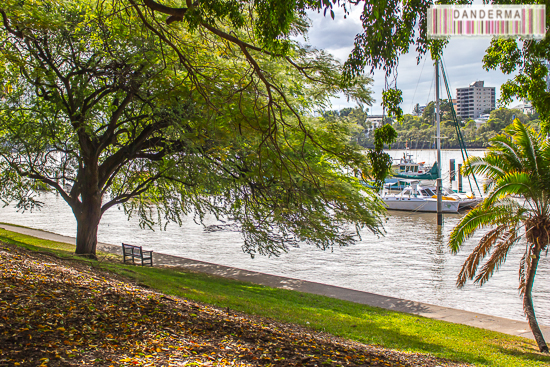 Up from the gardens and towards Queensland University of Technology where Brisbane's first government house is still standing and is now used by the university of events and functions. The government house was built in 1862 to accommodate the first Governor of Queensland, Sir George Bowen with his family.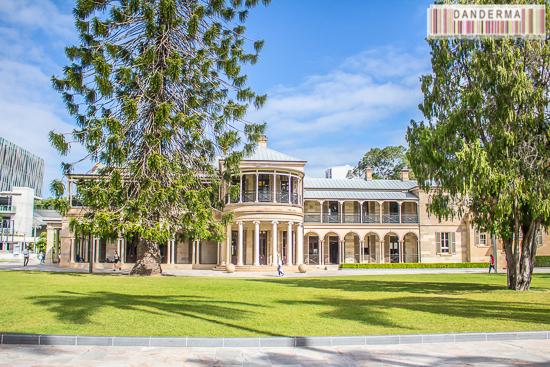 The old government house is charming! The old walls, the offices inside the building, even the servants quarters in the basement are all there. If you love history as much as I do then you will be happy to walk around the government house.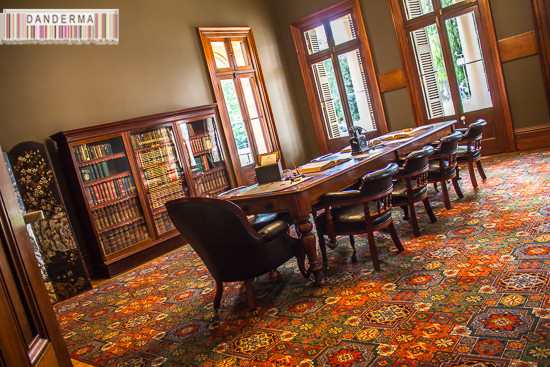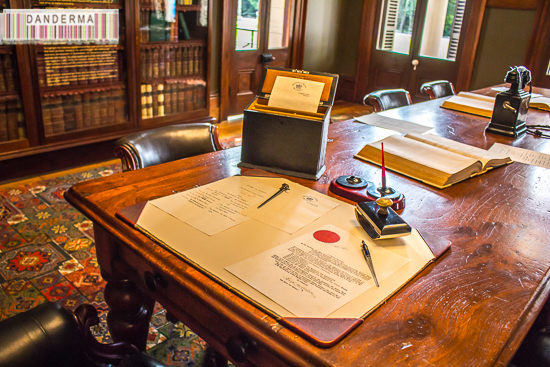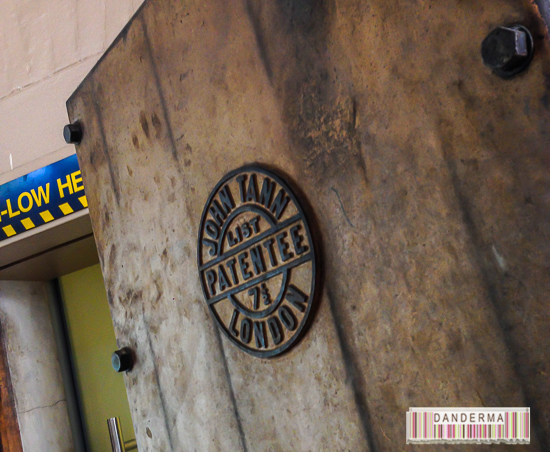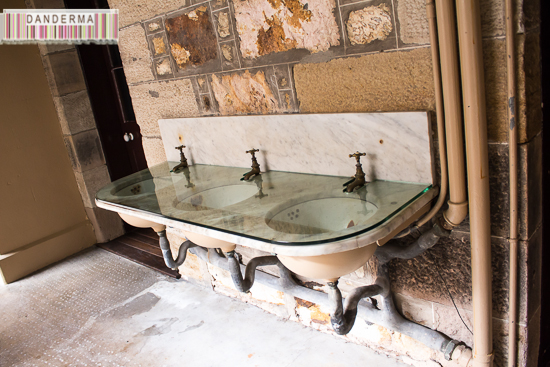 Then right in the middle of the old building there is this quaint little cafe set in the an airy and open courtyard surrounded by plants. We decided to take a coffee break and sit there, surrounded by students chatting and studying.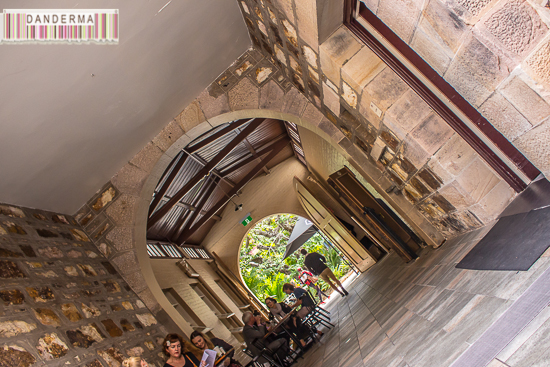 The cafe itself was very nice with plenty of delicious looking dishes to choose from. I kept comparing it to the sad excuse for a cafe we have in Kuwait, thank god in the last two years of my university days we had Starbucks and McDonalds to compensate!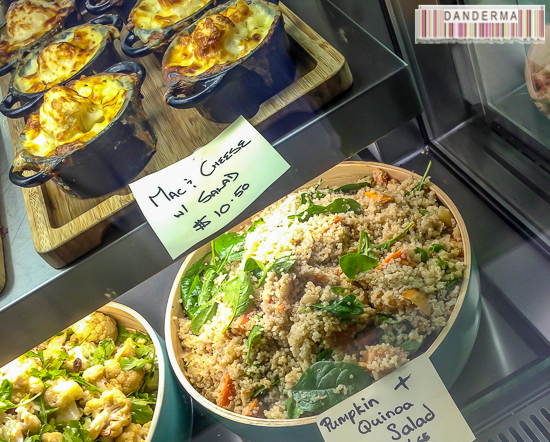 Look at my iced Mocha! How delicious does that look? I wouldn't mind going back to university just to drink that mocha everyday!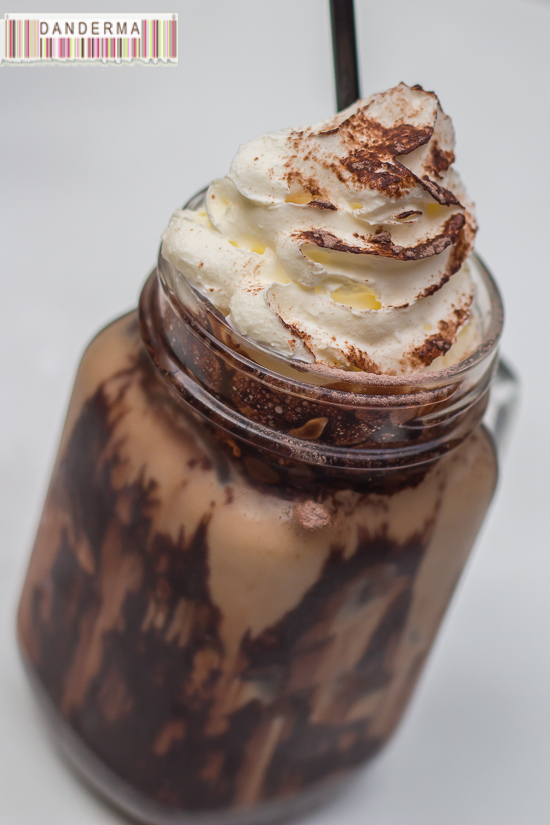 Hello from Me & Sue! I look very sleepy in this picture. Sue also told me that in this very building the famous Australian cake the "Lamington" was invented. The lamington is a cake with chocolate frosting and coconut shavings that you can find in almost every cafe and the story goes that at a function held in the government house by Queensland's governor Lord Lamington the chef faced a disaster in the kitchen and was short on frosting -or something- that she improvised and created the cake the way it was today and named it after the governor.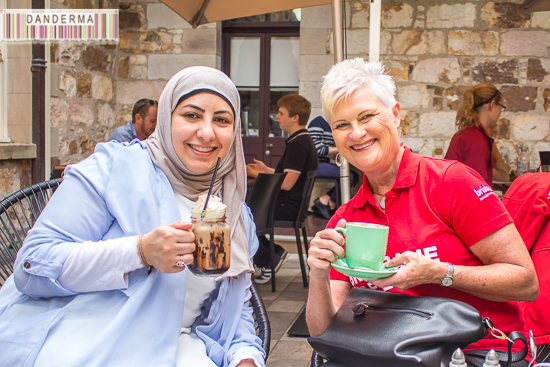 I had planned to go back to the little cafe before I left Brisbane and try the lamington cake, I also had planned to meet some of the Kuwaiti students in the university over there as per their request but I ran out of time and never made it back, that's something I truly regret to this very day. I can still taste the mocha and feel the cool breeze and the happy chatter around me. I miss Brisbane, yes there I said it. After the cafe and the old government house, we headed to Science & Engineering building of Queensland's University which is this newly built modern structure that is all glass and steel and reminded me very much of the 4KH building of our own Engineering building in Kuwait's university where I spent most of my college days studying.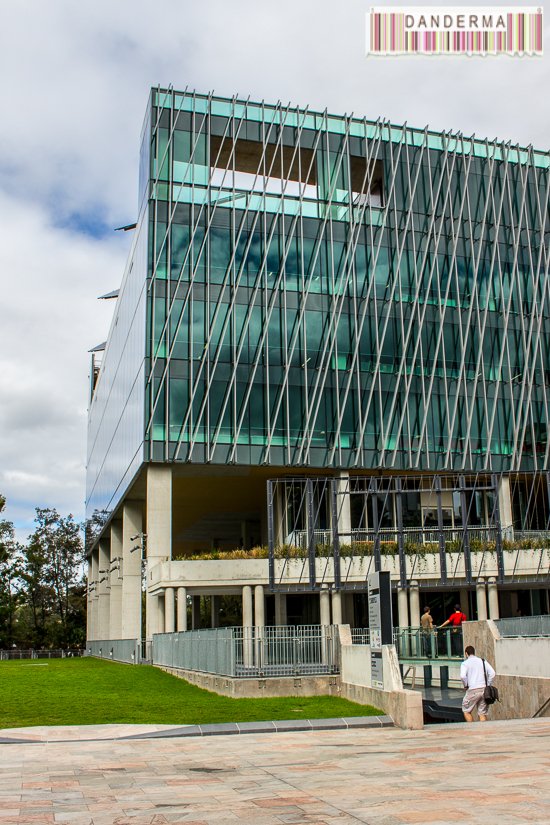 In the very centre of the building there is this massive screen that doubles as a virtual aquarium and that's also interactive. You can touch the fishes and they will somehow react to your touch.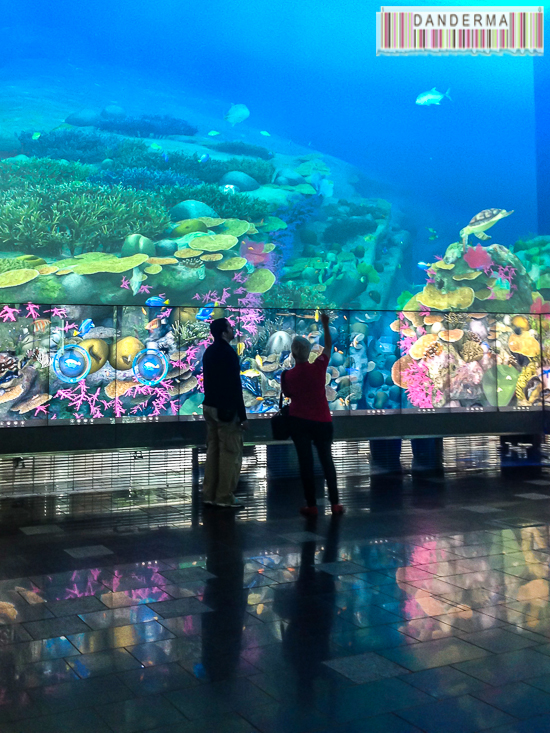 Inside the building you could see students everywhere, working on computers that are facing big floor to ceiling windows that overlook a vast green space, such a marvellous building to study in!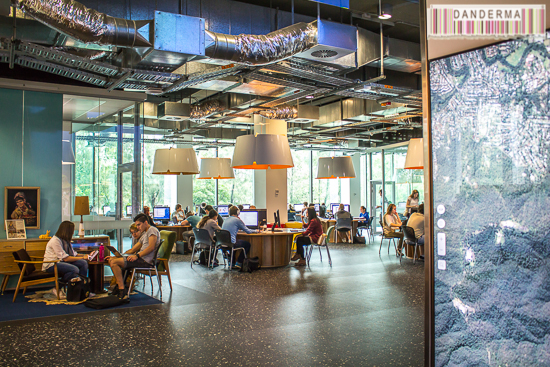 Out of Queensland University of Technology and that envious Engineering building and crossing over a bridge towards the trendy south bank area of Brisbane's river. The view is beautiful!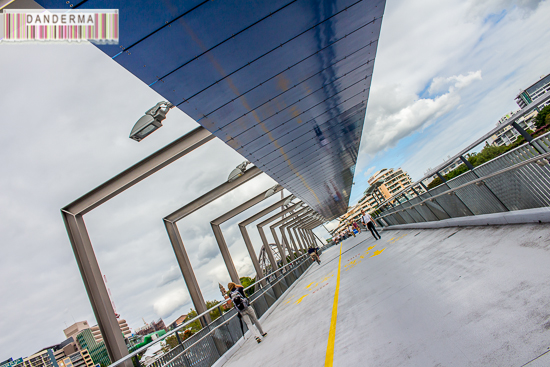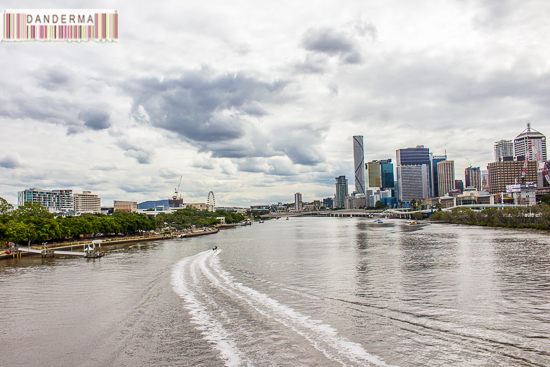 On the south bank they have these walkways that tunnels of flowers, we call the flower bushes majnoona which means the crazy one in Kuwait because it tends to grow crazily but I've never seen it bloom so vibrantly before. I wonder what its called in English?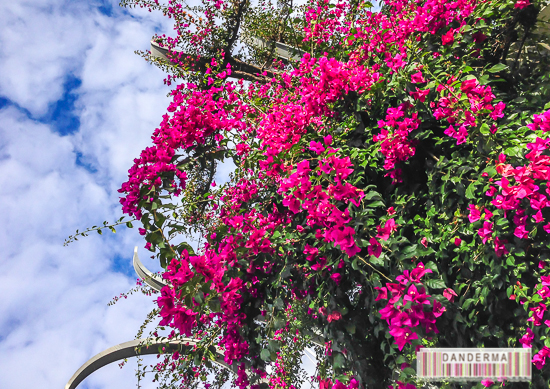 Through the tunnels passing by numerous restaurants and shops, and finally we made it to the Stanley Street Plaza which is this open area surrounded by interesting looking restaurants and cafes.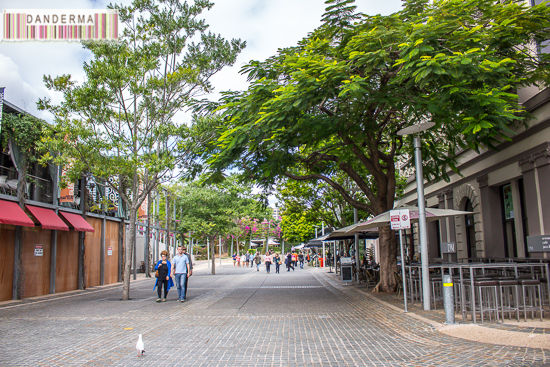 If you lift your head up you will see this friendly circus fella balancing on a unicycle, forever suspended above the diners in the plaza!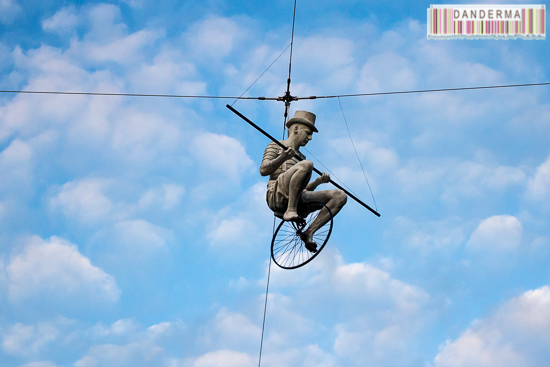 Inside the information centre in the plaza there is another circus related statue.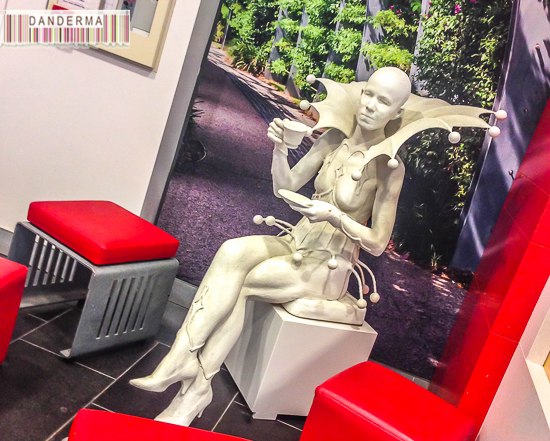 From the plaza we headed towards the Brisbane wheel and the local TV channel ABC building and the Queensland Performing Arts centre.
We also met the Ibis, the bird that has this long black beak and is simply EVERYWHERE! A few Brisbanite consider him a pest and I will take their word for it, he is no cute pigeon.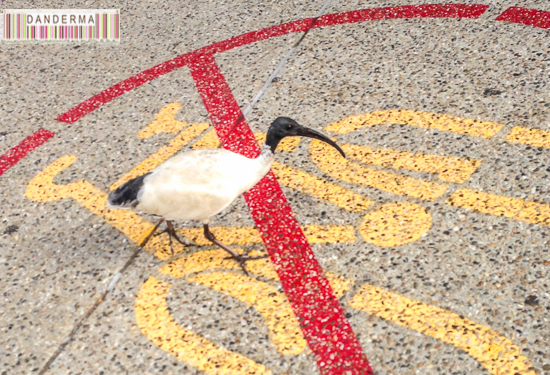 And there, underneath the Brisbane wheel, was where our tour ended and we said our goodbyes to Sue. Walking around Brisbane with Sue was a pleasure and is quite different than walking around on your own. It feels somehow that you have a friend you know in the city and that alone makes the city more approachable and less alien. Thank you Sue very much for your time and the tour, we had so much fun!
Brisbane Greeters belongs to worldwide Global Greeter Network program with similar tours run by locals around the world. The next time I'm in a new city I'm definitely going to check if they have a Greeters tour in that city. I wonder why there isn't a Kuwait City greeters around? Then again we barely have any tourists but perhaps one day in the future and maybe after we see the formation of Dubai Greeters.
Thank you Brisbane Greeters, keep up the good work! For more information regarding the Brisbane Greeters you can check their website (link) or their Facebook page (link).
---
10 Responses to "The Brisbane Greeters Tour"