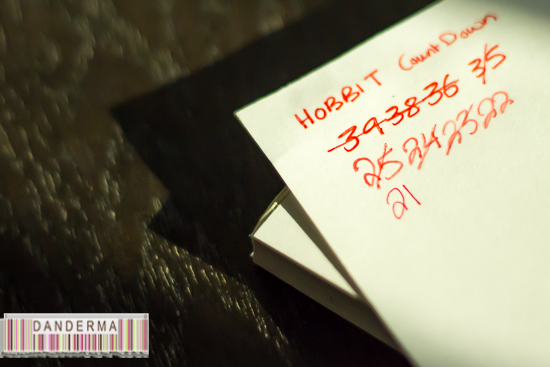 Ever since I've walked out from the cinema after watching The Hobbit: The Desolation of Smaug movie and I've been in some sort of daze. On one hand, I loved DOS so much I wanted to see it again -and I did, several times-. On the other hand, I wanted to continue watching the movie, or rather the third movie that was named There and Back again and was set for a July 2014 release then pushed back to December 2014 and renamed into The Battle of Five Armies. I wanted to watch the last movie so bad, an entire year of waiting seemed like torture. I began counting down the months, one by one, and because life goes by in a blink there I was, with only one month left to go and now counting down the DAYS! No more counting of months, its merely a matter of days, until it was finally time to watch the last of the Hobbit and bid it farewell. 
Well, now that its only a matter of days till the last Hobbit is back in the cinemas I suddenly don't want the wait to be over, don't want the suspense to end. Sure I want to see how the story wraps up – I know what happens, I've read the book and its not good nor happy- but I also don't want to see because there will be no more wondering or daydreaming. Yes I've been daydreaming, I live in my very own bubble sometimes where I let my imagination run wild and asking me to wait for a year to watch a movie didn't help tune the daydreaming down, not one bit. Where did the days go? After this, there will be no waiting for the Hobbit anymore, no more new LOTR related movies, and its just a matter of few months until all three extended editions of the Hobbits are out and then its all over.
I just truly hope that after all this wait, it won't be banned in Kuwait. There is a very good possibility because yes I'm that lucky usually. I've seen the listing of the Hobbit go on the coming soon tabs of the cinema in Kuwait today, countries around the world have already started selling advanced tickets for the Hobbit and many cities are lucky to be having their very own premiers, why can't we have movie premiers in Kuwait? We are part of this world, aren't we? Imagine if there was indeed a Hobbit premier in Kuwait, would you go? I'd be the first one scrambling for tickets to be honest.
Anyways, the Hobbit is set for a 17 December release in Kuwait and I hope the date doesn't get pushed back. I will sure be bringing a lot of tissues to the movie with me and hopefully it turns out worth the wait.
---