Anloo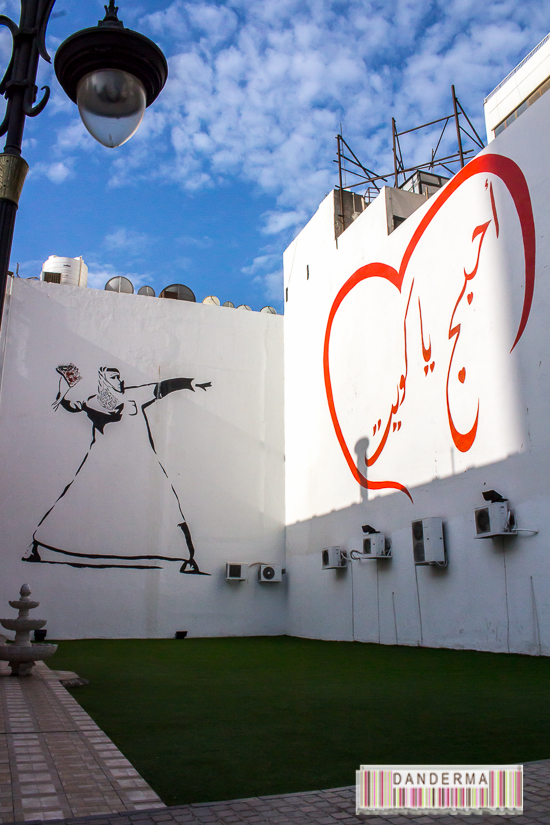 One favourite spot of mine in Kuwait is the old and traditional Mubarkiya souk. I tend to spend mornings or evenings there, casually strolling in the alleys , my vision split into what I'm seeing for real and what I imagine it must have been in the old days, who must have walked these very steps or touched these very walls. It's a charming spot deeply saturated with history and many of its standing buildings have not been changed since they've been built. 
Mubarkiya have always had restaurants serving traditional food but for a while now a few modernised restaurants Kuwaiti have been opening one after the other, I'd say the trend started in 2011 with the opening of Haleeb o Heil cafe but my memory might be failing me there. Not all the restaurants available serve Kuwaiti food per-say but a younger, different crowd sure began to flock into its streets -and not only for photography classes or projects-. Fast forward four years Mubarkiya is now a very busy and well frequented "hip" spot, especially after the opening of SoMu and the now taking place Mubarkiya Expo in its second year.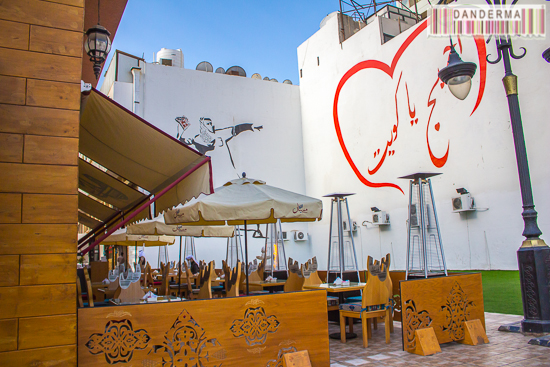 You know you've arrived in SoMu when you see the big heart with the words "I love you Kuwait" written inside, in the picture above. What is SoMu you say? Well, SoMu is a play on "South Mubarkiya" and is a little area in, well, south of Mubarkiya where a group of modern and trendy restaurants and settings with outdoorsy seating and quirky wall art. It started a year or two back with the opening of the Thouq shop, a tiny little shop with quirky merchandise, around the Thouq shop, the lovely restaurants began to popup as well.
There is Msayan restaurant, overlooking the big love heart wall art and serving modernised Kuwaiti dishes. I've been there for breakfast and they have excellent, excellent scrambled eggs with cheese. I'd recommend this as a starting point if you are planing on spending a morning exploring Mubarkiya on foot.
Right next to Msayan you'll find Brothers St. burgers. They are not open in the morning, being a burger place and all, but I've seen pictures of my friends dining there in the afternoon and the evening and I've heard really good reviews about it.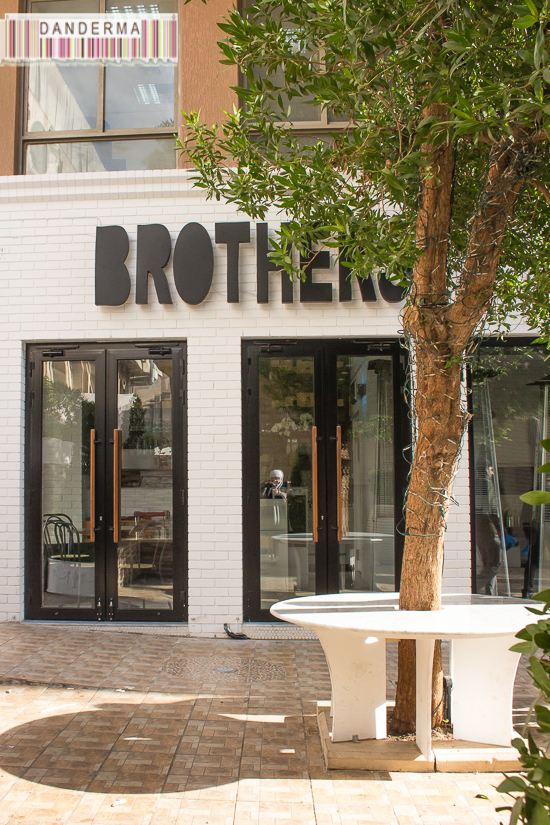 What's really lovely about Brothers St. is the little sitting area surrounded by trees and shrubs. Pictures of that area, softly light in the evening and buzzing with diners, speak of cosey relaxed evening and good conversations with friends.
Right next to Thouq shop and Brothers St. is a really new restaurant that is either just opened or will be opened very soon. Last Saturday I've seen tables being cleaned outside and from the name, caffeine, I expect it is a coffee place.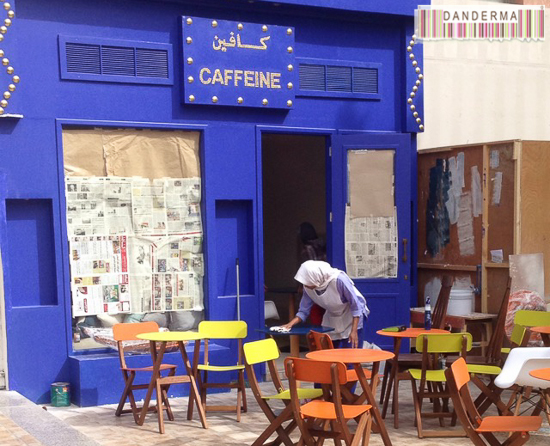 Across from Caffeine you'll find a beautiful gazebo in between another cute looking cafe, Breo.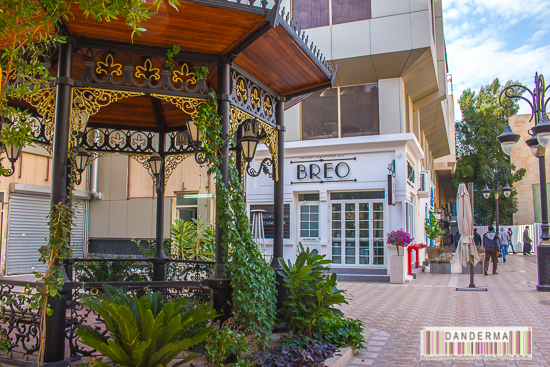 Breo isn't open yet, but I expect once it does alongside its two new neighbours the area and have its tables filled with diners the area would be a really nice see and be seen kind of spot.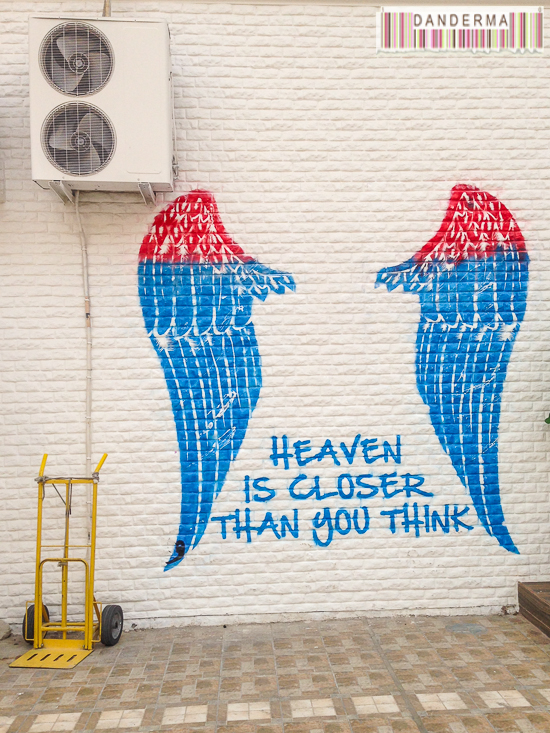 Another soon to open place next to Breo is 7th Heaven! I just hope all of these places are open before the good weather days are gone.
Across from 7th Heaven is a piazza with more shrubs and greens, designed in a way that almost certainly means it will be filled with diners soon. Or perhaps some booths of some expo or nomadic markets? You never know, but there is a lot of happy times potential in the making here.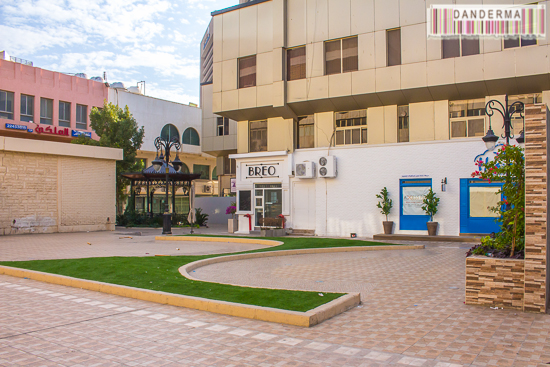 And across the piazza you'll find my favourite of them all, flower latte Cafe!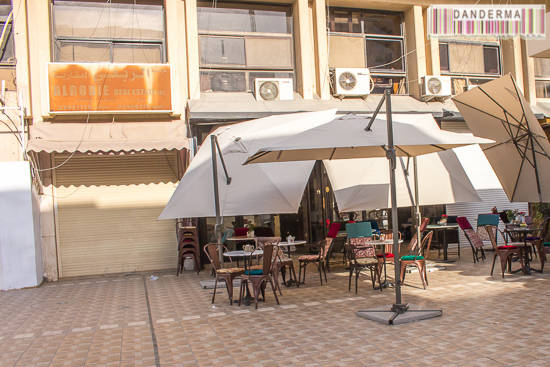 If you haven't been there already then you must have seen pictures of diners snapping in awe at the whimsical decor and gorgeous settings! Its so lovely, so serene and relaxed and quite and inviting, I wouldn't mind spending an entire morning just sitting there sipping coffee and enjoying the peace and quiet. Its also a shop, or at least it used to be I'm not sure anymore, but its been there for almost a year now and its really a gem in the middle of Mubarkiya. I will be dedicating an entire post just for Flower Latte because it is that beautiful. Here is a preview though.
Lovely place right? Some might argue that its not very traditional or old, that its taking a part of historical Mubarkiya and erasing its traditional identity but if you look closely you'd see the buildings housing the cafes and restaurants are exactly a hundred years old, perhaps they were built in the 70's and 80's therefore not really that historical as other parts of Mubarkiya. A little modernisation wouldn't hurt I suppose, no old buildings were harmed making way for new ones, especially if it meant more people heading and hanging out in Mubarkiya and certainly not only confined to the SoMu section.
While we are on the subject of Mubarkiya let me tell you about two more things that I like. One of them is a little shop called Bait Ahmad that's been there for a while and filled with lovely merchandise, a mix of modern and traditional. I've always loved shopping at Bait Ahmad and recently they've converted almost half their space into a little coffee shop.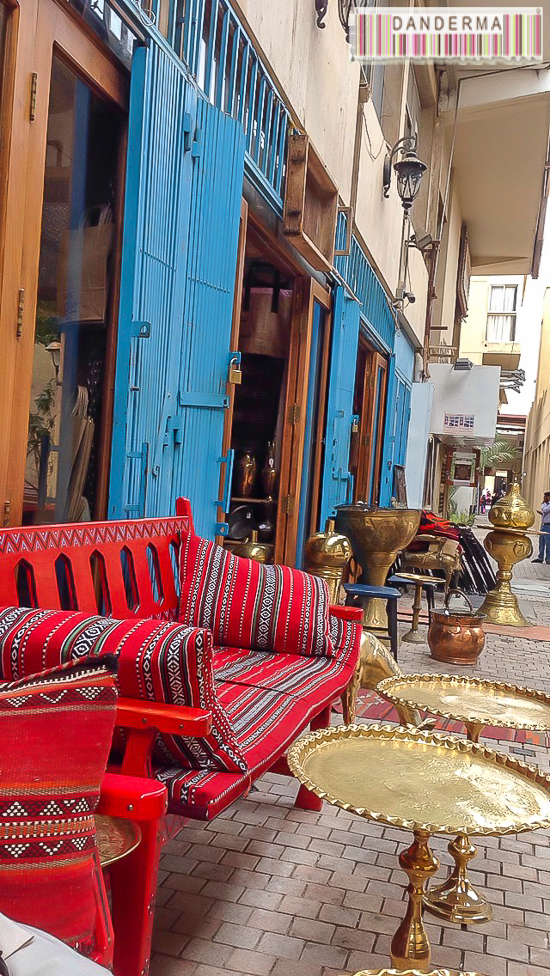 If you arrive in the evening, you would find a long queue waiting for a table so you might want to go when the souk isn't very busy.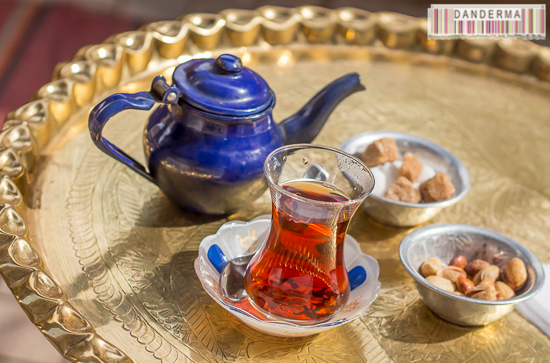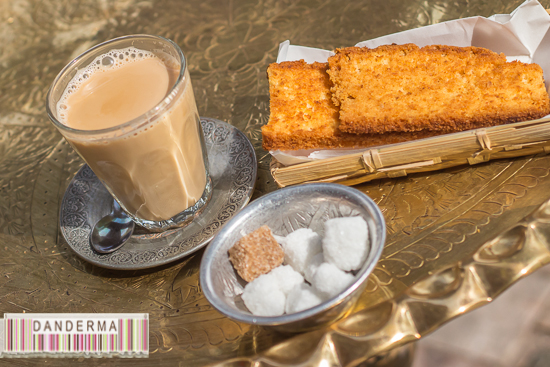 Another part that I love about Mubarkiya is how dressed up it gets during the festive month of February. Everything is swathed in green, red, white, and black, the colours of the Kuwaiti flag and you get to see shows and traditional music performances. Its a beautiful place to be during February.
SoMu Mubarkiya have been generating quite a buzz and with the festive month decorations and activities, Mubarkiya can be very busy! My favourite time to enjoy a leisurely stroll there is on early weekend mornings or just after sunset on weekdays. You can spend an evening there then stop for some desserts and coffee or have breakfast and walk around until you cannot feel your feet anymore. In any case, if you are planning on visiting Kuwait soon, don't miss Mubarkiya this time of year.
---
4 Responses to "A Stroll in SoMu, the Trendy Part of Mubarkiya"