where to buy Clomiphene pct uk
Ever since GIA opened up their doors in October 2013 they've been creating a buzz with the food loving population of Kuwait. Gia was always busy, and I've yet to encounter one person who dined there and didn't love the food or the atmosphere. They've been open for less than a year and a half but they've already closed down to expand to the next door shop due to popular demand and now its even bigger with more room to breathe and relax. So what was next for Gia? Why, breakfast of course! 
GIA began serving their breakfast around two weeks ago and it lasts from 9-11 AM daily. I've seen pictures of their breakfast, I've seen snapchats of people having breakfast and I knew exactly what I wanted to do on that fine cool sunny Saturday morning last weekend. The moment I opened up my eyes, I wanted to have breakfast at GIA and so it was. I actually knew what I wanted to order beforehand but decided to take a look at the menu for I might see something I've missed.
Now lets see, personally I only eat scrambled eggs for breakfast and on some rare occasions I eat baked eggs or omelettes but nothing runny. I was in the mood for eggs, and they had two dishes with scrambled eggs on the menu but I decided to try the basic one: Two eggs any style -scrambled- on toast with a side of potatoes and sautéed mushrooms. I also ordered an American coffee.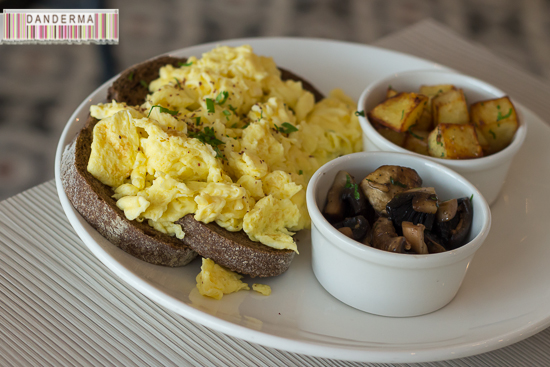 My eggs arrived first of all other dishes, propped on the softest slices of brown bread and with a side of mushrooms and potato cubes. I really want to say I've enjoyed them but they were blah to be frank. The consistency of the eggs was all wrong, too dry and separated into clumps. The bread slices were really delicious though.
Thankfully the other eggs dish, poached eggs with avocados on toast, was a much better dish than my own scrambled one. I didn't try the eggs, I don't eat poached ones, and I've developed a fairly recent and quite annoying allergic reaction to avocados where my stomach would ache endlessly for hours if I had any, but I was told this dish was a winner and almost every table around us had someone breakfasting on it.
We also ordered a latte, which was rich and lovely. My coffee was good as well.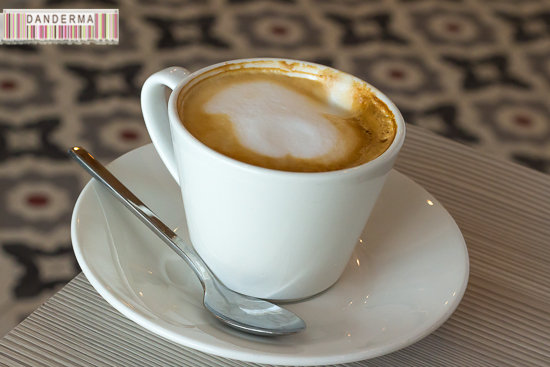 What else did we have? Well, I was really craving this croissant ever since I've seen a picture of it with a description. The name? Aroma's breakfast toast. Description? Croissant, filled with brie cheese and brown sugar. Interesting no?
Now the brie cheese is melted but not to the point of being an oily mess, there was still a bite of texture to it. The sugar wasn't all melted as well so it provided a good amount of crunch, you could feel the brown sugar crystals hiding into the fold of creamy brie and once crunched together, it melts away within the cheese as you chew. May I also add that the croissant was fresh and flakey and not at all dry from being heated? May I also add that there were a few sprigs of rosemary hiding between the cheese and the sugar, and that I found a few walnuts in the accompanying salad that I've also stuffed in my croissant, and that is perhaps this sugary brie croissant was one of the guiltiest yet most pleasurable and tasteful croissants I've had in Kuwait? This is a killer, a way7a qalbi moment for those who know what that word mean.
The brie & sugar croissant was a very successful dish. You would think we've had our share of sugar and fat by now no? Not a chance, I had to try the second famous GIA breakfast dish, one that's everyone is raving about, the salted caramel French toast!
Now if you are truly confused about what salted caramel means, you should try the caramel sauce on this dish and see what exactly a salted caramel sauce should taste like. Creamy, sweet, rich, with a hint of salt that brings everything together. When the dish arrived with the other breakfast dishes I thought to myself whoa! We would have to take this for takeaway. I almost didn't want to drench it with the sauce but we still had some space in our stomachs and I thought, just a bite or two.
Moments later and we were fighting over the last piece of caramel drenched toast! The dish arrived with a white fluffy cream thing that might be cream fraiche but I'm not sure, its not cream and not ice cream, something in between but lighter that cloud with a hint of sweetness and no there is no pictures of it being spread on the bites of toast and sugar and salt and pecan because if you dropped your fork for a moment there would be nothing for you to jab your fork into in a moment.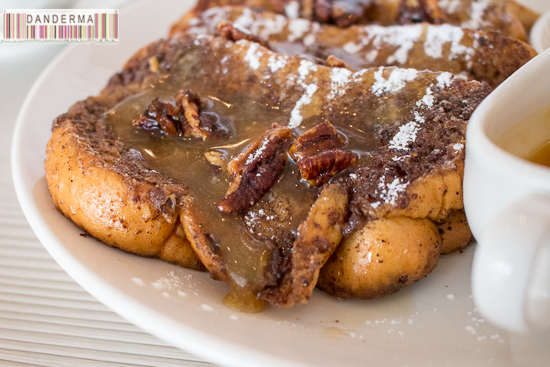 The French toast is, also, HIGHLY RECOMMENDED and falls under the way7a qalbi category! Oh my god, that was a breakfast worth waking up for indeed!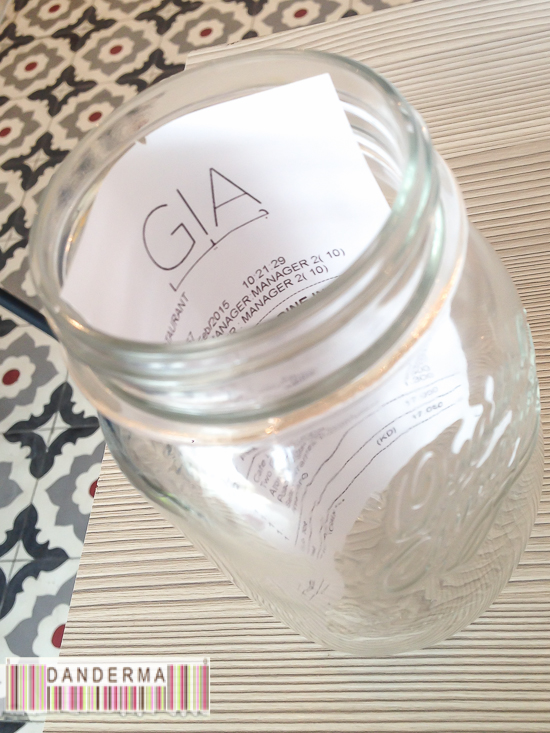 All four dishes we had returned empty and stark white back to the kitchen. The new GIA is so beautiful, the atmosphere so laid back and relaxed, plenty of people minding their own business and losing their selves in their breakfast, so quiet yet with morning-suitable music softly playing in the background. Our bill came to about 17 KD which I think isn't bad for such a delicious meal with really generous portions.
May I also add that I love the wall art I found on Al-Khalid complex? I especially love the spaceman in the picture below. At least I think he is a spaceman, but either way I think its a nice way to sprinkle youth on a decades old building.
So, dear reader, whether you are a local or visiting Kuwait soon, GIA is indeed a new and perfect spot to have breakfast in Kuwait away from the mall crowds. Do not miss the Brie & Sugar croissant and you must leave room for the French Toast, you must! Well done GIA, I love your breakfast menu, perhaps even more than your regular menu!
GIA Cafe is located in Al-Khalid Complex in Salmiya. For more information and directions you can give them a call on +(965)-25640257, email them on info@giakwt.com, or follow them on instagram (@GiaKwt).
Related Posts
---
Comments are closed.