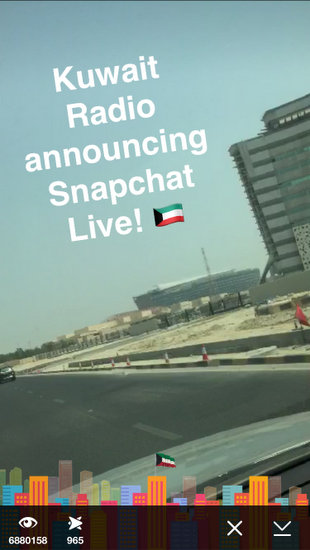 If you are on Snapchat then you must know that last week was a big day for us for Kuwait City was the city of choice for Snapchat Live! If you are not familiar with the concept, Snapchat chooses a city each day where residents of that city are able to take snaps and add it to the city's story. Eventually, Snapchat admins get to choose which snaps (videos or pictures) they like the most and publish it for the entire world to see in a story and it stays on for 24 hours.
Six million eight eight hundred thousand and one hundred and fifty eight humans around the globe did click and watch on the Kuwait City live story! How do I know the -almost exact- figure? Well, you see, I've submitted quite a few snaps myself and lo and behold, one of them did actually make it! I couldn't believe it, it was surreal to see your snap on the #KuwaitLive and even more surreal to check the number of views multiplying by the second and realise how many people have been watching, how in that single ten seconds you were connected to 6 million people around the planet! Six million, almost seven! I still cannot wrap my head around it!
My favourite snap that I hoped would go up was one of Thahab ice cream melting in seconds under the 43 degrees celsius sun with the liberation tower in the background while saying something about how we celebrate the start of our weekend. It wasn't chosen 7safa.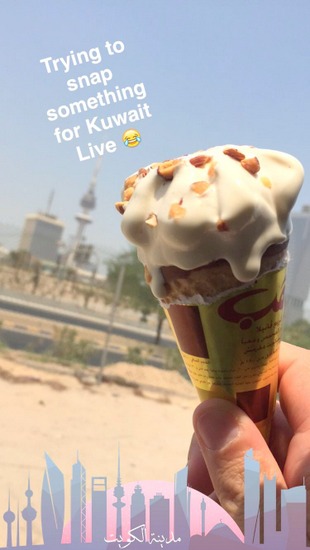 The snap that did get chosen was one where I had unintentionally switched on the radio on the 103.7 FM channel and the radio announcer just happened to be on talking about Snapchat #KuwaitLive! That one was chosen and thank god I wasn't the one talking in it. Talking and thinking whatever you say in your public-school English might turn out to be was too stressful in my case!
The lovely thing is, the moment my snap was chosen on Kuwait City story I knew about it from my friends, family, and followers on several different social media apps before I did notice it myself! People were genuinely ecstatic and whooping which of course made me even happier and I was very touched at the sheer happiness of some. I didn't see that coming to be frank.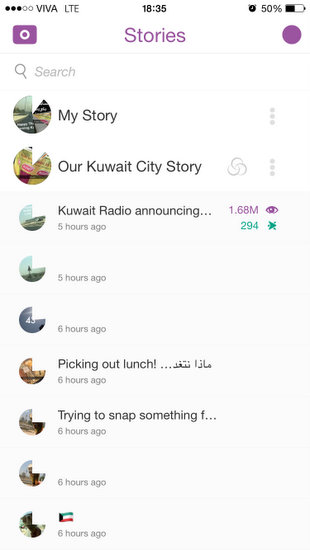 Afterwards I took quite a few more snaps up until midnight but none made it sadly. I however got a few comments asking me to send my snaps to an account that "promises" that if you should send your snaps they will be 100% published because they have the higher hand on submitting them to Snapchat. Personally I found that quite funny, I'm sure team Snapchat weren't operating on the basis of Kuwaiti wasta! How it works is you post, they chose, finito! They didn't choose your snap? So what, it happens. I also found it quite annoying how a lot of people thought they were "entitled" to having their snaps appear on the Kuwait story because they are awesome and of course their snaps are as well. I thought I had a couple of awesome snaps that weren't chosen, and they weren't chosen, and it doesn't mean anything. Disappointed? Sure but again I don't think Snapchat owed me anything, I will try my luck the next time a city from Kuwait is chosen. Why? It was fun, six-almost-seven million views fun

Now that's something to remember!
What did you think of Kuwait City live, whether you are a Kuwaiti or one of the six million on the planet who viewed it? I heard mixed opinions, some hated it and some loved it. In my opinion it wasn't my absolute favourite live city story -Cairo was, followed by Manama-, and some more interesting snaps could have been taken had it been winter time with the majority of Kuwait's population enjoying the outdoor activities and actually are in Kuwait, but it was quite decent given the circumstances.
---