Astara
A while back, OK a few months back, I've had the pleasure of being invited for a "special" lunch cooked by the one and only Special Maryam, the amazing young chef who is makes the luscious bagels and melt-in-your-mouth fresh pastas of Maria Rustica and, the one behind the menu of the one and only Bao, which I've had the pleasure in sinking my teeth into several times and if you've read my review you'd know how much I've enjoyed it.Lucky me headed to a "secret" rooftop in Kuwait City, on a 31st floor overlooking a dazzling 360degrees view of Kuwait's capital.
Special Maryam offered to cook me brunch, and brunch it was for I arrived in the middle of the week at noon and there she was, away at the stove preparing a feast. I took my camera and hovered around her with the pots and pans and she chopped, stirred, and poured, and I clicked endlessly away. For the first dish she was going to serve, there was a hollandaise sauce involved and that she was whipped from scratch. The table was setup and waiting for me, the eggs were poaching away, and I was served coffee.
As I sipped my coffee I looked around and, in awe, decided that this place must be the coolest spot in K-town! How anyone can get any work done in that rooftop is beyond me. If I had been given the chance, I would totally purchase a rooftop of a building in Kuwait City and move to call it home. In that smouldering summer afternoon in August, the sun was shining over the ripples of the gulf and as you gaze one way, then you turn around and you are staring at the Liberation town, so close you could wave to the people peering from its windows if there were any!
You tear away your eyes by force and gaze around you, at the industrial decor, the exposed ceilings, the brightly coloured Vispa parked next to the vintage posters framed on the wall. You can feel the vibe of the place: fun and youthful, promising good times and plenty of laughs. I was in love instantly.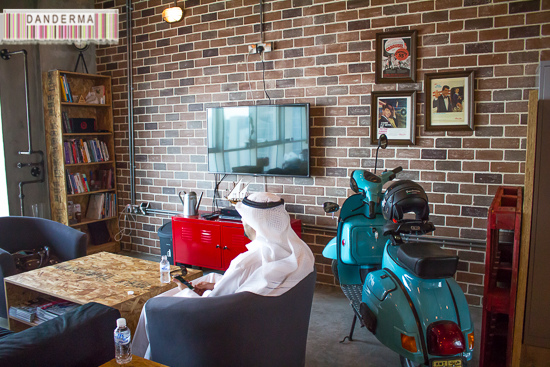 Its a food rooftop, hence the big bookshelf stacked with cookbooks! Yum!
Then I was distracted again by the sounds of sizzling, I rush over to Maryam's side and peek over her shoulder, I must have been quite a pest that day but I couldn't help it! Its like watching those chef's on TV in action, but in real time and only for your!
A medley of mushrooms and something else was dancing around a pan, later a whisked sea of eggs would blanket those sizzling mushrooms and give them an omelette of a home. That home would slide off the pan, moving on top of a plate, get snowed in with flaked of falling parmesan, and then, looking all pretty and tantalising, will be presented to me so I could tear it apart and move it off the face of the earth.
http://skywaysmedia.co.uk/photography/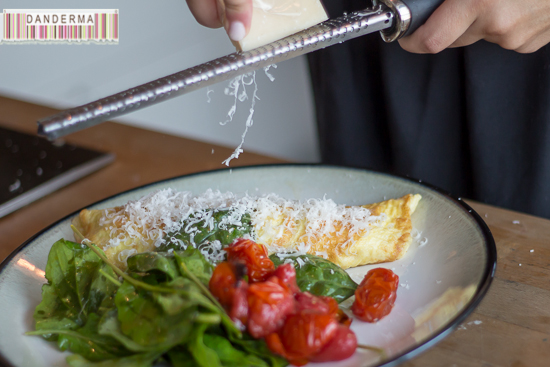 Good? That's not the question to ask. You need to ask me how it felt when being eaten, bite by bite. How silky smooth the omelette was, how the juicy filling felt against the silk. How, oh well, um… excuse me but I am hungry now.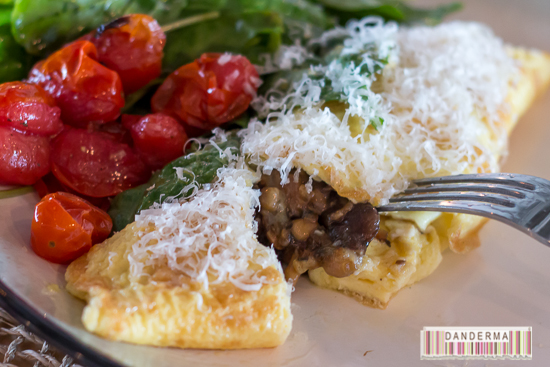 I told you about the hollandaise mo? Why? Well, it goes well with poached eggs, and poached eggs there were! On top of a grilled slice of bread and asparagus springs.
Pouring the hollandaise down, the picture on the very top of the post is my favourite picture of that day!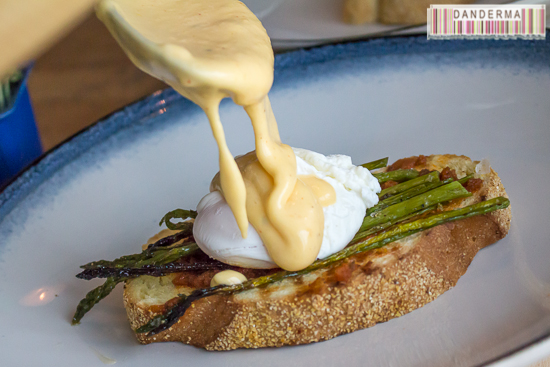 A couple more touches and the dish looks so good, its a pity to ruin by eating!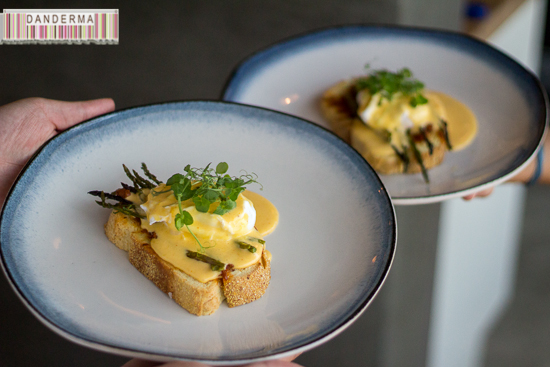 Perfect hollandaise, mixing with the yolk of the medium poached egg, soaking the bread, perfect brunch!
No brunch is complete without a sweet end, and while I tore away at the egg dishes, there was another party cooking up in the kitchen. Of course I ran over just in time to see a cupful of batter descending onto the pan again. Yes, batter, pancakes, and I love pancakes <3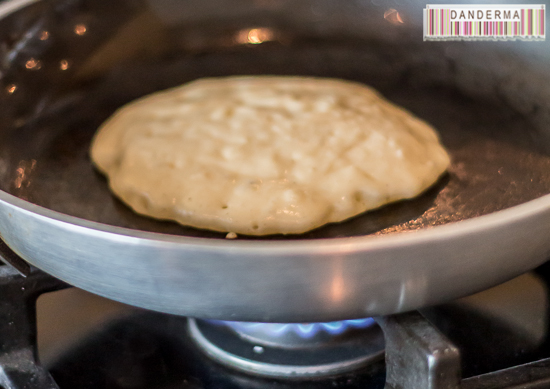 Fluffy is the word, as one perfect pancake was lifted off the pan and stacked against its sister, a knob of butter sealed the deal and melted away on top, sprinkled with pretty edible flowers and strawberry slices, then drizzled with maple syrup. I don't understand how I stayed calm and took these pictures, took endless pictures actually in my quest to capture the perfect moment translating my joy at watching the beauty unfolding in front of my eyes. I wasn't even close.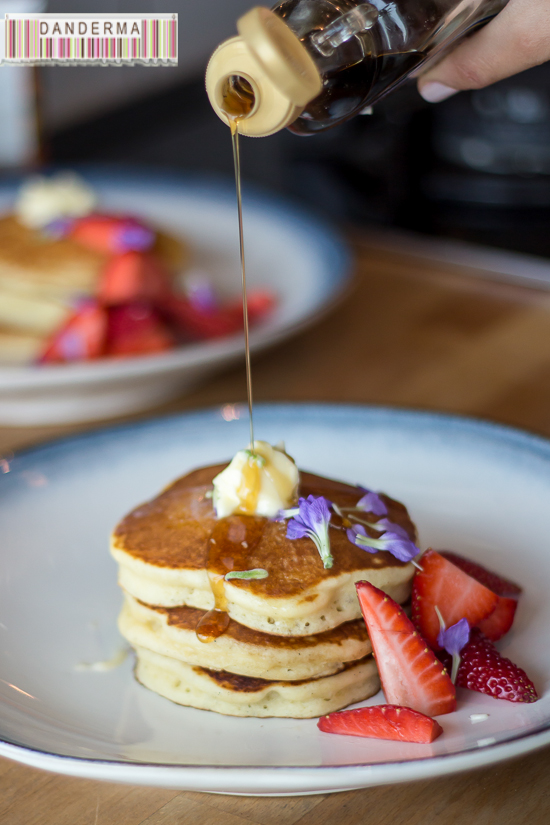 You'd think by 2016 the inventors of the modern world would have found a way to transport smells and offer taste of whatever you experience. Thankfully, my memory is still fresh, remembering how those gorgeous pancakes tasted and felt. Succulent, heartbreaking.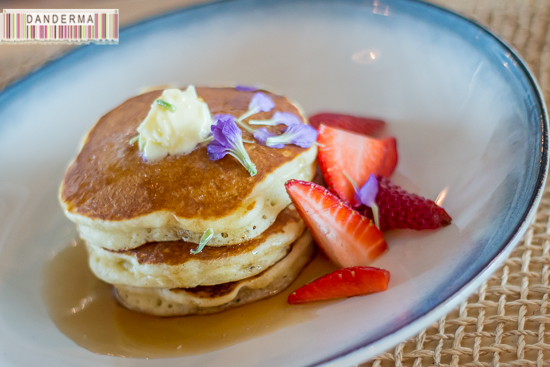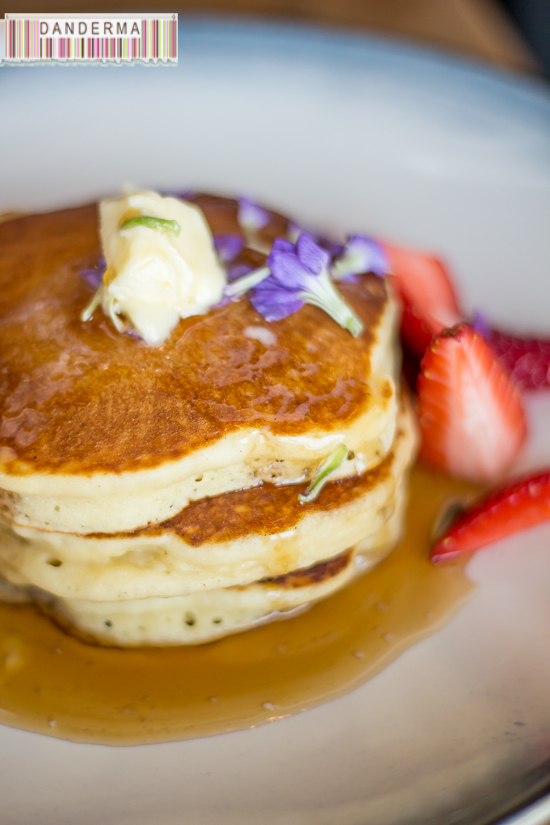 And because one sweet dish is not enough, here comes the last dish… can you take a wild guess? Grilled bread, melted white chocolates, grilled peaches sprinkled with sugar, crushed raspberries. Could you ask for more?
Well, apparently yes. A generous drizzle of pure maple syrup to bring the entire dish together. This one I took home, I couldn't possible have another bite and it was too pretty to ruin. Needless to say it didn't last the night.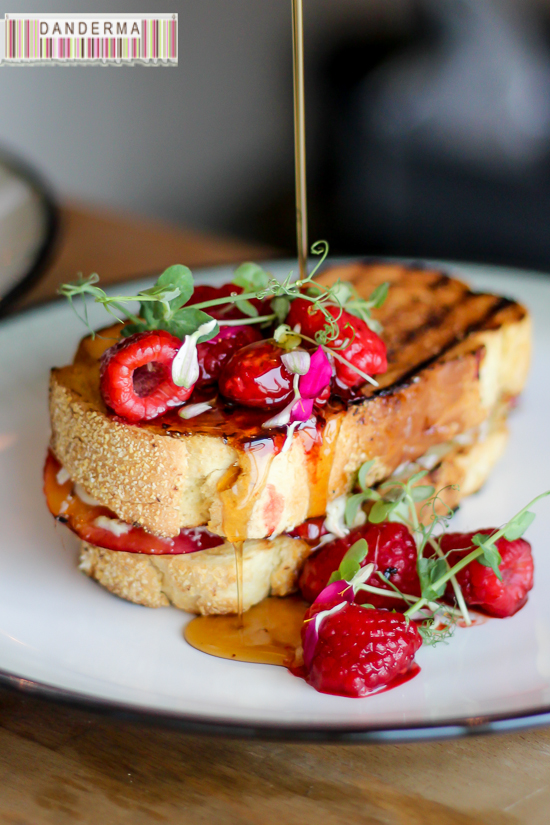 And yes, the food was as good as they looked in the pictures. Down to the very last morsel.
The experience, of being made to feel special by an exceptional person, to have her cook for me, sit down the table surrounded by gorgeous views and awesome food and converse for hours until early evening, is one of my cherished moments of 2015. Surprisingly, I find it harder to publish my favourites posts and memories these days because, well, I feel like they should be perfected and not at all rushed, like a piece of art you'd want to go back to and polish until its ready to meet the word. Not that I'm saying my posts are pieces of art or anything but you know what I mean, at least after reading my blogs for years on end you'd know by now.
Thank you, my dear Special Maryam for the lovely brunch. It was my absolute pleasure to be there, and I can still feel that omelette on twirling on my taste buds. The answer is yes, always yes, whenever you have the time to have me over again, you will find me and my appetite knocking down your door.
---