Māgadi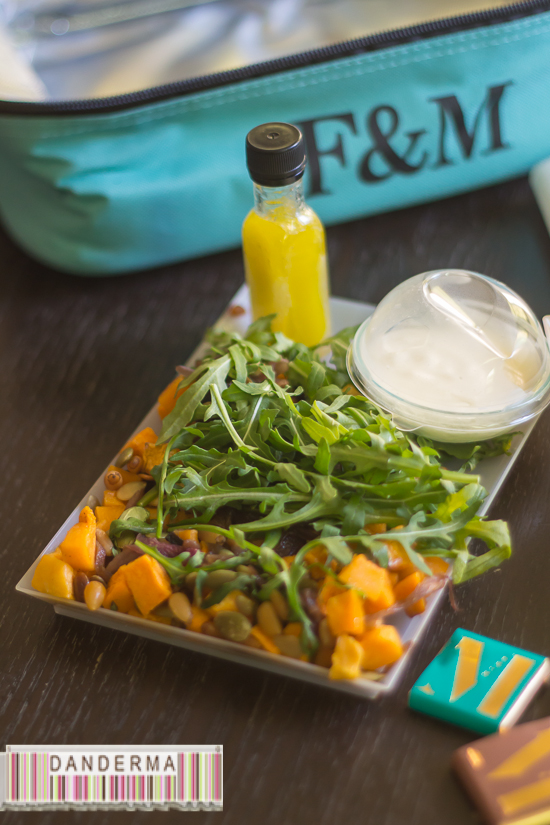 Last Saturday, trudging through Heathrow Terminal 5 and grumbling, not wanting my vacation to end, I walked through Fortnum & Mason's shop and headed straight to the tea rack, picking a box of Royal Blend tea bags to take home. While I was paying my eyes fell upon a stack of Fortnum blue boxes and a brochure announcing the "Hamperling"…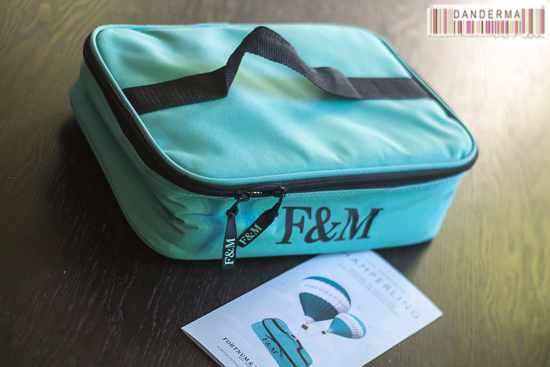 The hampering is this cool box filled with a meal of your fancy, be it salmon with the works or caviar, and its designed to be taken with you on board of the plane in lieu of what people deem "horrible plane food". Personally, I might be the only person on earth who adore plane food and cannot wait for my tray to arrive, I love meals in small portions and neatly packaged little, well, packets. However, I do eat a meal before flying as I get too anxious if I'm too hungry and therefore decided to see if there was a "hamperling" that I take on board with me from F&M. The cool box was irresistible!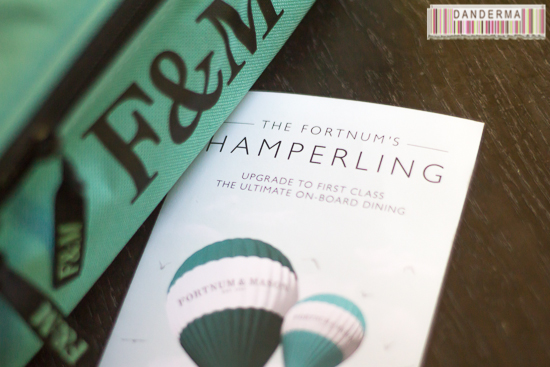 I flipped through the menu and to my delight there it was, a vegetarian plate option! It came with a salad, bread and butter, a cheese selection, chocolates, and a lemon posset. The food and the reusable cool bag cost £15 which is quite a steal if you ask me.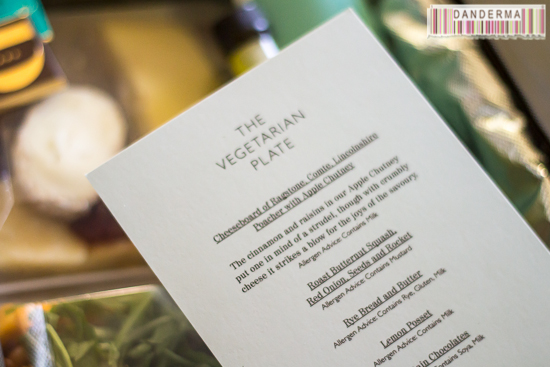 I didn't get to eat it before the plane or on the plane so I kept it until when I arrived home and had it for lunch. Opening the box, this is how it looks like. Little packages, separated, nestling next to each other in an orderly fashion.
The first course is the salad… Butternut squash with rocket and sunflower seeds. It comes complete with a little bottle of dressing. Really cute!
And the other plate, three slices of rye bread with three pieces of cheese, two hard ones and a soft goat cheese one, and a dollop of chutney. Sadly the chutney was smeared out the covered cheese plate and looked a bit messy but of course the taste wasn't effected and it was delicious.
My lunch came complete with a set of cutlery and a napkin. Very neat and organised.
The lemon pousset was a bit off when I tried it, and the portion was tiny so I reckon had I been able to eat it it would have been over in 2 spoonfuls. There was no butter for the rye bread, and the remainder of the desserts were the three little chocolate squares which, surprisingly, were sweet enough to finish off the meal.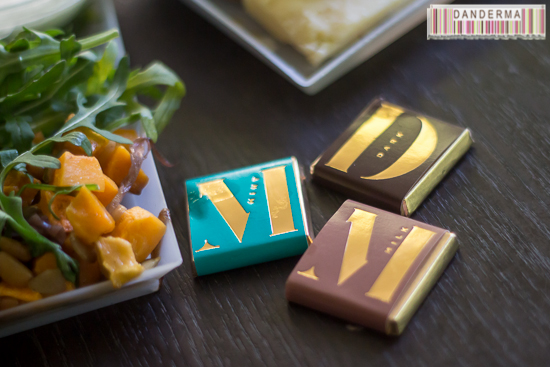 Would this meal be enough for a plane ride? Well, the salad portion was perfect, it wasn't too pungent and didn't need reheating. The cheeses also were good, if you are a cheese lover you'd appreciate them of course, however the ration of bread to cheese was a bit off and I could have used a bit of walnuts or grapes on the side. At home I added dollops of mustard and a few cherry tomatoes as well and it was really delicious. Had I been eating that on the plane I'd have arrived home with clean plates but still half the amount of the cheese uneaten, it was too much for one meal even for a cheese lover like myself.
Now I get to keep the cool box! I can take it on picnics, or recreate my own lunch/breakfast for lunch. I know that we have endless diet meal providers that come in packed up portions in Kuwait but this is different. First, this is food food and not bland diet food. Second, this gives off a feel of luxury, like you are dining in F&M but on board of the plane. I wouldn't mind subscribing to a good meal delivery service for when I'm at work that would provide interesting and gourmet breakfast/lunch every once on a while. For packaged meal lovers who are too busy sometimes to scratch their own heads let alone commit to meal prep, this would be a dream come true.
I wonder if someone could make a meal subscription with really good coffee for breakfast? Like, really really good coffee? Perhaps with a side of "continental" breakfast? Why not? We have endless food establishments in Kuwait and 70% of which do deliver. Something packaged nicely like this wouldn't be too hard to pull off now, would it?
---