shoddily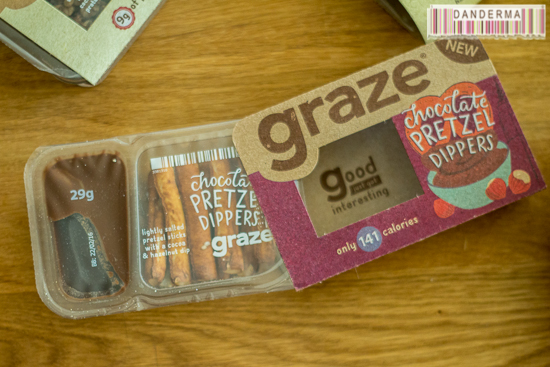 I don't want to write a cliched post, you know beginning of the year and resolutions of being healthy that may or mayn't backfire by December but just to be clear this post is not related to any resolutions made for 2016. As a matter of fact, I started the year resolution-free and simply believed it was going to be "a good year" for a change only I've been continuously haemorrhaging money on various mini-problems for the past three weeks so there you go. Resolutions or not, I was simply bombarded while in the UK with endless social media ads to try a "free graze box" and that it was good for you. I dismissed it the first few times it popped up wherever I was then one day it clicked in, what's the deal with that graze thing that is popping up everywhere?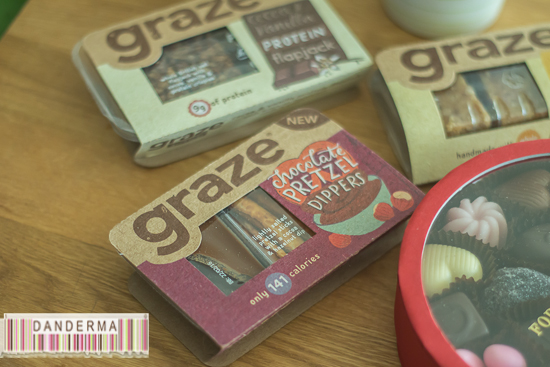 Classic consumer response I suppose, but I've been in a deli where there was even a "graze" bar with little jars filled with snacks and mini plastic cups to choose what you'd graze on. I almost went online to order myself a free graze box but I was only there for a week and I would have missed the delivery, once I gazed at a display of graze snacks in the supermarket before deciding against picking them up, and then a girl I know in Kuwait told me she had ordered the graze box online but Aramex wouldn't have it delivered for her here in Kuwait, god knows why not since its mostly snacks and biscuits, but by then it did indeed sink in that there is a healthy snack thing called graze and that, well, its everywhere!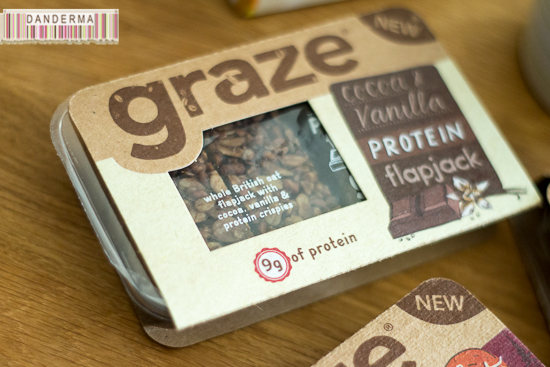 So, while in W.H. Smith in Heathrow picking up snacks for the plane ride home I was looking for a bar of flake and a packet of salted Hula Hoops when I came again upon a display of graze snacks smack next to bars of snickers and bags of m&ms. What was I waiting for, I asked myself? So I picked three: Chocolate Pretzel dippers, Cocoa & Vanilla protein flapjack, and lemon drizzle flapjack.
I tried my first box of graze for breakfast at work, it was the Cocoa & Vanilla protein flapjacks and I have to say I thoroughly enjoyed them! I've had many protein snacks before and if I'm to rate them this would come in number 2 or might even make it to number one! No powdery taste of protein, chewy, chocolatey, and actually delicious! The flapjacks came in three small slices and I've eaten them over a period of three days because I didn't want them to finish!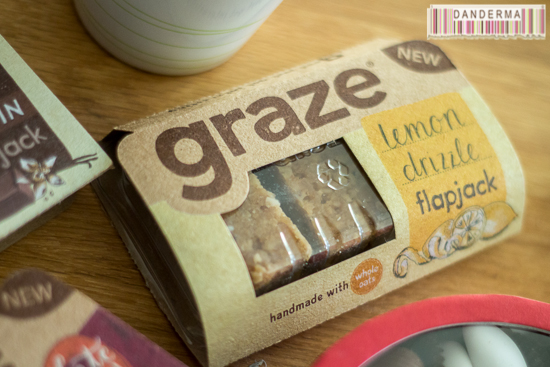 The lemon ones were also good, chewy and zesty and if you close your eyes you could imagine them to be slices of lemon pound cake with a bit of a chew. However, afterwards the taste of the lemon would still be strong and linger too long for my liking.
The portions are small, or rather "moderate", but are enough for a snack. The packaging is cool and actually practical, the cover that slides would totally seal the plastic container inside if, say, you opened it and mid-way through your snack you've decided to keep a bit for later. When you open them a day or two later the snacks inside would still taste the same having been sealed properly. The box is compact and would fit inside your handbag so you could take it everywhere, and you can get it wherever you can get other snacks so you have no excuse!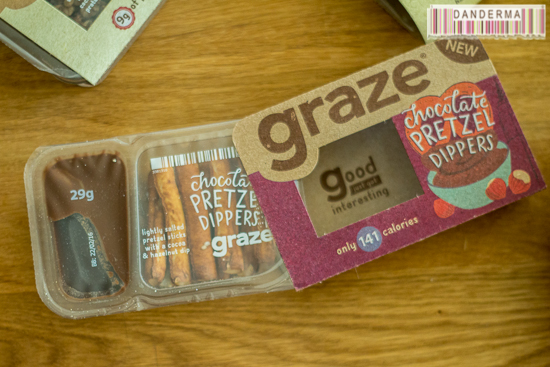 I now have only the salted pretzel dippers with hazelnut dip left and I feel a little bit sorry for myself. I'm not sure about you but I love the idea of having a healthier option of snacks nestled in between all the not-so-good for you confectionery bars. Not everyone have the time or the means to prep their meals and snacks before they leave their home and sometimes you just need something with a touch of chocolate to lift you up! I think their ads worked on me, I'm a graze fan now.
I am not sure of the origins of Graze, whether they are from the US and spread to the UK or vise versa. What I'm sure of is that they are tasty, made of good ingredients and even provide you with protein sometimes, can be sweet or savoury as per your liking, and even have brownies that I haven't come across yet but going to hunt down!
Now, can someone have Graze be available in Kuwait? I know we have no shortage of food items or healthy food items- around each corner of Kuwait but I'd very much like it if I could walk into any co-op or ma67ana and pick up a box or two of something like graze to snack on instead of a packet of minstrels!
---
2 Responses to "The Graze Healthy Snack Boxes"