buy Clomiphene online in united states
http://gurucomputers.ca/export.php What makes you crave something? badly?
Me? Believe it or not its cartoons! Anime to be exact, the Japanese ones that we grew up watching. Whenever they gather around a dining table, those glittering dishes, specifically those steaming bowls of soups with a side of little bread. I was always hungry after watching an episode with food, and don't get me started on Ninja Kabamaro's chowmein insatiable appetite!
Then, there was Heidi! I didn't like her in the anime, she was whiney and too perfect and loveable. What I did like the most is the food… when her Grandfather would give her a wooden bowl of milk to drink then melt a piece of cheese over bread. I still salivate when I think about it and I did salivate when I saw the movie Heidi in the cinema recently, this time with real people and real food and plenty of bread loaves and cheese and my god I was so hungry watching that I went straight from the cinema to Sultan Center to get me some bread from their bakery and Raclette cheese then had I force myself to sleep so the next morning would arrive and I'd be able to eat the cheese, Heidi style <3
So I got me the freshest milk I could find -Alban Dairy's-, slices of cheese, pickles -cucumbers and tiny onions-, good multi seed bread, and baby potatoes. It is perhaps the quickest easiest most fulfilling lunch that takes 5 minutes to put together and almost zero preparation effort. Now, do you recall my Raclette cheese oven that I've used in a ancient post from 2009 for a winter Raclette lunch? If you don't, then you are in for a trip through a time machine if you click on the link above and see how my posts looked like 7 years and 16 days ago!
The idea behind the Raclette oven is that you place slices of cheese in a little pan, one a time, and melt them gently in the over until they bubble. Now the cheese is melted, you can drizzle it on whatever you feel would go well with the melted cheese, if drizzle is the right word to use in the melted cheese's case.
Personally I prefer potatoes and salads, perhaps a hint of mustard, with my melted cheese. Others love pickles -which I don't understand frankly but I've never been a pickles fan-. Of course slices of good quality bread are a must, bread and cheese were, are, and will always be the it couple in the culinary world.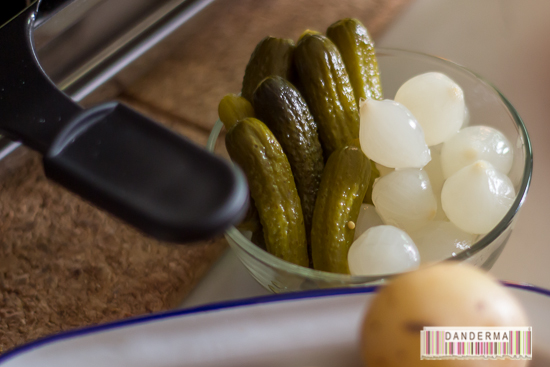 So you take a slice, cut off the rind if there are any, onto the little pan…
and voila! It melts away, the top of the oven is also a hot plate where you can heat/grill things and I've kept my sliced bread over there so it would be all warm and crunchy, waiting for the cheese's arrival.
Arrange a plate meanwhile, for pickle lovers there will be pickles.
And pour the melted cheese… I've had a picture where melted cheese is being poured tantalisingly but I seem to have deleted it. Oh well, it wasn't for the faint-hearted.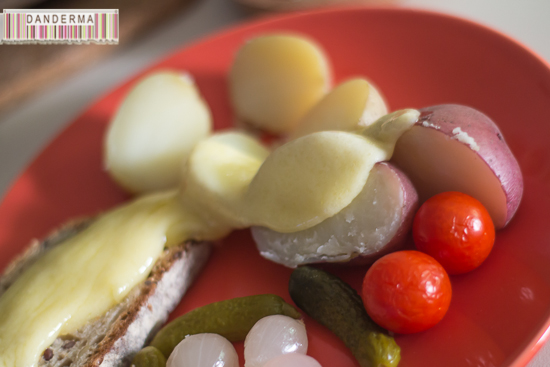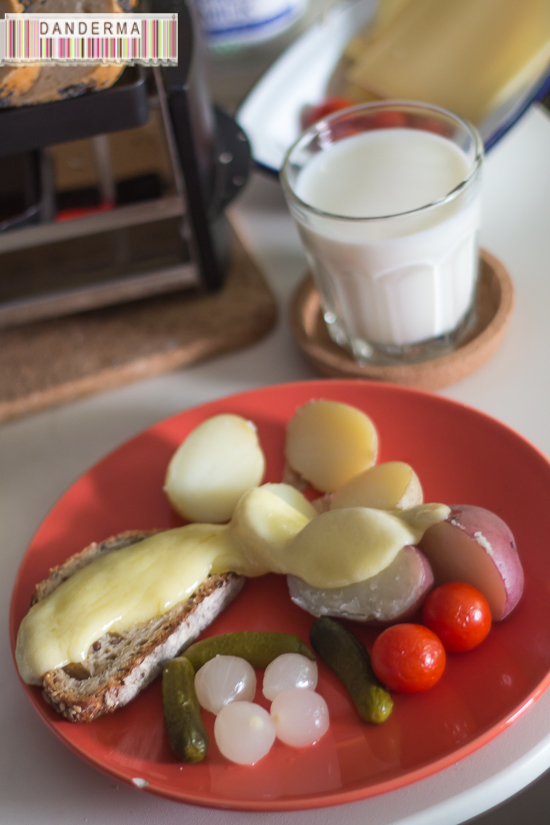 If you pull something out of that plate, the cheese will oooooze…
And this is my favourite combo: cheese, tomato, and mustard <3
That was one good satisfying winter lunch indeed, craving met, mischief managed! Food tastes so much better when you crave it badly I suppose, especially if the craving comes with emotional memories from your childhood, and god knows I have plenty of those!
Did you ever get an anime-related craving from the days of your childhood? Do you get the same cravings still?
---