Yaita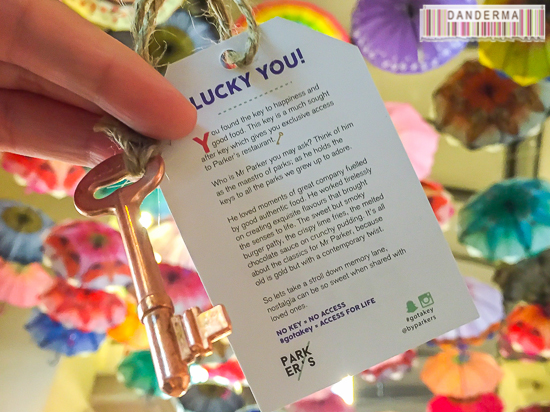 I've been bored by, well everything really. Do you ever seem to think that everything in life is the same? Same activities, same faces, same places, same routine, same old and nothing is new happening anymore?
Enter the key hunt for the By Parker's restaurant!
You see, there is something about having to earn your entry into a new food establishment. I recall once reading something like that in a magazine about a spot in a trendy hipster part of London, that unless you answer the gatekeeper's riddle you won't be allowed to climb through the wall into the restaurant or something. I loved the intrigue, the being there but out of reach except for the worthy kind of attitude. Of course its also fun, that's why I've been following the SnapChat of by Parker's in Dubai forever and deciding that the moment I set foot in Dubai, on the very night I do, I'm not going to rest until I do hunt for the key and actually claim it for myself.
And that's exactly what happened on the last night of Ramadan 1437/2016. I was trying to locate the key all night, I nip into the cinema because I've given up. I get out of the movie and on the way to my hotel decided just to double check because you know know and lo and behold, they key location was right below us and I ran and looked around and didn't see the key and then this guy on a bench tells me if you're looking for the key the key guys have just left and I sigh in despair and it turns out he is the elusive key guy and I got a key I got a KEY I GOT A KEY!
Adrenaline pumping fun. How thrilling! We have a million restaurants in Kuwait, entry is always either boring and people always overdress to mark how new and hip and new the restaurant is and that's about as exciting as it gets! When I open my new cafe, I'm going to have a key hunt or an entry hunt for a bit of exclusivity and fun, mark my words.
Now that I got the key, I did make it through the doors of parker's for lunch, I think it was the second day of eid and if you are wondering whether or not its worth all this fuss, I assure you it is. I was lucky to go at just before the lunch rush started, when I sat down and took those few -horrible, sorry- pictures with my iPhone the restaurant was virtually empty. By the time we left not one single table was free and, as you can see in the picture above, there was a long winding waiting line sneaking out the door. Quite busy for a restaurant that you need key to access.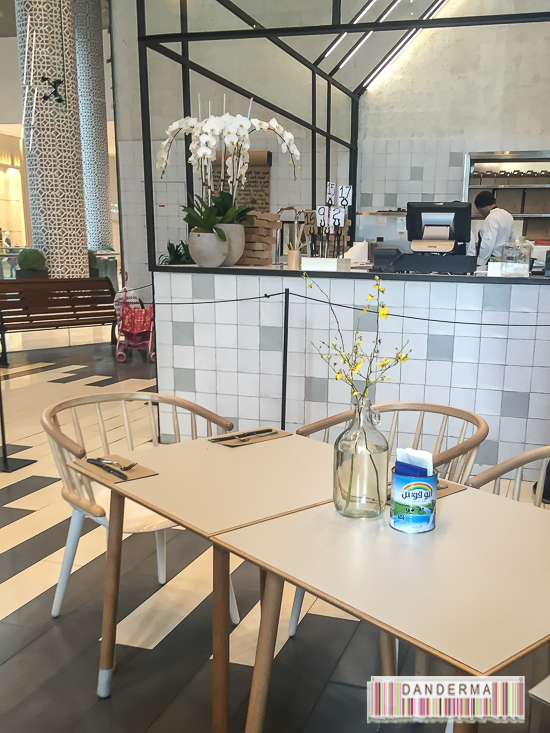 The interior is lovely! All concrete and high exposed ceilings and modern detailing. There is one side of the restaurant that overlooks the fountain but perhaps its only a couple of table with the view. Now even though you get seated and handed a menu, you are expected to go to the cashier and place your order. We didn't know and no one told us, so we waited a while but then we figured it out on our own. That was perhaps the only glitch in our dining experience at Parker's.
Since we took our time looking at the menu we decided to order half of it initially, for every other dish is delicious and vegetarian friendly, something I totally appreciated it! We then realised that we were going to end up with too much food and though we were hungry -it was the lunch of the 2nd day of Eid-, we had to make the hard choice of ordering half what we wanted to order. The fries alone came in four or five varieties! We placed our orders at the friendly cashier's, took our number 6 marker, and headed back to our table to wait.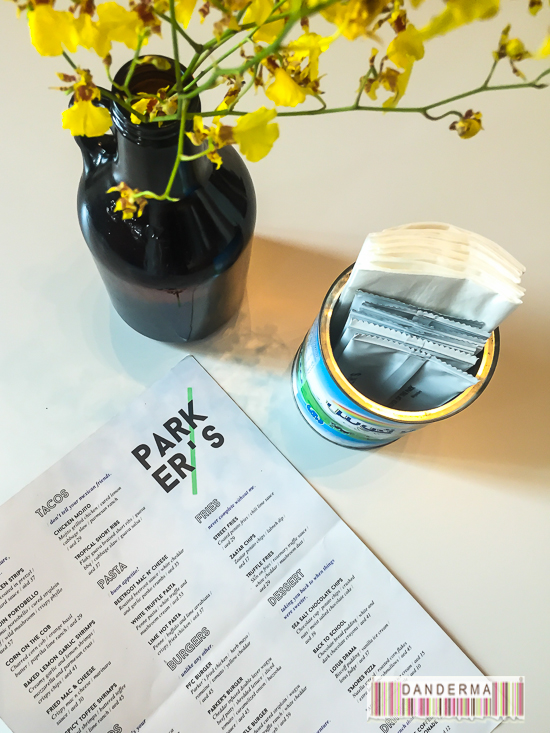 May we take a moment to talk about the table decoration? Very minimal, napkins in an Abo Qoos milk cans and black bottles that double as vases. Very cute.
The good think about Parker's service is that it was indeed fast. We didn't have to wait long for our food and when it came out, it came out at once. Sometimes I like it when my appetisers come and I get to enjoy them before the main dish but most of the time I ask for my food to come on a first done first serve basis especially when I've skipped breakfast and dinner before and it was time to dig in. Will you look at those delicious dishes?
Let's go through them one by one now, shall we?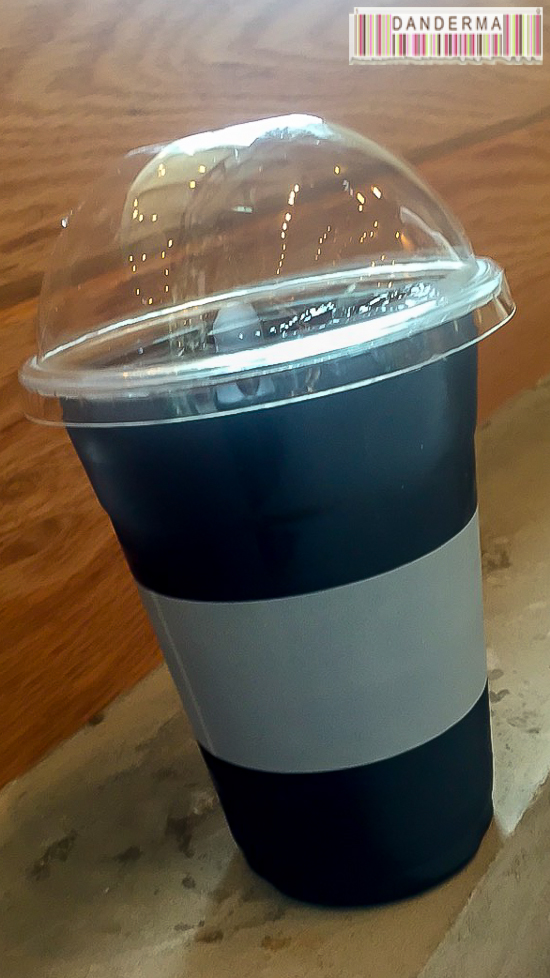 Black lemonade, which seems to be all the rage these days. Whether it is regular lemonade with ash added to it or the "loomi" which is the dry blackened lemons used as herbs in the Gulf kitchens for stews, I'm not sure but it did taste like the loomi the dry herb and not something with ash on it. Quite interesting.
Chicken strips coated with pretzels, these are supposedly one of the best sellers of Parker's menu. According to my husband it was a delicious yet messy dish to have. Next? Those mac n cheese fried balls.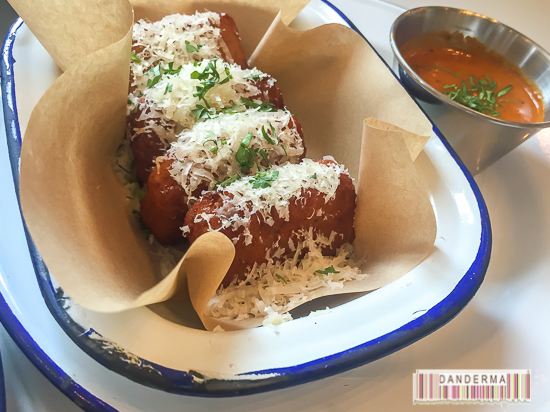 Good, where they? Personally I had higher expectations for them, perhaps if the cheese was a bit tangier, but they weren't bad at all and quite naughty. But it was Eid lunch so I allowed myself to get away with it.
Behind the Mac n Cheese you see the grilled corn, once I squeezed that wedge of lime it was only a matter of minutes before the dish was all but gone. What I'm thankful for? The dish, the sauce, the sprinkle on top, non of it had chili or was spicy. Unlike many other restaurants who think that its OK adding fiery spices to every dish without announcement or warning, none of the dishes was spicy -aside from one- and when I left, I left with a perfectly fine stomach that didn't wince in pain and ruin my day! Thank you Parker's for easing up on the chili.
The picture below of the next dish DOES NOT DO IT JUSTICE, I'm sorry I didn't have my camera on me or I'd have taken much better pictures. This is a waguy slider, marinated in coffee and chocolate and was the only dish with a hint of spice. I wanted to try and take a better picture, but it was my husband's favourite and highly recommended dish and it was munched away in under 60 seconds!
Burgers come with fries, and we had a hard time choosing one kind of fries to share and in the end it was the truffle ones that one -I wanted the Zaatar fries, I will get those next time by god's will-. These creamy truffle smothers golden crunches hit all the right spots, hit them all indeed.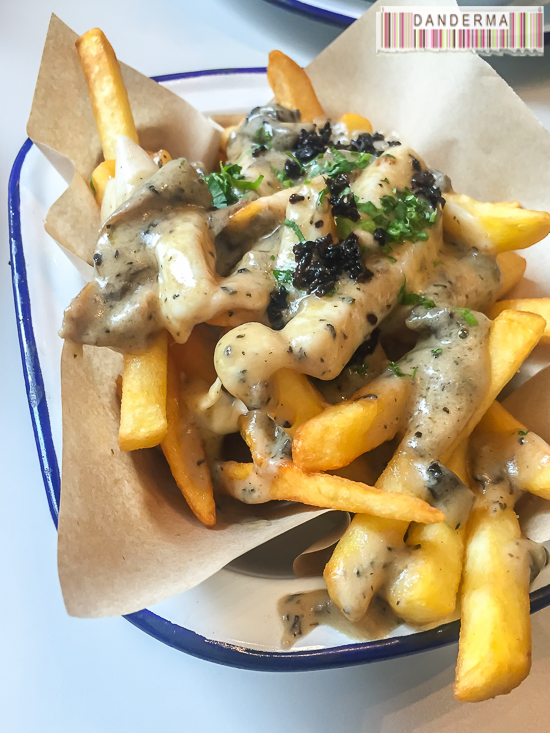 Speaking of truffles, here is my dish! I'm not normally a fan of cream-based pastas and I almost didn't order this one but I love truffle too much and, well, it was Eid so I went for it. Creamy yes, heavy? Not at all. It was excellent! Penne? Good. Truffles? good. Cheese? Good. Sauce? Good. Basil? Good. Price wise, it was not too expensive considering it was laced with truffles all the way.
Was the pasta really that good? I've taken the picture below as I imagined writing this particular line in my blog, told you my blog posts where always writing themselves in my mind didn't I? This was the truffle pasta and I can very well taste every delicious truffle-y creamy morsel all the way on my couch in Kuwait.
Was it worth the hunt and the fuss? Absolutely! The rush, the food, the interior, the friendly waiters, and most importantly the crowd and ambience made it the perfect dining spot for the 2nd day of Eid lunch! Almost all the diners were young emirates, young girls, young couples, young families out for a spot of lunch, happy and chatting away, and it really did feel like we were in Dubai and travelling but at the same time it felt familiar like dining at home and not abroad, if you understand what I mean. Overall, it is now ranking very high on my favourite restaurants in Dubai and I cannot wait for my next visit so I could dine there and try their desserts which am told is fabulous.
By Parker's is located at Dubai Mall. For more information about the restaurant check the By Parker's Instagram account and to join the hunt follow their SnapChat account. Happy hunting and happy dining

---
One Response to "The Key Hunt for Parker's Restaurant, Dubai"