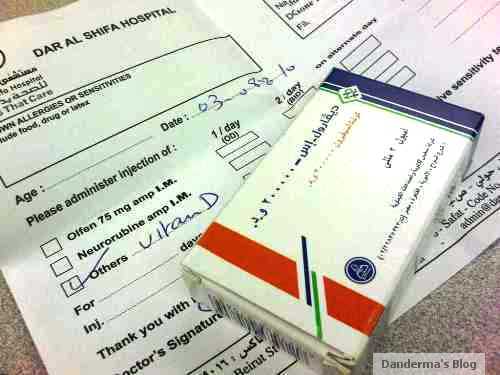 Remember my last post when i sought Vitamin D treatment in Q8?
The day i recieved my test results i called almost all the pharmacies in Q8 searching for the Vitamin D Ampoules. They are brought in from Egypt very cheap by the way. None had them. One Pharmacy actually tricked me by saying they did have them and when we went to take it they said we have the pills buy the pills. Thieves. If i wanted to take the pills, which are NOT as effective as the injections, i would have taken them.
I literally called all the private hospitals in Q8 and several private clinics. None of them provided a treatment. The only hospital that actually provides Vitamin D treatment is Dar El Shifa in hawalli. You can make an appointment with 2 doctors, just ask the receptionist about the Vitamin D treatment and they will help you out.
The doctor gave me 5 vitamin D injections to be taken once every two weeks. After the 5 injections i should test my Vitamin D levels and see how it goes.
The 5 Ampoules cost 5 KD only by the way.
He also provided me with a signed note to present to any Nurse with the Ampoule and i would get my shot.
I went upstairs to the ER of Dar El Sheifa to take my shot. I was scared. I heard it was so painful people actually screamed out in pain while they were injected. Including my own sister in the exact same hospital.
In less than 30 seconds, i got the injection and i felt absolutely nothing. Period.
I went home saying how nice! Maybe i have a different nervous system or maybe women were being babies… or it's just an urban myth like the Ibrat Naar thing we dreaded back in school.
24 Hours later… and i begin to feel a slight pain in the injected area. I went to sleep however ignoring the pain. But i was woken up in the middle of the night by the intensified pain. I simply couldn't move my entire lower right area and it hurt like mad trying to walk. I couldn't get out of bed.  I was feverish, i was late for work. I felt really really sick… like i had the flu.
I went to see a doctor who said i have a slight cold i must have been caught in some cold air draft or something and that my symptoms has got nothing to do with the Vitamin D injection, Especially the dry couch and the inability to breathe well. I went home feeling very sick and stayed in bed and had some medicine and ate sick people's food. Then at night i sat up, nothing is wrong with me! Everything has vanished.
The next time i took the Vitamin D injection it was in another hospital… it hurt a bit but it was the Nurses fault. The one at DAr El Sheifa had amazing light hands. Nothing happened for 24 hours but then the symptomps came back and i was very sick for one day. Then it vanished. Just like that.
I took my 3rd shot Yesterday afternoon. Sure enough, i returned home today at 11 to find my lower right side hurting again like mad. I began coughing that annoying dry couch again and have trouble breathing. I feel the fever's heat coursing through my body… especially at the tips of my fingers and toes -don't ask me why- and i have a general feeling of fatigue, being unwell, and my head is buzzing. I don't feel like eating su7oor or anything. I Feel like resting and sleeping and i know i wouldn't be able to get out of bed tommorow.
Hopefully by this time tomorrow night all the symptoms have subdued and i am well again.
So this is what happens when you take the Vitamin D Treatment. It is not pretty. But in the end it's totally worth it seeing how much is at stake with low levels of Vitamin D…
Did you get the same symptoms as me when you got your vitamin D treatment or am i the only one?
---
47 Responses to "Vitamin D Deficiency: What happens when you take the Injection?"