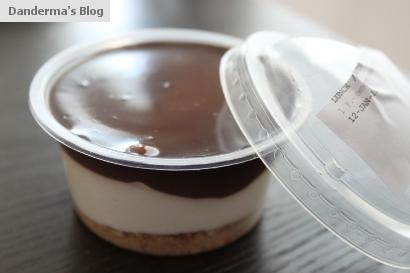 Today is day two of my LoFat Diet…
I slept light and a bit hungry yesterday. Surprisingly i woke up easily at 6:30 am this morning, something i was struggling with for the past few month! I got out of the house before 7 am and reached work much earlier than usual!
My breakfast was a good pancake with maple syrup and fruit kebabs shown y in yesterday's post. The pancake was good and i enjoyed my breakfast 

Today they i recieved a chocolate cheesecake for dessert (shown above) and i won't eat it… Butootee can eat it… and Lunch for today was Veggie Pizza & Vegetable Soup with Vermicelli…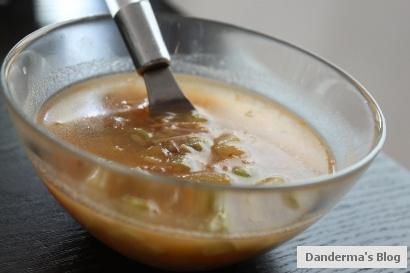 The soup amount was very little and barely filling the bowl… it was also made with very clear broth…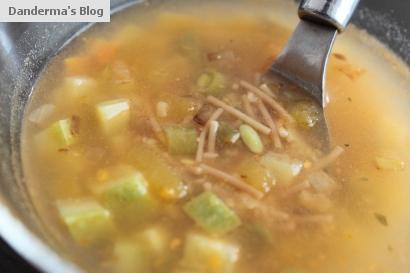 and the vermicelli was made with brown pasta!
Though the soup didn't look that appetizing it tasted good enough and nothing like what you would drink in a hospital. I know my sisters for example wouldn't touch it and considering the quantity i think i would rather go with a salad which would take longer to chew and eat…
Next came the veggie pizza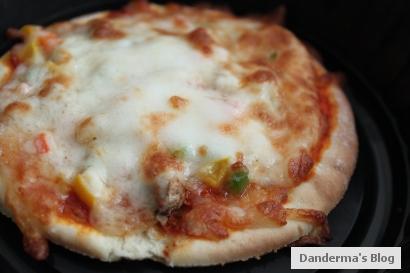 When i first saw the option of pizza on the menu i immediately thought of LoFat's veggie pizza! I personally regards their margaritas pizza as the best pizza in Q8 so i was soo looking forward to this main dish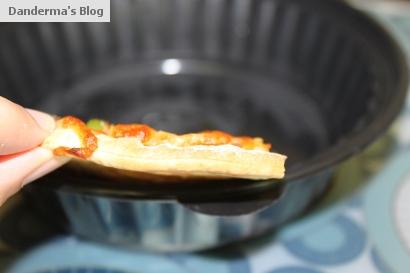 This pizza however tastes different. It is good but not as good as the gooey pizza they sell in their stores… my only problem with it was the fact it was TINY! and very very thin! The whole pizza fit into my palm! It is equivalent to maybe one and a half slices of Nino's pizza for example… are we supposed to eat only that much?! No wonder i am too fat to fit into my own clothes!
So this is lunch Day 2… to be frank i liked yesterday's lunch options better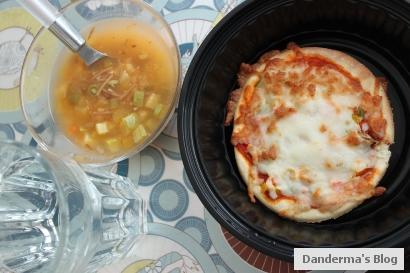 For breakfast tommorow i chose Labna & Saj Za3tar, Fruit Kebabs, and Fruit yoghurt that i am not going to eat…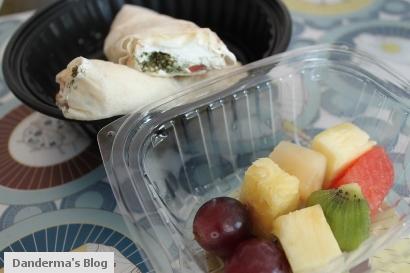 the Saj pieces are pretty big and fat!!! And they look luscious! The saj bread however is paper thing but it that's better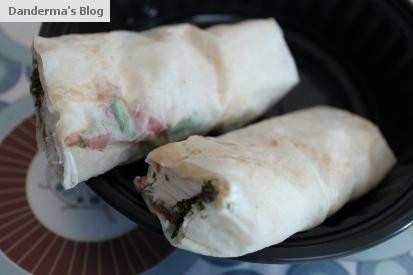 It looked so yum i seriously thought of having it for lunch instead of my pizza! I would have had more to eat…
So here is my eating plan for Day 2 with LoFat
Breakfast: Milk + Pancake with Maple Syrup + Fruit Kebab
Snack: Decaf medium Turkish coffee + handful of unsalted nuts
Lunch: Vegetarian Pizza + Vegetable Soup + Water
Dinner: Pinkberry Parfait
My pants are a BIT looser since i've lost a lot of water 😀
---