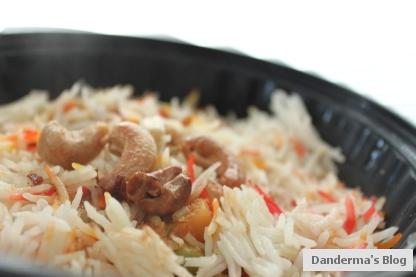 Does it make sense to feel self righteous about your self when u make it happily to the 3rd day of your diet? It's like i am in control of my life… worrying about food is taken care of and i can shrug it off my shoulders for now… no more worrying about what to eat 2day, how long it would take to make, would it be healthy or will i go over board again, wash the dishes afterwards… blah blah… I know my food is waiting for me and it would be good and tasty and healthy and balance and all i have to do is reheat it in the microwave to enjoy it!
So for today i had the Labna & Z3tr Saaj with Fruit Kebabs for breakfast… Last night  i slept like a baby again and woke up easily this morning anticipating my labna & z3tr saj for breakfast and couldn't wait to bite into it <3
Here is a picture of my yummy breakfast…
I loved it. the only thing i would complain about is the fact that the saj had labna, z3tr, jarjeer (rocket), and tomato. I cannot tolerate jrjeer and i don't enjoy tomatoes much. All i had to do is call up LoFat's office and ask that the next time they send me a saj they exclude tomatoes and rocket and add cucumbers instead

For lunch today i had Vegetable Byriani and Green Salad with mustard vinaigrette… i am a HUGE fan of Byriani and i was dreaming about it for hours before lunch… and green salad

The salad was just lettuce and a few slices of radishes… eshda3wa ya 7afeth mako khyara 6ma6a jazara? I didn't feel very excited eating the salad but i though oh let me eat it munch on it to fill me up it can't be so bad…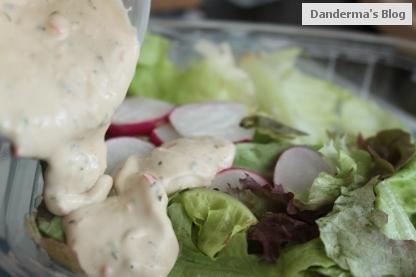 The thing i didn't expect is my enjoying every last bite of the salad! What made the salad yummy is the dressing! It was so good and you could see pieces of herbs and what looked like carrots inside! It wasn't bad after all!!!
The byriani smelled AMAZING when i took off the lid! What is sad though is the fact it was topped with onions and raisins

If i had known i would have asked for them to be taken out… if any of my siblings ordered this byriani they wouldn't touch it if they found raisins and onions on top… i how ever took them out carefully -yet impatiently, i was starving-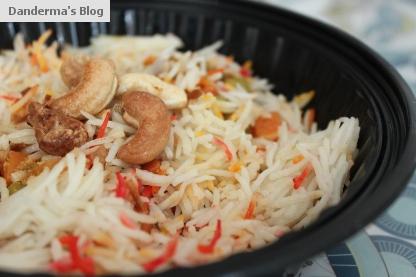 Now that's better! I got out some low fat yogurt to accompany my scrumptious byriani… and i didn't even empty the food into plates… why would i? I didn't feel like washing the dishes afterwards and i was in a hurry!
and i had a fine fulffilling lunch that was very good indeed. and took forever to finish! I highly recommend choosing a rice or a pasta based lunch instead of a pizza for it will take you longer to finish and it will feel like lunch!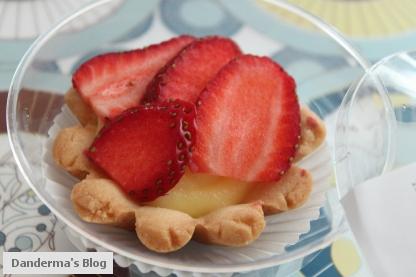 and they brought over the tiniest strawberry tart ever! it's so cute… and if there is one thing i cannot resist is strawberry tarts so i have decided to enjoy it with my chamomile tea today

i am eating it now and typing this …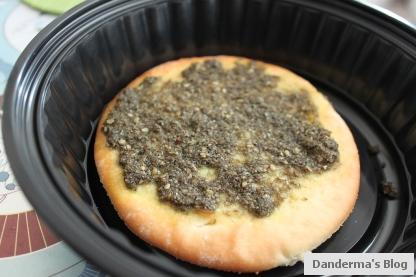 and for tomorrow morning i am having a Zaatar fateera for breakfast

It is the exact same size as yesterday's pizza!!! The portion is appropriate for a good breakfast but not a nice main meal lunch…
So here is my eating plan for Day 2 with LoFat
Breakfast: Decaf Coffee + Labna & Z3tr Saj + Fruit Kebab
Snack: Decaf medium Turkish coffee + handful of unsalted nuts
Lunch: Vegetable Byriani + Green Salad + Water
Snack: Strawberry Tart + Chamomile Tea
Dinner: Pinkberry Parfait
---
---