buy Clomiphene tablets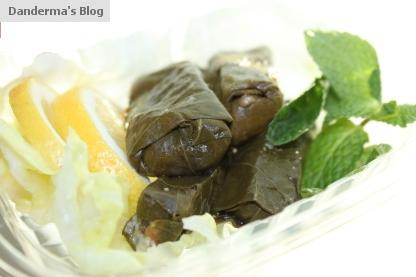 Masha2 Allah day six is here… i am almost half way through the lenient diet 😀
I weighed my self today thinking i weigh something horrible… turns out i didn't… insha2 Allah by next week i will be able to tell you how much did i loose exactly 😀
For breakfast today i had the Labna, Z3tr, and Cucumber saj with tea & Skim milk + Fruit Kebab and the saj tasted much better without the rocket and tomato and with the cucumber instead as per my request. I enjoyed by breakfast very much and when my colleauge asked me if i wanted to order something with her i declined happily… i was too full and happy!
When i came home today i was ecstatic… i knew i would be having Vegeterian Quesadilla for lunch and i couldn't wait to try it… i am a sucker for Mexican food… i hoped it would taste good…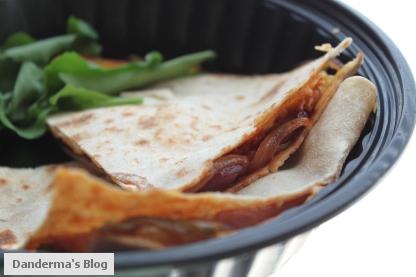 The salad accompanying it for today was -to my surpise- Vine Leaves (waraq 3enab)… and now that i think about it i remember there was a Nachos salad option for today that i should've chosen instead! Who eats waraq 3enab with Quesadilla ballah?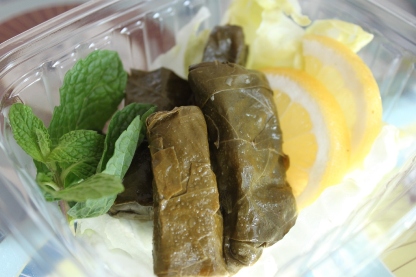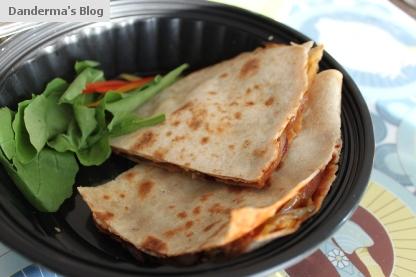 The Quesadilla looked a bit soggy but when i heated it in the microwave it turned out fine… it was filled with red kidney beans, vegetables, and cheese…
So basically that was my lunch for today. The 4 tiny pieces of vine leaves were good but disappeared quickly… and the Quesadilla was also really good yet it finished also quickly

The Quesadilla should be eaten with a big hearty salad where you could munch on them forever not with vine leaves… i will make sure to avoid that mistake in the future…
A hint of sour cream would have elevated the Quesadilla's taste but then i am supposed to be on a diet trying to lose weight fa malah da3ee! For dessert they brought me "Strawberry Biscuit"… what is strawberry biscuit?
It's basically two pieces of mary biscuits filled with a bit of cream and a slice of strawberry and dusted with icing sugar… see the little elevation in the picture below? That's the tiny strawberry slice in the middle…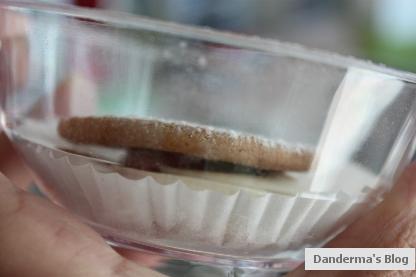 I didn't waste my time and eat it. Gave it for my husband to enjoy it… now i know if i want to eat dessert i can always have two plain mary biscuits with a strawberry as desert with my tea and i would've saved calories b3d…
oh and for breakfast tomorrow i am having za3tar fateera & fruit kebab… no need for a picture since i've already reviewed them before 😀
So here is my eating plan for Day 6 with LoFat
Breakfast: Tea with skim milk + Labna Z3tr Saj + Fruit Kebab
Lunch: Vegetable Quesadilla + Vine Leaves + Water
Snack: Chammomile Tea
Dinner: Pinkberry Parfait
---
14 Responses to "LoFat Diet – Day 6"