Belaya Kalitva
Day 7 is here!!!! I am halfway down my diet! Only 7 more days to go! Yippeeeeee!!!
Not that i am bored or anything… but at the end of the 2 weeks i should have explored all my options on LoFat's menu and i would be ready to make a decision on whether or not it's worth it to subscribe for one month next month… This morning i had my Zaatar Fatera and Fruit Kebab with Decaf coffee and i have to say i missed the Labna Saj of yesterday! It made me fuller than the Zaatar Fatera did… but it was good no complaints there…
For lunch i thought i was having cheese ravioli with tomato sauce… now that is a dish i am itching to try!!! Yum! The days where i have pasta/rice as a main course are the days where i am happiest! Anyways i drove home almost flying to see what lunch options had i received for today and what breakfast will i be eating tomorrow Insha2 Allah…
The first thing i saw is the salad…it was the Italian Pasta salad… i was both happy and sad… happy for i have the Pasta salad i wanted to try but sad for it's made with jarjeer (rocket)… i truly cannot stand jarjeer o don't understand how people eat it!!! It came with a white tangy sauce that was tasty and ALMOST masked the jarjeer taste but the word is almost…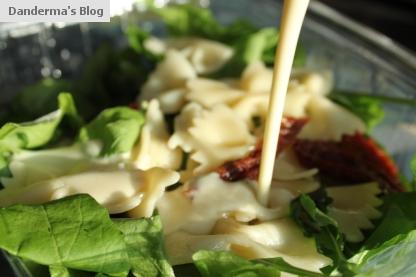 So what did i do? I ate a few jarjerat and all the pasta only… and gave the rest of the dressing drenched jarjeer to butoote to eat… i wouldn't recommend this pasta if you are not a fan of jarjeer but if you are you'll be happy… Butootee added tuna and grenadine to the remaining rocket and ate them…
Now for the main dish i had…. Vegetable Byriani?!!! I wonder what was going through my head when i chose both Byriani and pasta salad for lunch?! why on earth didn't i choose the cheese ravioli??? Pasta Salad AND Byriani is just too much carbohydrates! Sometimes choosing the menu in a hurry lets you make mistakes like that!!! No ravioli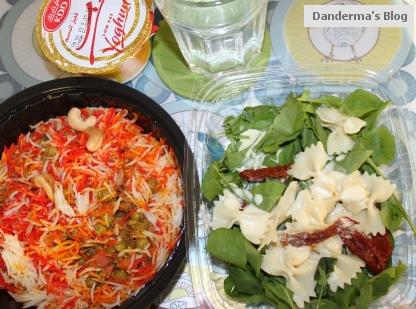 So today's lunch was a carbohydrate feast! Pasta and Byriani! I doubt that i will lose any weight today :p I shouldn't be choosing the pasta salad at all in the future if i am serious about losing some kilos.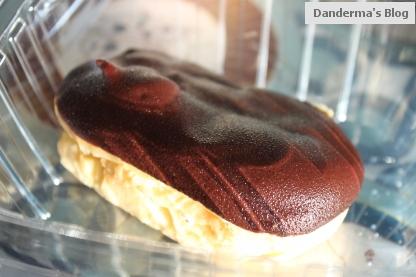 For dessert i had the cutest eclaire ever! My Butootee adores eclairs so i gave it to him to eat… malah da3e eclaire…
For breakfast tomorrow i got Labna & Z3tr Saj again with Fruit Kebabs! Yaaay 😀
Breakfast: Zaatar Fatera + Decaf Coffee + Fruit Kebab
Snack: Decaf Coffee
Lunch: Cheese Ravioli in Tomato Sauce + Salad + Water
Dinner: Homeberry Frozen Yogurt + Small KDD Chocolate Milk
---
4 Responses to "LoFat Diet – Day 7"