5 more days to go!
Today i had the Pancake with maple syrup for breakfast. For some reason i didn't like it as much as i did the first time i tasted it. In comparison to the other breakfast options it ranks very low…
For lunch i am supposed to have Vegetable Lasagna and California Salad. I didn't ask what "California Salad" is i chose it blindly suspecting it would be some lettuce with avocado…
The salad had cherry tomatoes, lettuce, lots of chopped green onions, cheese and olives. Although i am happy at the addition of green ingredient but it was just too salty… maybe if i take out the cheese it will be better.
The vegetable lasagna looked promising… though very very thin… it was maybe two sheets of lasagna with a bit of veggies o tomato sauce and topped with bechamel and cheese…
How did it taste?! It was… AMAZING! So rich and tasty and hearty… perfect for this cold rainy weather! It was the best main dish i've had in all those 9 days! It's so so SO GOOD! I wish i could have lasagna every day for the next of the year… yes that good… YUM!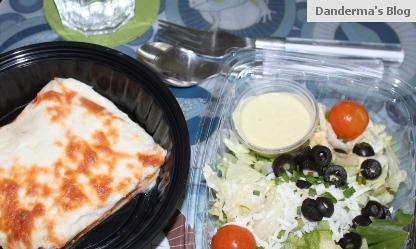 For dessert  i had… Hershy Kisses?! HERSHY KISSES?! What on earth?!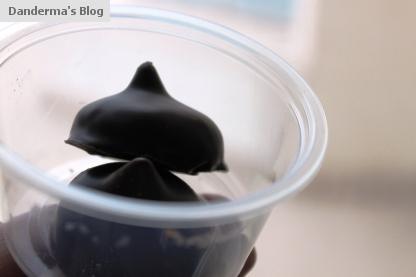 I hate hershy kisses… if i was to choose some chocolate to eat for dessert Hershy kisses would be the last on my list, right after tootsie rolls! What ever this dessert is i wouldn't have chosen it if it was related remotely to Hershy… there is no way on earth that i have checked the hershy kisses option! Yet here it is sitting on my table!!! They should have asked me instead of switching whatever i had chosen for dessert for the SECOND DAY IN A ROW…
Very bad indeed…
and for breakfast tomorrow i have Labna & Z3tr Saj! Yaaaaaaay 😀
So here is my eating plan for Day 9 with LoFat
Breakfast: Tea & Skim Milk + PAncake with Maple Syrup+ Fruit Kebab
Snack: Decaf coffee + handful of unsalted nuts
Lunch: Vegetable Lasagna + California Salad + Water
Dinner: ?
---