http://lawnsandsprinklersusa.com/wp-content/ALFA_DATA
Day 11 was as Friday… and i have always taken Fridays off when i diet because it's my free day…
So  on Friday morning i have decided to have breakfast in Laduree 360… i will post about that disaster later and thankfully i didn't eat much.
For lunch i received vegetable byriani with corn salad. Nothing too special there and for a snack i received hershy kisses again. Please keep in mind that i have never chosen hershy kisses from the menu and i think i have chosen the chocolate mousse or the oreo cake BUT i was stuck with those hershy kisses again. I complained to LoFat and they said it must be a kitchen mistake. This is the 3rd time they mix up my dessert this week!!!
What i am going to write about this day is the new item i had received for breakfast… the french toast which i have been looking forwards to 😀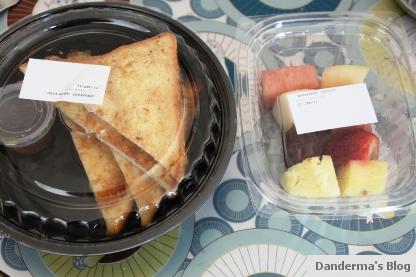 I have decided to enjoy the french toast on real plates this time… so i took them out, popped them in the microwave for 30 seconds, placed the fruit kebabs next to them… and with a cup of decaf coffee i was ready to dig in…
The maple syrup portion provided was so TINY! I was sceptical at first, i knew it would't be enough for me… but i poured the whole thing and promised my self that if i needed more i'll have it kaifi…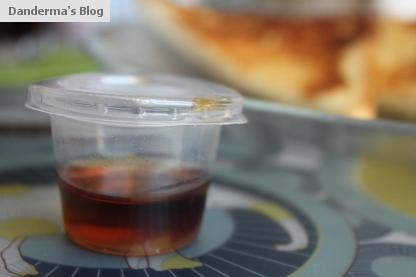 To my surprise the little tiny portion of maple syrup was more than enough! It might amount to one table spoon of maple syrup only but it was enough for 4 wedges of French Toast!
Now how did it taste? The portion was big and it needed a bit more reheating… but it was cinnamony and very light. It was more like cinnamon toast than toast soaked with eggs but it was good… better than the pancake of course…
So here is my eating plan for day 11 with LoFat
Breakfast: Decaf Coffee + Bread & Butter + 2 Macaroons
Lunch: Vegeterian Byriani + Yoghurt + Water
Snack: Tea + One piece of Chocolate from OR Bakery
Dinner: Corn Salad
---
6 Responses to "LoFat Diet – Day 11"