http://ashmann.uk/
Yesterday morning i woke up knowing i was allowing my self a free breakfast day! I knew i wanted to try a new place in q8 where i've never been before and i have read the reviews of Ladurée on Eb6ainiya & 965malls and i remember how they said the service was bad but the food was good. I thought well they've been open a few days now and maybe those guys went at a time when it was crowded… it's Friday at 9 am who would go and how bad can the service be?! Let me give it a try…
I've never been really a fan of Ladurée, possibly because i don't go to Paris much and i hate Harrods in London and i do not enjoy macaroons that much… but after reading the posts about macaroons in Eb6ainiya i was in the mood for some macaroons. We were there by 9:45-9:50 A.M… and to our delight the place was almost empty. A table with two ladies on our left, a table with a family of four on our left, and a table with a family of 6 in front of us and that's it. They shouldn't take too long to get our orders right?!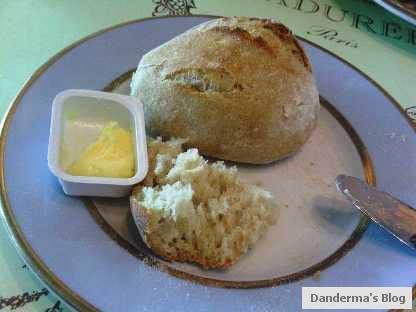 Let me summarize what went wrong in a time line…
9:50 we arrive and are seated. The seats are made of wicker and are uncomfortable by the way. We are handed the menues.
10:02 The waitress comes to take our orders.  I ask if they can make me Scrambled Eggs with Mushrooms as i do not like omelettes… they say it's not possible. Eshda3wa fry up mashromtain on the side and keep them?! So i ordered Plain Scrambled Eggs. My husband orders an omelette.
10:17 The man in the table next to us began complaining about waiting for 30 minutes for an order of eggs only to receive it wrong! They are the only table eating by the way.
10:17 Our drinks came about 10 minutes later, one decaf black coffee and one black coffee.  This time is approximate.
10:27 20 minutes to receive one order of bread rolls when we ordered TWO. All 3 bread rolls were with raisins. Other tables had bread rolls with sesame and plain.
10:29 We try to eat one bread roll… it was frozen SOLID from the inside. FROZEN! So the bread rolls are not fresh at all.
10:30 We call the waitress over, ask her NOT TO THROW the raisin rolls, but to reheat them through and to get me another plate of plain bread rolls. She says you want plain scrambled eggs ma'am?!!! I repeat my request.
10:33 The table of six are done with their breakfast and left. We are still waiting for the bread rolls.
10:37 One plate with 3 pieces of bread rolls, all plain, comes back. The raisin ones are thrown away against our request. The bread rolls are very cold from the inside but not freezing. Thank god. We can now eat some bread and butter with our coffees, 47 minutes after arriving to Ladurée.
10:40 30+ minutes have passed since we placed our orders and my coffee is ice cold, i call over the manager to complain and he takes away my coffee to be exchanged and i complain to him about not getting our scrambled eggs.
10:48 and the food finally arrives with the coffee. 41 MINUTES! That's a record!
My husband's omelette, it was OK. Not worth the wait.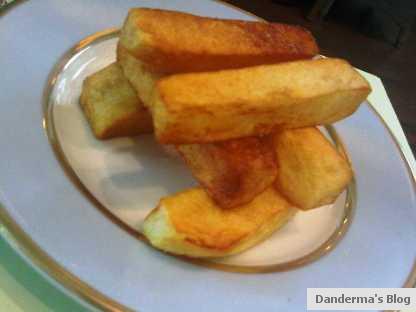 The side of potatoes that came with the omelette order. They were good Allah khair.
and this liquid mess is supposed to be my scrambled eggs?! I had seen the table of six order scrambled eggs and it came piled up high like a tower with a much firmer consistency… i was confused… maybe they didn't order scrambled eggs?
I take a bite… and i am sorry but it was disgusting. It tasted like something you would feed a baby… too mushy, too liquid like, tasteless, and it had bubbles as well!!! I have had scrambled eggs before and i assure you that this mousse in front of me was NOT scrambled eggs.
and it had something floating in it. Something like a tomato peel or a carrot peel… making it even less appealing.
The manager came and i told him that those eggs are not good and resemble babies food. He says no they are supposed to be this way and they are whisked with cream… he asked if i wanted him to chnange it for me, and considering the fact that i had already wasted 40+ miutes waiting for this mush i declined and asked for the check.
By the way the table on our right who were there before us and only ordered salad and scrambled eggs had their food arrive after us AND they didn't eat it… i look at the waitress clearing the table and there was a plate of scrambled eggs piled up high in a firm consistency just like i saw in the other table before so i ask the waitress "Excuse me, what are those eggs called?" pointing at  the plate in her hands… she replies "Scrambled Eggs ma'am"!!!!!!!!!!!!!!!!!
Why the hell did i get those mousse like eggs then?!
and as we were leaving a lady in a table of two began yelling "Shino hatha sa3a o no9 o mayabaw el akel?! Yebaw il check!" she got the check and left promptly… i felt bad for her because she was waiting for ever… and the French manager was standing by her table watching in a nonchalant manner… he didn't even offer an apology…
I don't know about you, but this kind of service is NOT normal for a newly opened place. It's not bad, it's BEYOND bad and there is no excuse! Early in the morning and not many tables being served… and lets say the service was slow because they were newly opened, what about the frozen bread, the thawed out macaroons, and the horrible scrambled eggs?!
I know i am never going back again.
By the way since i was still hungry we went to the Ladurée store to take a look and i found a madeline and i wanted to taste it… it was very VERY dry and totally not fresh.  I don't know why i even bothered!
---
30 Responses to "My disastrous Breakfast in Ladurée 360…"