artfully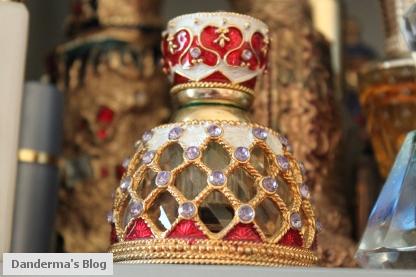 One thing that puzzles people is when i declare that i don't like Perfumes.
Some think i am senseless, others think i'm cheap, some might even go as far as accuse me of not caring much about my appearance because i don't drench my self in perfume.
Yet that's absolutely not the case. When i say I do not like perfumes i mean i don't like Parisian Style or Western style perfumes. They block my nose and suffocate me no matter how lovely or expensive they are. I just can't stand them.
What i do like however… is Arabian perfumes… dehen 3ood, 6eeb, bkhoor, ward 6aifi… i cannot resist the smell of good bukhoor wafting from a mubkhar… i cannot help but breathe in the lovely smell of an old dehen 3ood m3ataq… my mood is altered instantly… maybe that's why i have a full revolving cupboard with a stash of Arabian perfumes…
Whenever i travel to GCC countries or go visit Mubarkiya i must be on the lookout for the latest in bukhoor or marshoosh or perfumes. The one exception i make is the perfumes made in "Parisian style"… i can't stand those… therefore i have quite a collection of items that i don't even remember where i got them from! The first shelve is dedicated to things i would wear on my self perfume or dehen 3ood style…
I don't even know how many bottles are there… some of them are tagless and nameless and i cannot remember where i got them from…
Those 3 are my current favourites, all 3 from Sayed Jnaid in Bahrain… The leftmost one smells like pure ward 6aifi and the little one in the right is very light and suitable for every day use or for just smelling good 24 hours and called sera2… it's very light with a hint of dehen 3ood and something else…
My all time favourite is this one the middle one which i've completely drained must now replace… it smells strongly of dehen 3ood and i think it's name is maheeba… i use it for special occasions like weddings or parties… mmm 7safa 3leha imkhal9a the last time i was in Dubai they were out of it as well…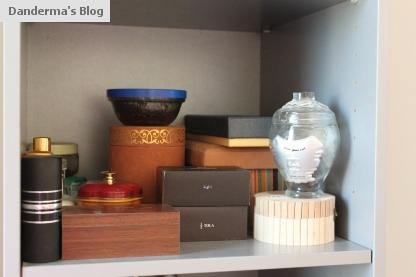 The 2nd shelve is dedicated for bukhoor & it's supplies. The box in the back contains the coals, matches, shabba & 7armal for days when i feel like putting them on, and some Japanese style incense stuff i once picked up from Muji UK…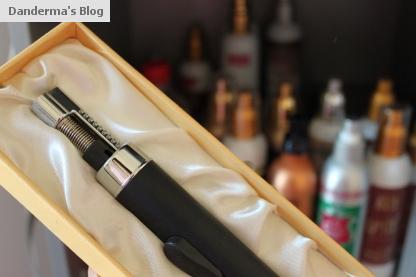 My trusty coal torch which works like a charm…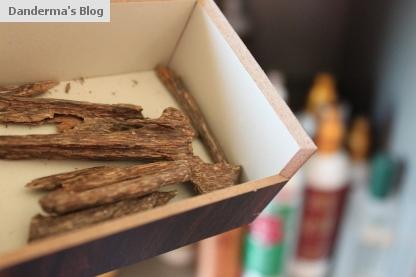 My latest purchase from Abdul Samad AlQurashi… some Indian Bukhoor that i don't want to use up. It's very hard finding decent Indian bukhoor that doesn't cost a fortune now a days and every one sells Kambodian bukhoor which i cannot stand… i am still on the lookout for a better Indian bukhoor though…
The third shelf is dedicated to my favourite powders and room sprays (marshoosh)… my favourite two are the ward 6aifi by al haramainand the Kaadi mix by ne3ma perfumes…
Kady is just amazing mixed with rose water on my pillows and bed sheets… guaranteed to send me into a good night's sleep with pleasent dreams <3
The fourth and last shelve contains extra perfume boxes and knick knacks… and this big wooden box…
More anonymous little bottles in that box… if i use them up i will never be able to replace them!
Why do i have so many little things?
I am trying unsuccessfully to recreate two scents…
First is the scent of my late grandmother Allah yer7amha… when we were kids and we went to kiss her she would smell amazingly of a mixture of ward 6aifi with a hint of rose water… i love the smell of ward 6aifi because of her… whenever i smell it i would think "re7at edida!"… i am still looking for the perfect ward 6aifi that would make me smell like her…
The 2nd scent i am trying to recreate is the scent of a very few old classy women who upon greeting you and greeting you only with kisses you would breathe in an amazing scent of pure bukhoor with 6eeb or dehen 3ood, making you never wanting to let go… very few women smell like that… and no matter how much i try i can never get the smell of bukhoor to stick on my hair or my clothes… let alone achieve that perfect mix… i would wait long enough for the coal to burn off it's own smell and not burn the bukhoor… i would always use whatever mothabet or perfume i could use before i put my clothes 3la il mobkhar… it doesn't matter

Do you love bukhoor and Arabian perfumes? Do you have any special techniques to share or favourite stores/scents to recommend for trial 😀
---
34 Responses to "My Arabian Perfumes Collection"