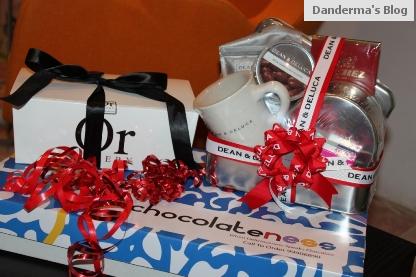 As today is my first free day after my two weeks disciplinary diet… i feel a little lost to be frank :p
I have planned today to be a free chocolate day! I ordered half a kilo of chocolate brownie from OR bakery… i got a winter chocolate hamper from Dean and Deluca that contains chocolate and hot chocolate mix… and then my dear fellow blogger & tweep MiYaFuShi contributed to my free chocolate day by sending me a bix of chocolateness molten cakes! I will blog about how i celebrated each chocolate item tomorrow 😉
As for the LoFat Diet… Here are the results. I lost in two weeks…. 2.5 Kilos!
Which is pretty good considering the amount of food i was eating and the fact that it is very hard for me to loose weight. 2.5 Kilos without exercise and with eating food with two free days is pretty decent… if i start exercising i might be able to lost aboout 10 kilos a month!
I have extended my subscription by one month and this time my husband has joined in. The food is good, it rearranges your food pattern and forces you into a routine, the food comes readily made and just need reheating so i could come home and find my healthy light food ready for me.
The service is good, they have a tendency of mixing up some dishes but a phone call can correct that for you. The always call to check up on you as well which is a good thing. I have tried almost all the vegetarian dishes in their menu so i know what to expect. One word of advice: Stay away from the soups, stay away from non lettuce based salads, and you will be good to go 😀
Since my husband has joined… i will be reviewing non vegeterian dishes as well so my diary will continue Insha2 Allah

---
12 Responses to "LoFat Diet – The Conclusion!"